Beseitigung von Sturmschäden
Ich habe mir ja eigentlich zum Ziel gesetzt, diesen Monat wieder mehr Beiträge zu teilen. Dafür müssen dann schon einmal kleine Dinge erzählt werden.
I have actually set myself the goal to share this month again more posts. For this then already once small things must be told.
Heute habe ich endlich Zeit dazu gefunden, das von den Stürmen der letzten Wochen durch den Garten gewirbelte Trampolin unserer Tochter wieder in Stand zu setzen.
Beim Sturm ist der größte Teil der Stangen, die das Netz halten, eingeknickt.
Today I finally found time to repair our daughter's trampoline, which has been whirled around the backyard by the storms of the past few weeks.
During the storm, most of the poles holding the net buckled.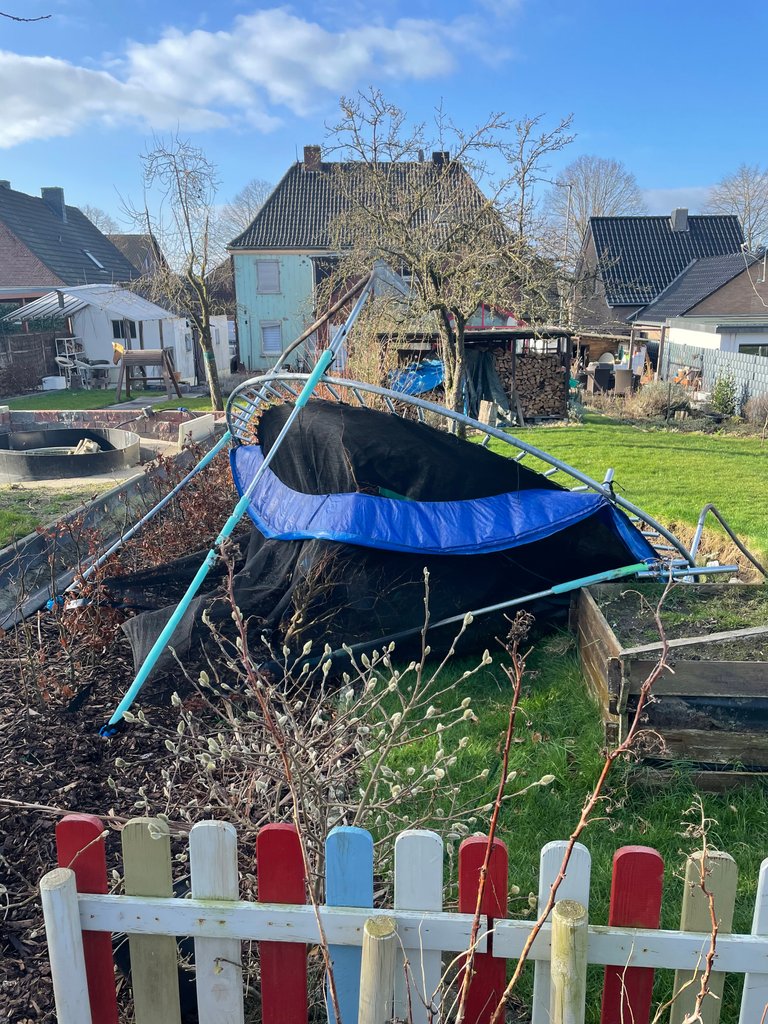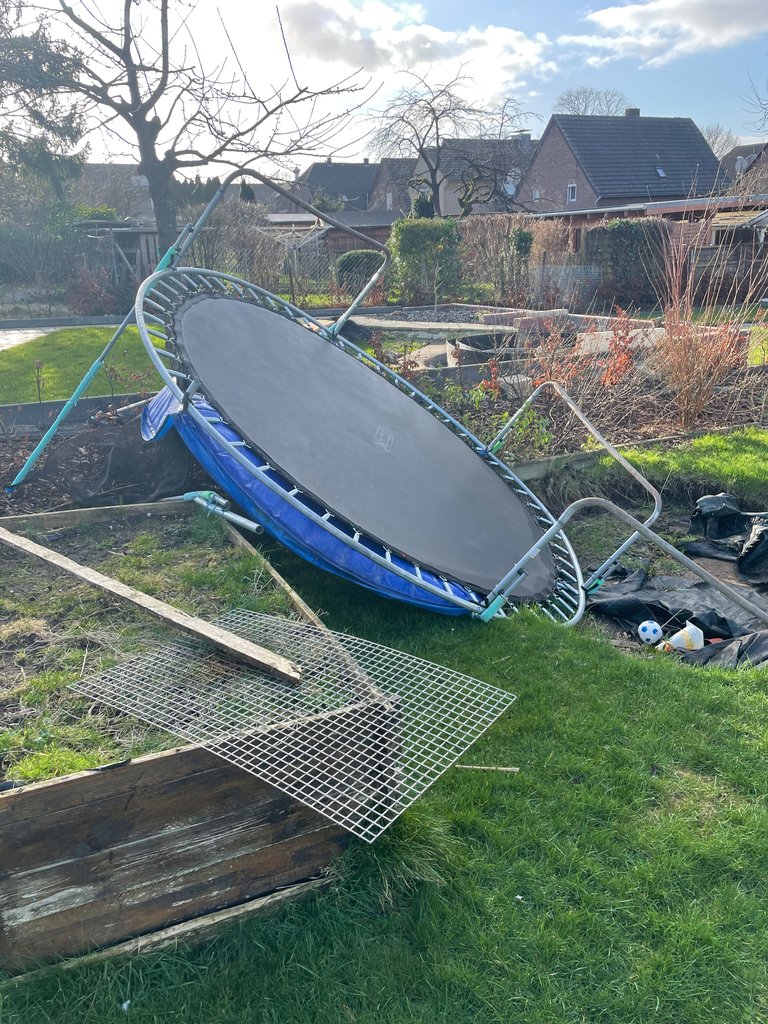 Die umgeknickten Rohre hatten glücklicherweise fast den gleichen Innendurchmesser wie ein 1/2-Zoll-Rohr. Ich konnte das Gestänge dann mit 1/2-Zoll-Rohr von innen verstärken, so dass hier jetzt auch wirklich alles den nächsten Sturm aushält (Hoffe ich zumindest).
Fortunately, the bent pipes had almost the same inner diameter as a 1/2-inch pipe. I was then able to reinforce the linkage with 1/2-inch pipe from the inside, so that now really everything here can withstand the next storm (I hope at least).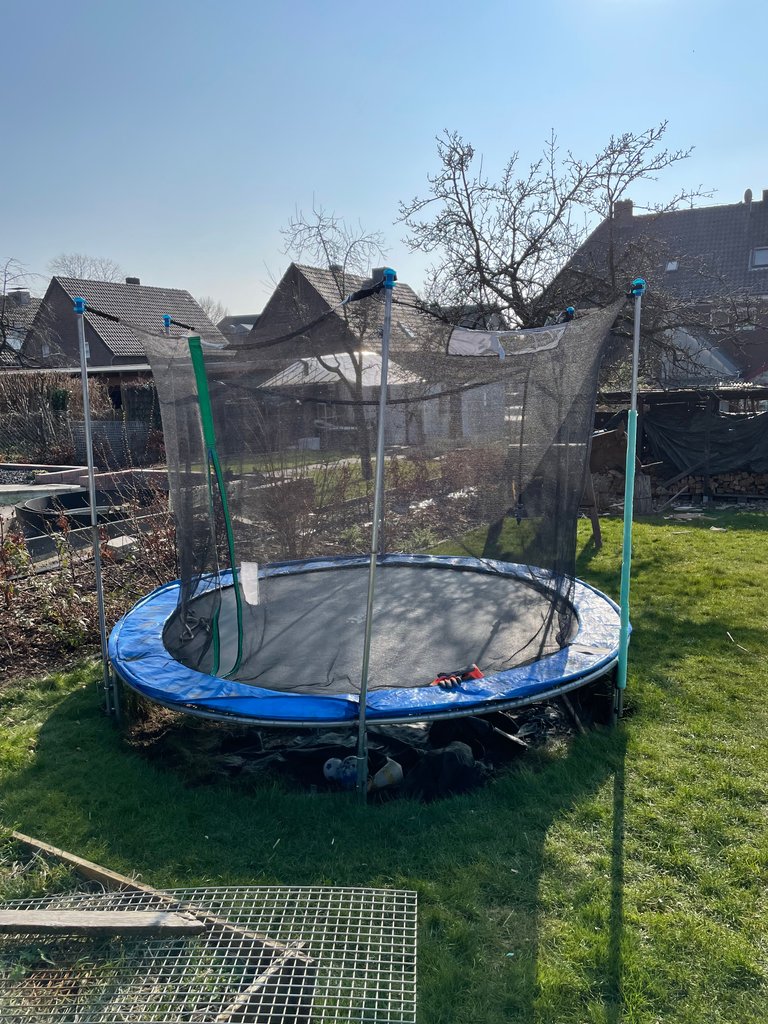 ---
Am Abend habe ich dann meine tägliche Splinterlands-Quest gespielt. Für die Dragon-Quest habe ich heute wieder ziemlich Lange gebraucht. Die ersten 5-6 Battles gingen fast alle verloren.
Irgendwann war es dann jedoch geschafft und heute waren tatsächlich auch die Rewards mal wieder richtig gut.
Es gab eine Epic und eine Legendary-Karte:
In the evening I played my daily Splinterlands quest. For the Dragon Quest I needed quite a long time today. The first 5-6 battles were almost all lost.
At some point, however, it was done and today were actually the rewardsreally good.
There was an Epic and a Legendary card:
Außerdem mache ich noch jeden Abend ein Chaos-Legion-Pack auf. Tatsächlich hatte ich auch hier mal wieder Glück und konnte eine weitere Legendary-karte meinem Deck hinzufügen.
I also open a Chaos Legion Pack every night. In fact, I got lucky again and was able to add another Legendary card to my deck.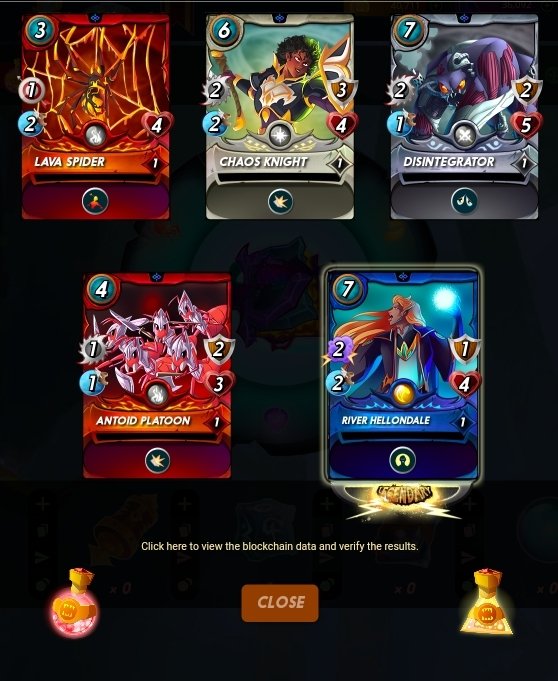 ---
---