Share your Battle - Regal Peryton (DE/ENG)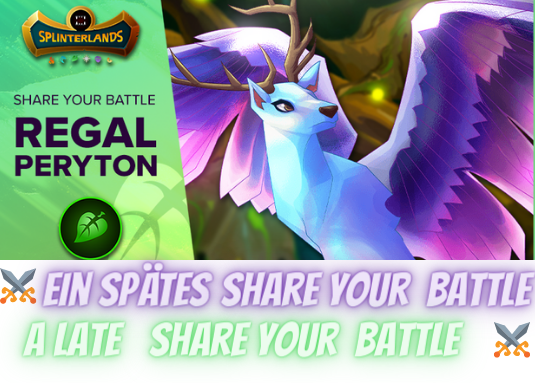 German Version
{English version below}
Eigentlich wollte ich schon viel eher bei der Share your battle mitmachen, bin aber nicht dazu gekommen. Deshalb, heute mit etwas Verzug dann mein Beitrag zum Share your battle mit Regal Peryton.
---
All eyes on Regal!
Ich mag die Karte und sie ist in fast allen meinen Earth-Setups wiederzufinden. So lange es die Rulesets hergeben natürlich. Vor allem für Anfänger denke ich, dass diese Karte auch auf Level 1 schon recht ok ist. 6 Leben mit Flying und Magicschaden. Klar dass Peryton fast immer mit Obsidian aufläuft. Für mich selbst wird Peryton ab Level 3, besser noch 4, sehr interessant, weil, sich der Schadenoutput enorm erhöht. In Kombination mit Obsidian sind das dann 3 Magieschaden mit 6 Leben und Flying. Hammer! Startspieler! Aber was gerne vernachlässigt wird ist die Schnelligkeit. Mit 6 Schnelligkeit weicht er gerne Angriffen aus, sollte die flying Eigenschaft nicht ausreichen. Oft teilt er ebenfalls gerne als erstes Schaden aus.

Einziges, kleines Manko ist, dass er keine weiteren Fähigkeiten erhällt. In Gegenzug finde ich seine Stats im allgemeinen schon ziemlich stark.
Ich persönlich denke, dass Regal Peryton ein absolutes Must Have ist und in fast jedes Lineup gehört.
---
Share your battle
Unter folgenden Link kannst du dir das Spiel mit, heute, Peryton in der Hauptrolle abschauen. Er hat wie erhofft und erwartet einfach abgeliefert
https://splinterlands.com?p=battle&id=sl_2a61815e6a2ebd12a74e2904dfcd726d&ref=zephid83
---
Das Lineup
Ich spiele Peryton vor allem in Manalastigen Spielen. Deshalb kommt als Summoner eigentlich nur Obsidian in Frage.
Mit seinen 6 Leben ist er schon ein bissl Tanky. Deshalb spiele ich gerne den Goblin Spychic im Team, da er den Regal gut und gerne ein paar Züge am Leben halten kann.
Den Gargoya Lion spiele ich auf Level 5 gerne als Alternative zum Unicorn Mustang weil billiger und der selbe Effekt und Flying genau wie Perytonm
Anschließend hängt es immer vom Manapool ab. Bei diesem Spiel habe ich für die 0er * Furious Chicken* und Fungus Fiend entschieden, da sie super Puffer sind, vor allem gegen Monster mit Opprotunity.
---
Danke
Danke dir für lesen meines Share your Battle ich hoffe er hat dir gefallen.
Ich wünsche dir eine gute Zeit und bis zum nächsten Post 🤜🤛
Teste Peryton mal aus, ich denke er wird nicht enttäuschen.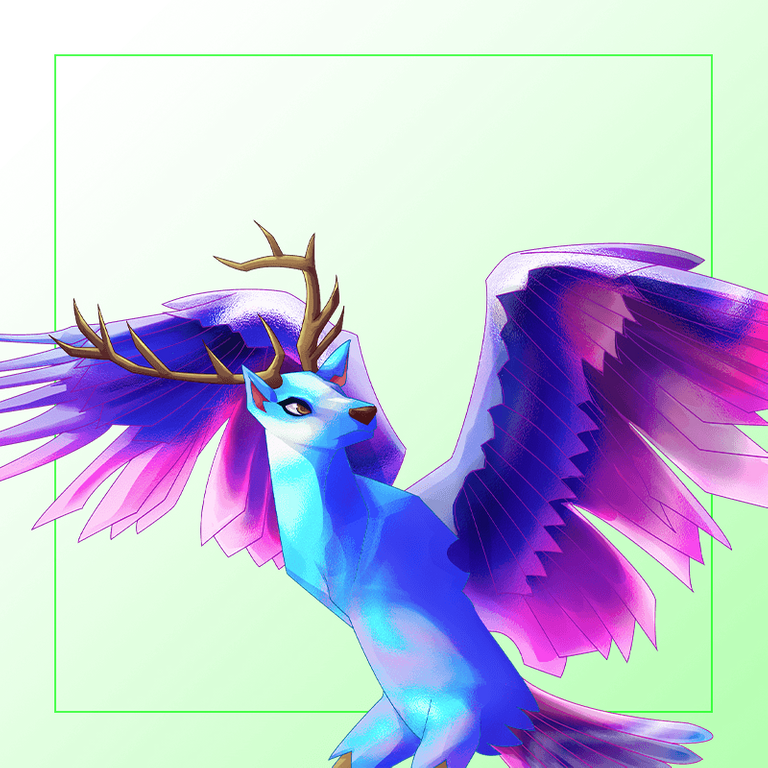 ---
Disclaimer
Alle Bilder und Grafiken gehören Splinterlands.
---
Meine Referal Links
Du bist noch nicht bei Splinterlands? Würdest dem Spiel aber gerne eine Chance geben? Dann würde es mich freuen wenn du das über meinen Referral Link machen würdest. Dich kostet es nichts und mir hilft es ein bisschen 🙂 https://splinterlands.com?ref=zephid83
Wenn du 🍕Pizza Tower🍕 mal testen möchtest, dann das auch gerne über diesen Link: https://tower.pizza/?p=0x5b091538555180553675bf8a60Bf7e0446f00c71
---
---
English version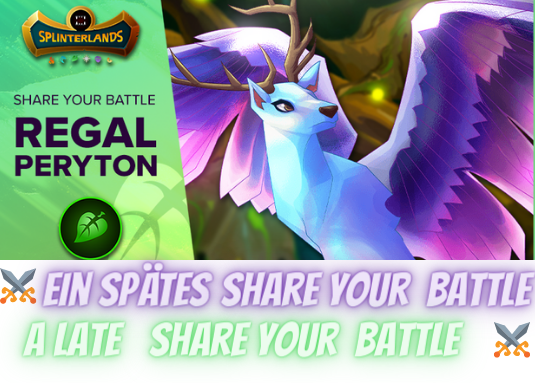 Actually, I wanted to participate much earlier in the Share your battle, but have not come to it. Therefore, today with some delay, my contribution to the Share your battle with Regal Peryton.
---
All eyes on Regal!
I like the card and it can be found in almost all of my earth setups. As long as the rulesets allow it, of course. Especially for beginners I think this card is quite strong, even on level 1. 6 life with flying and magic damage. Of course Peryton almost always runs up with Obsidian. For myself, Peryton becomes very interesting atlevel 3, even better at 4, because, the damage output increases significantly. In combination with Obsidian, that's 3 magic damage with 6 life and flying. Nuts! Starting five I would say! But what is often neglected is the speed. With 6 speed he likes to dodge attacks even if the flying trait is not sufficient. And mostly he deals damage first.

The only small drawback is that he doesn't get any additional abilities. On the other hand, I think his stats are pretty strong in general.
I personally think that Regal Peryton is an absolute must have and belongs in almost every lineup.
---
Share your battle
At the following link you can check out the game with, today, Peryton in the lead role. He simply delivered as hoped and expected.
https://splinterlands.com?p=battle&id=sl_2a61815e6a2ebd12a74e2904dfcd726d&ref=zephid83
---
The lineup
I play Peryton mainly in mana-heavy games. That's why only Obsidian comes into question as a Summoner.
With his 6 life he is already a bit tanky. That's why I like to play the Goblin Spychic in the team, because he can keep the Regal alive for a few turns.
I like to play the Gargoya Lion on level 5 as an alternative to the Unicorn Mustang because it is cheaper and has the same effect and Flying just like Perytonm.
After that it always depends on the mana pool. In this game I chose the 0s Furious Chicken and Fungus Fiend because they are super buffers, especially against monsters with Opprotunity.
---
Thanks
Thank you for reading my Share your Battle I hope you liked it.
I wish you a good time and until the next post 🤜🤛
Give Peryton a try, I think he won't disappoint.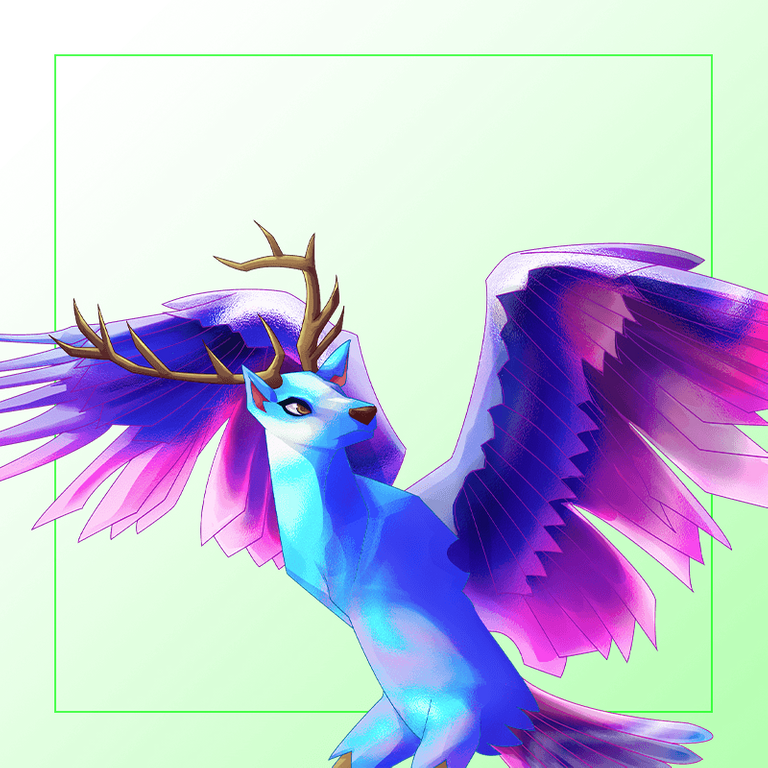 ---
Disclaimer
All images and graphics belong to Splinterlands.
Mostly translated with Deepl.
---
My referral links
You are not yet at Splinterlands? But you would like to give the game a chance? Then I would be happy if you would do that via my referral link. It costs you nothing and it helps me a bit 🙂 https://splinterlands.com?ref=zephid83
If you want to try 🍕Pizza Tower🍕, you can also do that via this link: https://tower.pizza/?p=0x5b091538555180553675bf8a60Bf7e0446f00c71
---
---