RIFTWATCHERS , Considerations (ITA/ENG)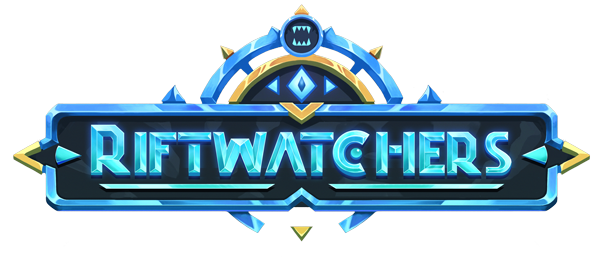 ENG
Hi to all friends of @splinterlands community , today I am here to talk about the new packs that were released a few days ago and that have increased by 25% the price of SPS and vouchers that for a period had reached about 1$ in value , now the situation has stabilized but anyway it has brought a nice breath of fresh air in the splinterlands market that was quite in crisis with SPS and vouchers more and more down , and therefore they have given a super utility to vouchers that seemed dead so good job to those who work behind splinterlands.
However I also lost part , with only 2 packs to this per-sale where I felt it was ok to buy only 2 packs preferring the safe gains with speculation of selling and buying SPS/VOUCHER . Now I wanted to see if my investment of $5 per packet + $0.40 (voucher value) bore any fruit or if I lost out in the immediate term.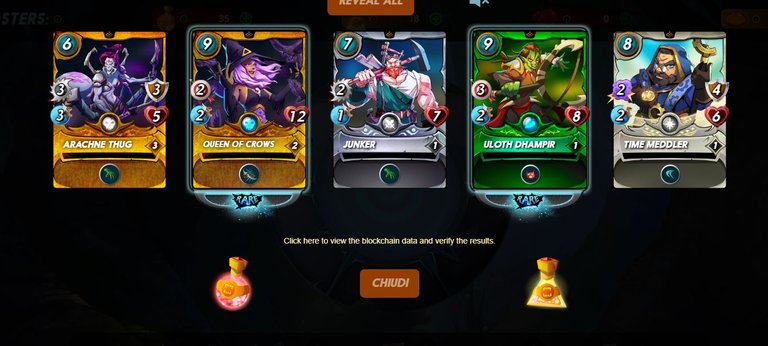 I wanted to share with you the first package I can say , it didn't go bad at all and in fact I brought in my splinterlands account a total of 625 power just thanks to the two gold cards + 30 thanks to the 3 cards , 20 from the rare and another 10 from the two common .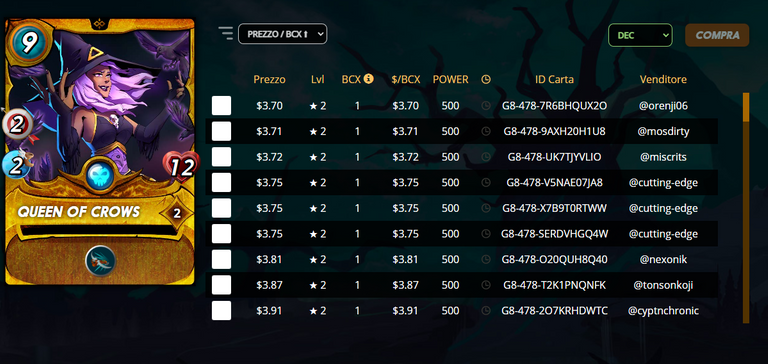 Queen of Crows is the card that is worth the most and currently if I wanted to sell it on the market I would have to sell it for at least $3.70 , a very variable price that finds its own time , yesterday in fact the prices for this card were around $7 , crazy figures shot by enthusiasm , but I think the price will continue to drop by $1 to $1.50 and then it will stabilize .
Arachne Thug , a gold card of common rarity has a value of about $1.47 , again its value finds its time , and again I foresee a few more declines in the market that will bring the card to be worth just under $1 and making its value fluctuate at these levels.
Adding up the value of all the other cards including the other packet that did not present me with any great surprises and to which I did not screen I collected a total value (fluctuating every second) of $1.53
So adding up all three final values gives me a total of $6.7
My total expenditure was about $10.80 - $6.7 = MOMENTARY LOSS OF $4.1
As it stands I have only lost out on 1 packet but that will pay me back over time by playing in higher leagues by sending in rental cards sell with a higher price in the next bull run , there are many possible scenarios.
---
---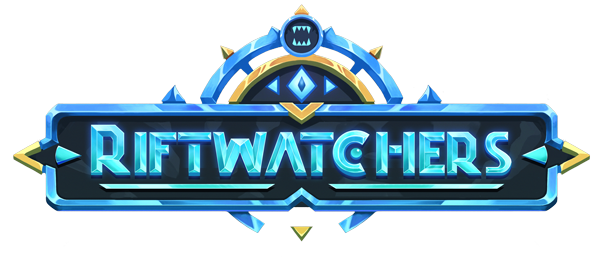 ITA
Ciao a tutti amici della community di @splinterlands , oggi sono qui per parlare dei nuovi pacchetti che sono stati rilasciati qualche giorno fa e che hanno fatto aumentare del 25% il prezzo degli SPS e i voucher che per un periodo erano arrivati a circa 1$ di valore , ora la situazione si è stabilizzata ma comunque ha portato una bella boccata d'aria nel mercato di splinterlands che era parecchio in crisi con SPS e voucher sempre più in down , e quindi hanno dato una super utilità ai voucher che sembravano morti quindi ottimo lavoro a chi lavora dietro a splinterlands.
Comunque anche io ho perso parte , con soli 2 pacchetti a questo per-sale dove ritenevo giusto comprare solo 2 pacchetti preferendo i guadagni sicuri con la speculazione di vendita e acquisti di SPS/VOUCHER . Ora volevo vedere se il mio investimento di 5$ a pacchetto + 0.40$ (valore voucher) ha portato qualche frutto o se sono andato a perdere nell'immediato.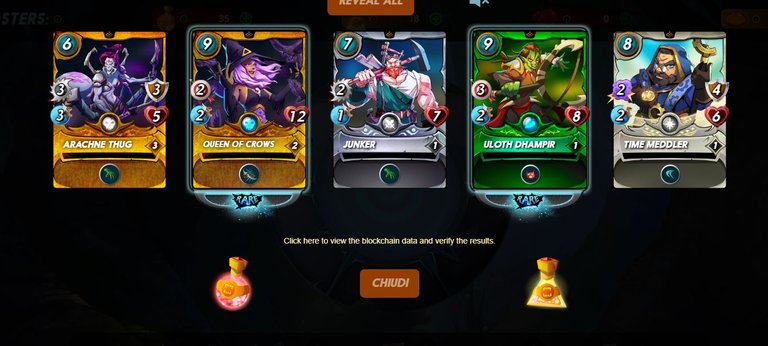 Volevo condividere con voi il primo pacchetto che posso dire , non mi è andato per nulla male e infatti ho portato nel mio account di splinterlands un totale di 625 di potere solo grazie alle due carte gold + 30 grazie alle 3 carte , 20 dalla rara e altri 10 dalle due comuni .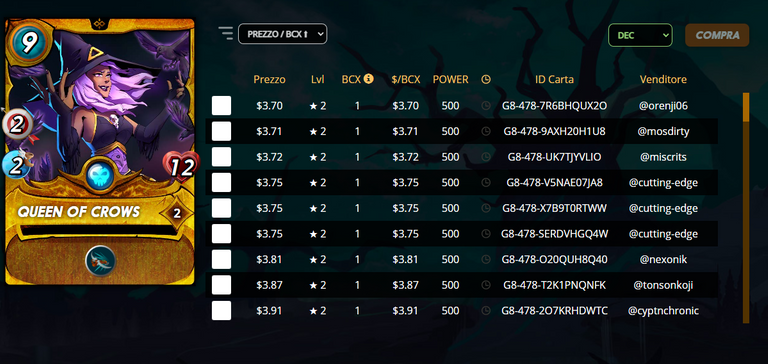 Queen of Crows è la carta che vale di più e attualmente se la volessi vendere sul mercato la dovrei vendere almeno a $ 3.70 , prezzo molto variabile che trova il tempo che trova , ieri infatti i prezzi per questa carta erano intorno ai 7$ , cifre folli sparate dall'entusiasmo , ma credo che il prezzo continuerà a calare di $ 1-1.50 e poi si andrà a stabilizzare.
Arachne Thug , carta d'orata di rarità comune ha un valore di circa $ 1.47 , anche qui il suo valore trova il tempo che trova , e anche qui prevedo ancora qualche calo sul mercato che porterà la carta a valere poco meno di 1$ e facendo fluttuale il valore di quest'ultima su questi livelli.
Sommando il valore di tutte le altre carte compreso l'altro pacchetto che non mi ha regalo grandi soprese e al quale non ho fatto screen ho raccolto un valore totale (variabile ogni secondo) di $1.53
Quindi sommando tutti e tre i valori finali mi esce un totale di $ 6.7
La mia spesa totale è stata di circa $ 10.80 - $ 6.7 = PERDITA MOMENTANEA DI 4,1$
Allo stato attuale ci ho rimesso 1 solo pacchetto che però mi ripagherà con il tempo giocando in leghe più alte mandando in affitto le carte vendere con un prezzo più alto nella prossima bull run , ci sono tanti scenari possibili.
---
---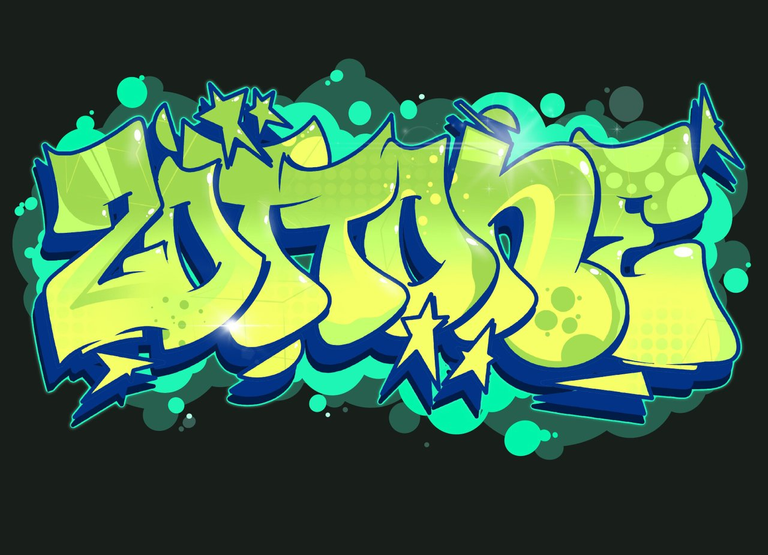 Follow me on
TWITTER ---> https://twitter.com/zottone444
TORUM ---> https://www.torum.com/u/zottone444
HYPPER ---> https://hyprr.com/profile/zottone444
NOISECASH ---> https://noise.cash/u/Zottone444
READCASH ---> https://read.cash/@Zottone444
BLURT ---> https://blurt.world/@zottone444
JOIN ON TELEGRAM ITALIAN GROUP ---> https://t.me/hiveitaly
FOLLOW HIVE ITALIA ON ---> Twitter -- Instagram -- Fecebook
photo by me / @splintelrands
---
If you want to buy/sell Dcity cards with the PGM token from the NFTM.art shop click here
---
My private socials
Instagram---> ale_zotta_
Twitch ---> zottone
---
Links that may be useful to you for the PGM token
Buy it here
If you don't know how to buy the PGM token click here
If you want to know what projects we collaborate with, click here and here
If you want to become a sponsor of the project click here
joins the PGM discord server
FOLLOWE PGM ON TWITTER
Buy games by paying with hive-HDB-Pizza Token here @thebeardflex
To buy my microphone click here
To join my fortnite community click here
---
---
---