Camila Sungazer
---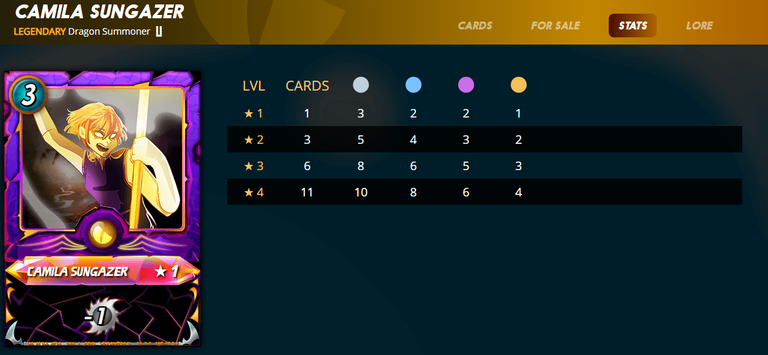 I only got to buy 2 untamed packs before the release, with the usual commons and a rare pulled from those and I was short on steem to get more. So I bought 2 more but from Steem-Engine instead and was just happy with getting more untamed cards to start adding to the small but slowly growing collection.
After a stock standard first pack and using the legendary potion charges with low expectations, I thought "I figured I would get that but I might get lucky to even get an epic in the next one, who knows!"
I started clicking the cards in the second pack and luckily for me on this day, I managed to see the yellow shake and got excited and then huzzah! Camila Sungazer, the Untamed Legendary Dragon Summoner appeared and I was happy to have gotten those untamed packs off Steem-Engine.
This will be a useful card if not as a rental for someone to use, then to hold for the splinters I haven't got decks for and can focus on getting some of those cards and the thankfulness that using all level 1 cards won't be happening (when I have my main splinters unavailable to use in battles).
---
Join the OPGaming community, BattleGames community or SteemAce community to find great gaming content and like-minded gamers at the OPGaming Discord , BattleGames Discord & SteemAce Discord