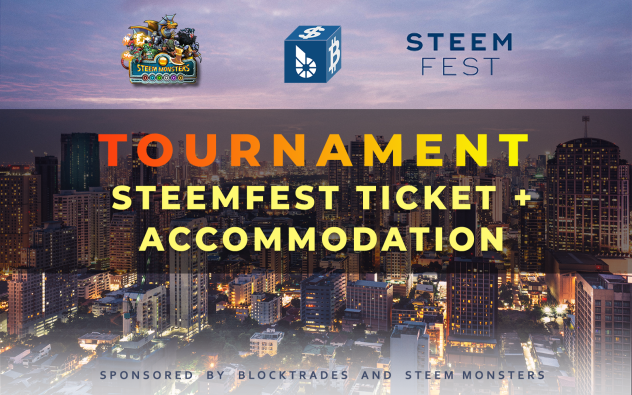 Tonight is your last chance to get a spot in the final tournament
There can only be 32, and 16 of those have already been chosen. Are you one of them?
If you don't want to miss your chance at a FREE Personalised ticket and accommodation package for Steemfest 4... Tonight is your night.

In roughly 6 hours the 3rd qualifier will begin, followed by the fourth just four hours later.
Exact times are:
Tournament outline:
FREE entry
Single elimination
No Legendary Cards
Gold League or lower
The gold league cap and allowing no legends should make the tournament more even for everyone, while the single elimination allows for little to no error, so pay close attention to the previous decks your competitors played. It doesn't always work that way... But it is often beneficial to be aware of what style of player they are.
Good Luck 😉

The final tournament will be held on August 11th
Where the winner will receive their own personalised Steemfest 4 ticket, sponsored by @blocktrades and @splinterlands who are also throwing in accommodation for the lucky winner.
The only catch is... The ticket is non-transferable. @blocktrades and @splinterlands want the best of the best at Steemfest to represent... So bring your A-game!
Steemfest 4 Bangkok
Steemfest 4 is now only 94 days away...
If you still don't know what Steemfest is all about @roelandp explains all about it in his post.

For those that do know about Steemfest, see you there.
I have never been, but I plan to make this year my first!