On this still and quiet night, @alphachicken and his army quietly celebrate the Full Cluck Moon. In years past, all chicken-kind would have celebrated with great pomp and circumstance, but this year must be different. The oppression of their feathered friends and the grief for those still in bondage make tonight a solemn occasion, not a joyous one.
A few chicks practice the great Chicken Scratch Dance that has been passed down for generations, but most of the Furious Chicken clan sit in silence. An occasional ba-gok can be heard over the murmured whispers, but overall the small band of warriors remain quiet as they contemplate the reality of their new lives. The #Cluckening is just beginning, and their hope rests on their great hero - The @AlphaChicken.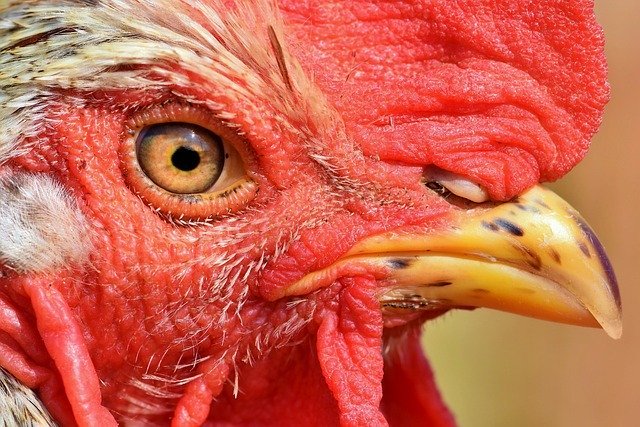 Image Source




Then @AlphChicken speaks:
"Tonight we be must remain silent, but soon the day will come when we can openly celebrate our freedom among the Splinterlands. Cluck! Cluck!
Don't lose heart and never lose focus. Let our small band of warriors continue to grow so that we can defend our feathered-families and ensure lasting peace for our FURIOUS clans. Ba-gok!"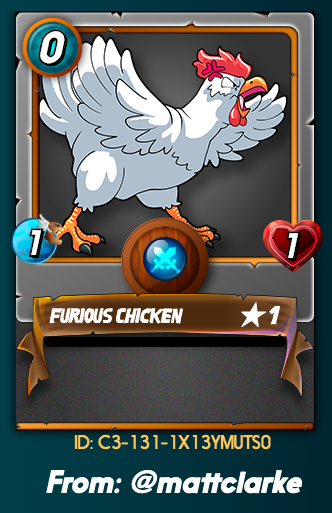 All chicken-kind sends a
Cock-A-Doodle-WooHoo out to @mattclarke for his support of the Cluckening.

Matt was the first Furious Ally to join the movement. We think you kind sir!

Matt shared his process of selection, "Mine drew straws, and one lucky plucker is on his way to an idyllic life on the farm."





@AlphaChicken is gathering all chicken-kind under one large arm. Though he desires peace for all of his people, he promises to fight anyone to threatens the well-being of the furious chicken race.
Hidden from the threat of war and violence in a Free Range Valley, this band of warriors gather feed and supplies. Although they wish to remain hidden from the the shadows of the Splinterlands Battle Arenas, they understand that someday they may have to take a stand to defend their chicks and eggs.
Do you want to support the #Cluckening? If so, please consider any of the following methods.
Pardon A FURIOUS Chicken
You can support this movement by pardoning a FURIOUS CHICKEN. @AlphaChicken will accept all chickens no matter age, gender, or physical condition. He is ready to receive all chicken-kind back into the flock.
Provide Financial Aid
Any financial contributions (liquid Steem) provided through upvotes on this post will be used to support the #cluckening movement and redeem chicken-kind from the Market.
Hire A Mercenary
@AlphaChicken has commissioned two mercenaries (Level 3 Gold Furious Chicken) to serve Splinterlands Warlords in the Battle Arena. All payment for their services will be used to redeem their brothers and sisters from the Market. Visit the Rental section of Peak Monsters for more information.
These mercenaries' unique skills provide their masters with plus 10% DEC Rewards when used during a victory.
G3-131-B5MFTPNBI8 - Rented by @felipejoys.pal
G3-131-Z14ASPLCS0 - Available
You can be a herald for the movement. Be sure to use #cluckening as one of your tags if you create a post. Possible post ideas include:
telling others about @alphachicken and the #cluckening movement
origin stories for your Furious Chicken warriors
posts that explain how you are bringing freedom to the Furious Chicken clans





The @AlphaChicken and @Cluckening Steem accounts are owned and operated by @SumatraNate. My goals is to add a fun twist to the Splinterlands lore, from perhaps an unlikely hero. As stated above, the current goal of this account is to grow the largest Furious Chicken army. We will have a bit of fun with the story line and hopefully add value to your Splinterlands experience and value to your Furious Chickens cards.
I am thinking of ways to support those who are involved in freeing the chickens. Write a message to @AlphaChicken if you have any ideas.
Keep pressing forward and keep Steeming! Cock-a-doodle-doo!