What's up, Splinters! I hope everything is great and well.
---
I have recently purchased another 10 untamed packs.
Since the recent settings of potions have changed, instead of buying 100 charges each time, we can now buy 1 charge at a time.
This change makes everyone go crazy!
Whenever now there is a chance to open cards from rewards or packs, people get enough amount of potions to increase the chances of getting gold or legendary.
Of course, I am no exception. I purchased 50 charges each of Gold potions and Legendary potions to increase my luck of draws.
Now let's see how my luck goes.
---
My main goal now has changed to accumulate DEC, and completing the daily quest is more like a side quest. My short target of DEC balance is 25K. As I intended to continuously contribute to the Guild.
---
我最近又購買了10個untamed的包。
由於藥水的最新設置發生了變化,我們現在可以一次購買1個裝藥,而不是每次都購買100個裝藥。
這一變化使所有人發瘋! 現在每當有機會從獎勵或禮包中打開卡片時,人們就會去買足夠數量的藥水從而增加獲得金卡或傳奇卡的機會。
當然,我也不例外。 我購買了50支黃金藥水和傳奇藥水,以增加我的運氣來抽卡。
現在,讓我們看看我的運氣如何。
---










Here is the analysis of the 10 packs stats:
這是對10個包裝統計數據的分析: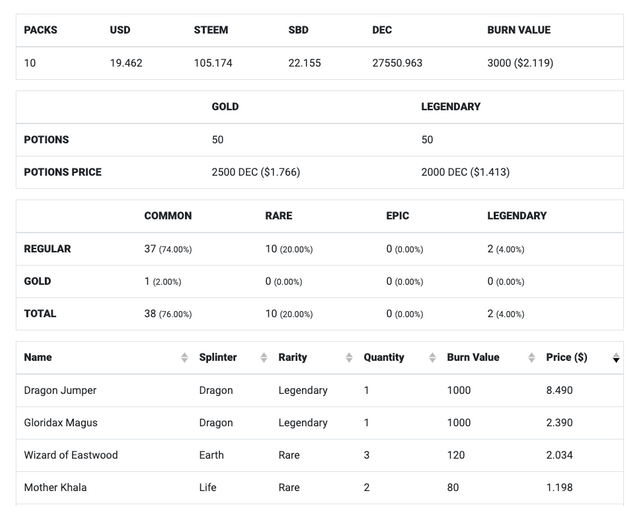 ---
我的主要目標現在已經改為累積DEC,完成每日任務更像是一個副任務。 我的DEC餘額的短期目標是25K。 因為我打算繼續為公會做出貢獻。
---
Today snapshot of DEC Balances
今天的 DEC Balances 快照
010520 - DEC Balance: 11,463.408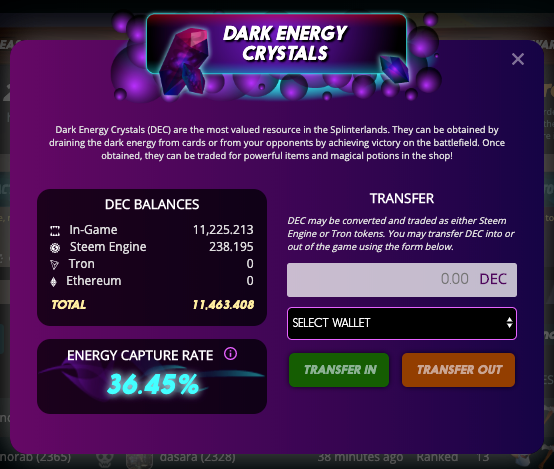 Wow reached the 25K target and now still growing! Keep it running!
---
As always here is my daily reward from the daily quest. Comment to this draw:
It can do better. Like rewarding some legendaries maybe?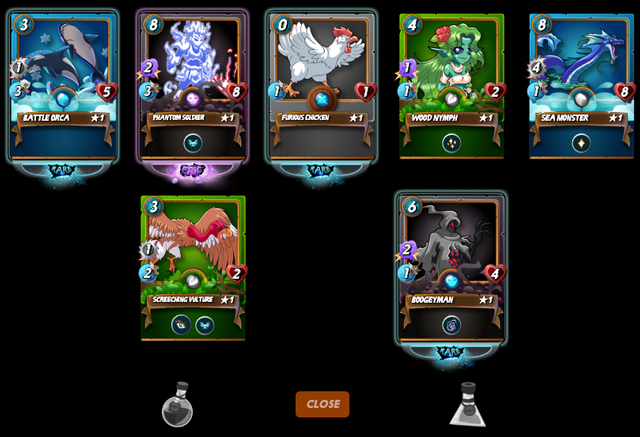 ---
Interested in one of the best Cryptos games that can earn coins while playing?
Splinterlands is fun and let you earn crypto that can convert back to Steem, Tron and many more with the help of partner exchanges.
---
Splinterlands 很有趣,可以讓您賺取可以轉換成 Steem(STEEM) 或 Tron(TRX) 的加密貨幣 - DEC 。
對好玩而又可以賺幣的加密貨幣遊戲感興趣?
Come [join us][1] on Splinterlands! https://steemmonsters.com?ref=nuagnorab
---
Cheers