Die Anzahl der verfügbaren Boosterpacks nimmt von Tag zu Tag ab. Und der Hype drumherum nimmt immer mehr zu: "Werden sie dieses Wochenende ausverkauft?" ist der letzte Slogan. Viele Leute kaufen Pakete, um sie zu lagern, und spekulieren auf einen Preisanstieg.
The number of available booster packs decreases day by day. And the hoopla around it increases more and more: "Will they last this weekend?" is the last slogan. A lot of people are buying packs to store them, speculating for a rise.

Nun, erinnert ihr euch, vor ein paar Wochen als es um "den letzten...." ging, als die ersten Reward-Karten wie der Flame-Imp restlos verteilt waren? Was ist wohl mit dem Preis des Flammenzahnes passiert seitdem? Genau, nichts. Es war bei $ 0,22 bis 0,23 zu dem Zeitpunkt und ist jetzt fast auf dem selben Stand, vielleicht sogar einen Cent darunter.
Well, do you remember, not so long ago, when everything was about "the last ...", when the first reward cards like the Flame Imp where all out? What do you guess happened to the price of the Flame Imp? Exactly, nothing. It was at $ 0.22 to 0.23 at that time and now it's nearly the same, perhaps even a cent below that.
Also ich glaube nicht, dass der Preis für die Beta-Pakete immens steigt. Vielleicht liege ich falsch - wir werden es sehen ;)
So I don't see the price of the beta packs increasing immensely. Perhaps I'm wrong - let's wait and see :)
---
Trotzdem habe ich mir heute ein Boosterpack gekauft und es geöffnet - mein üblicher Start ins Wochenende. Die Karten darin waren, naja, nicht wirklich überwältigend. Gebraucht hab ich keine von denen.
In spite of that, I bought a booster pack and opened it - my usual start into the weekend. The cards in it were, well, less than stellar. I didn't really need any of them.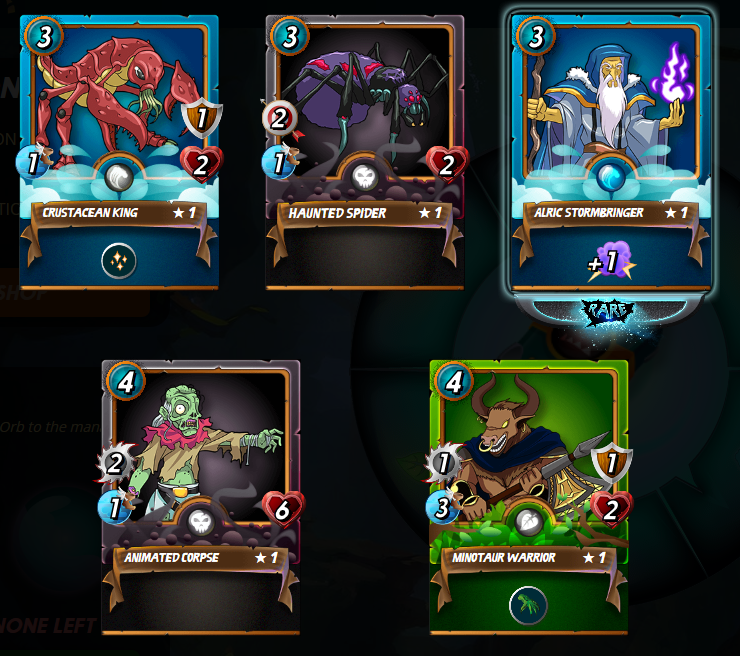 ---
Ich frage mich was ich nächsten Freitag machen werde wenn es keine Betapacks mehr gibt... Ihr werdet es erfahren!
I wonder what I will do next Friday if there are no more Beta packs to be bought... Stay tuned!
---

---
| 5% of this post's rewards automatically go to @t-r-f, the SteemFest Travel Reimbursement Fund. | 5% der Einnahmen dieses Posts gehen automatisch an @t-r-f, den Reisekostenunterstützungsfond für das SteemFest. |
| --- | --- |