Hier bin ich mal wieder mit meiner wöchentlichen Packungsöffnung, mein Start ins Wochenende. Und da die Untamed Karten ziemlich neu sind, werde ich ein wenig erzählen über die Karten, die ich bekommen habe.
Here I am again with my weekly pack opening to start my weekend. And since the Untamed cards are rather new let me tell you a bit about the cards I got.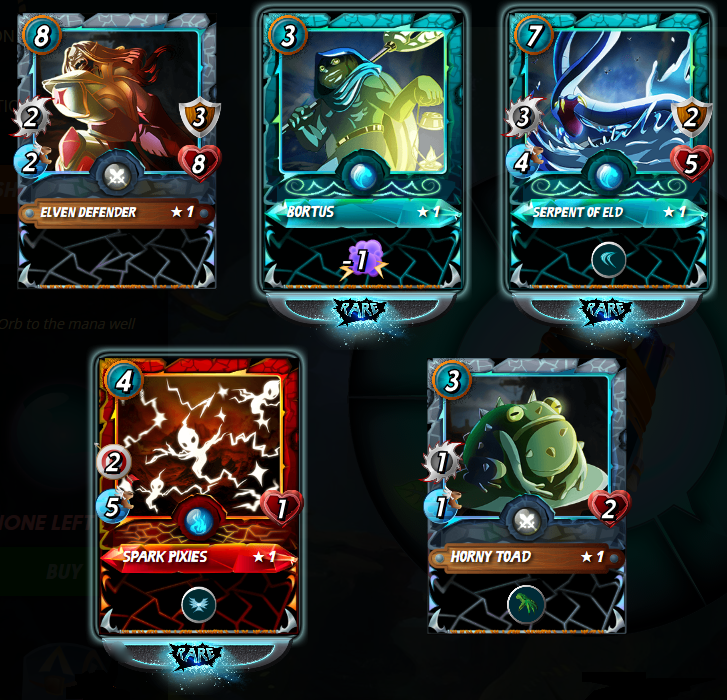 They do look rather untamed, don't they? / Die sehen schon ziemlich "ungezämt" aus, oder?
Elven Dfender
with 8 Mana good for the high mana battles, and he gets shield at Lvl 5 / mit 8 Mana sollte er gut passen für die 99 Mana Kämpfe, er bekommt später noch Shield;
Bortus
a Water Summoner. Might change some people's tactics with his -1 to the enemies magic attacks / Der Sumonner senkt die gegnerische Magie - da kann man bestimmt interessante neue Taktiken mit entwickeln;
Serpendt of Eld
quite good defense and offense for 7 Mana and at Lvl 5 he gains Return Fire / für 7 Mana sowohl offensiv als auch defensiv gut gebaut, ab Level 5 bekommt er Return Fire;
Spark Pixies
4 Mana and 2 Ranged Attack but only little health / 2 Ranged Attack aber nur wenig Lebenspunkte;
Horny Toad - has Reach but not a lot of other plus factors besides low Mana costs even though he gains Poison later on / hat Reach aber wenig andere Pluspunkte ausser geringen Manakosten, auch wenn er später Poison bekommt.
---
Und dies sind die Karten aus meiner täglichen Quest - nichts Spektakuläres, allerdings ist das mein erster Boogeyman!
And these are the cards from my daily quest - not spectacular, but my first Boogeyman ;)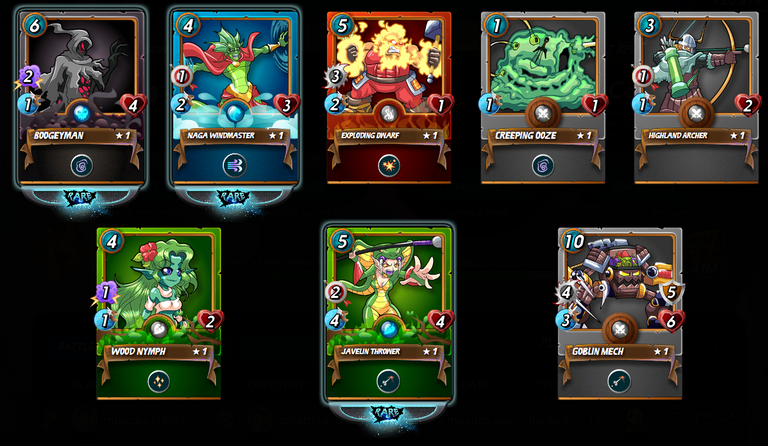 ---

---