Decentralized Finance (DeFi) took the cryptocurrency world by storm in 2019. It was the hottest application in crypto garnering a great deal of attention both inside and outside of the industry.
Central banks around the world have been in the mode of cutting interest rates. The easing that started a decade ago is still in full force Today, roughly 1/3 of global debt is under a negative interest rate.
This really impacted those who are seeking a return. At the top of the list are retirees and others looking for a conservative, yet stable return. Since bonds are paying an awful rate, they are forced into riskier assets.
Cryptocurrency is obviously a different animal entirely. It is well known that prices fell off a cliff since the bull run two years ago. Many of the alt-coins are still down more than 90% from their highs. This was a losing proposition across the board.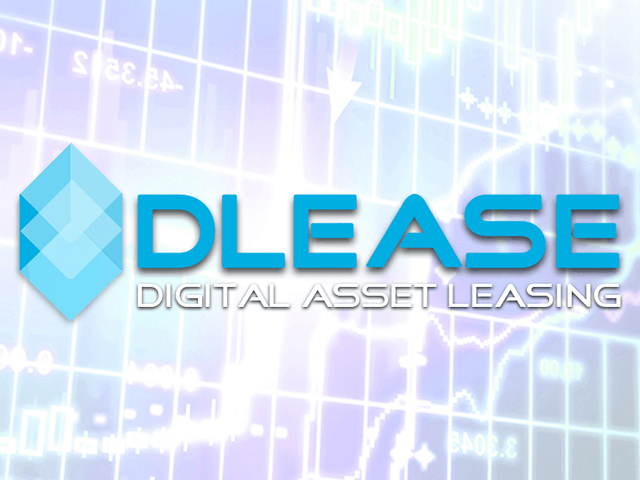 Since the inception of cryptocurrency, there were two choices for investors. One could either profit via trading or become a "hodler". There was really no way to get a return outside of these options.
DeFi opened up another avenue for investors. Instead of holding tokens for no return, companies started to offer up payouts for using the money. In short, we saw the emergence of lending within the crypto community.
Ethereum was the major platform to benefit from this. The numbers for 2019 were pretty astounding.
+137.23% annual increase in TVL - Total Value Locked (USD)
1 in every 37.12 ETH is now locked in Ethereum DeFi Protocols, up from 1 in every 56.17 ETH locked from the year prior.
2.69% of the total liquid ETH supply is locked in DeFi protocols, up from 1.76% the year prior
In August, TVL decoupled from Ether's price movements, signalling a natural demand for Ethereum's money protocols
+977.37% year-over-year increase in Dai locked within DeFi
Despite a +198.5% increase in BTC locked in the first half of the year, BTC locked stagnated in growth for the remainder of the year
The Dai Savings Rate (DSR) settles in at 4.00% APY
Derivatives were the fastest-growing DeFi sector at +4,827% annualized growth
Uniswap's liquidity has surged by +5,709% since January 2019
defirate.com/market-report-2019/
Indeed at face value these are some impressive numbers! However, one of the challenges we are seeing in this market is the rates are falling, and quickly. With the rate to borrow collapsing, much of the returns people were receiving earlier in the year are also vanishing.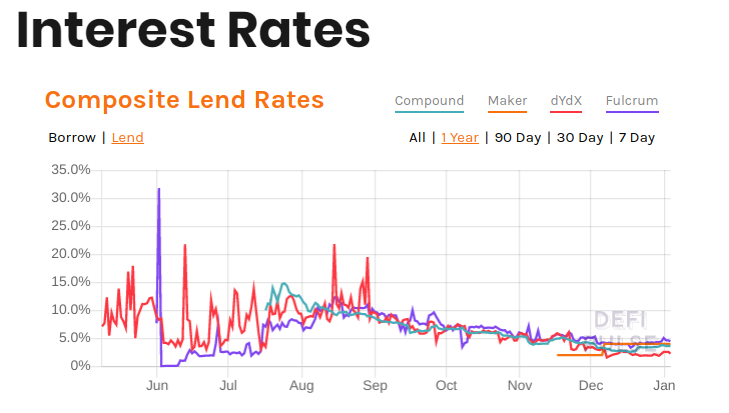 Source
What is not well known is that DeFi-like products existed on the Steem blockchain long before 2019. Dlease.io originally started as MinnowBoosterin mid 2017 and rebranded to Dlease in January 2019, with a hefty headstart over DefI of a couple years.
Dlease enables users to lease out Steem Power for the utility and social influence aspects. This is done by bringing people together in its P2P Digital Asset Leasing market; where those with Steem Power have the ability to fill orders on the market placed by lessees looking to lease Steem Power and in doing so, receive double digit APR interest returns.
The lessee has the motivation to lease Steem Power because of the reward system on Steem. Increasing one's Steem Power enhances one's standing on the platform. It provides the user with the ability to generate higher rewards from their curation and voting activity as well as attracting more users to their Steem blog through upvoting engaging comments with their newly leased influence.
Dlease.io is a service where Steem Power holders retain full control of their keys which is vital in the world of decentralised cryptocurrency. Many sites were hacked and tokens stolen because they were centralized and tokens on there vulnerable as soon as the hackers accessed the honeypot. This is not the case with Dlease, hackers would have to hack or phish each individual investor's Steem blockchain account to access their funds, and even so would have to initiate a 13 week power down vesting withdrawl to fully access the funds.
With all the stir around DeFi, the high Dlease returns are what mostly stand out. We are seeing under 5% DeFi returns on DeFi, as per the above chart, however, Dlease is presently paying double digits tending towards 13% APR. This is quite a bit more than even the 8% promotional DeFi rates tossed around by some companies.
The final advantage of dlease is that the opportunity cost is reduced with only a 5 day cool down period. This means the act of undelegating will not tie up one's Steem Power for an extended period of time, allowing for its use in another manner.
Dlease has a nearly 3 year proven track record in Peer-to-Peer leasing, with 33 Million in Steem Power leased since inception and consistently 3 Million Steem across 2500+ active Steem Power leases at any given time.
Lease lengths can vary from as little as 1 week up to 24 weeks, which are the common ranges normally leased.
The onchain escrow of the total lessee payments for the duration of the lease nullifies the risk of default to make dlease.io a very conservative way to generate a stable return of superior APR interest rates compared to what is currently available on DeFi.
---
---
---
---
| Visit our website for more! | Subsribe to our YouTube Channel |
| --- | --- |
| | |
Set it up today and contribute to building a better tomorrow!


( Want an easier way? Use our SteemConnect proxy link! )
Get support and connect with us and other BuildTeam fans!



---
---
Disclaimer: This is a @steemvoter subscription payment post. Thank you to Steemvoter customers for allowing us to use your Steem accounts to upvote this post by virtue of your free subscription to the Steemvoter.com curation automation service. @steemvoter is proudly a @buildteam subsidiary and sister project to @dlease, @tokenbb, @ginabot, @steemsports, @btuniverse, techinvestor.io, @steemsports-es and @minnowbooster.