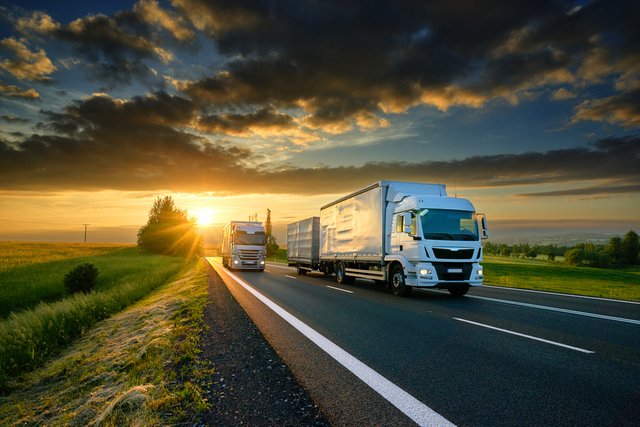 Commerzbank successfully tested a machine-to-machine payment with electronic money in cooperation with Daimler Trucks. The pilot project is based on Commerzbank's E-Euros and uses distributed ledger technology on the Corda Blockchain. The test payment was made as part of a process optimization program for trucks. This should help drivers concentrate more on driving in the future.
The German financial institution Commerzbank successfully carried out a test with the truck giant Daimler Trucks on the blockchain-based financial transaction between lorries. This emerges from a press release of the Commerzbank from 8 August.
The pilot transaction therefore took place within the framework of a project aimed at automating key processes in the operation of lorries. Among other things, this involves the digital exchange between the trucks to relieve drivers of tasks of this kind.
Commerzbank and Daimler Trucks use E-Euros
Commerzbank is thus the first German bank to offer blockchain-based machine-to-machine payments. A fully automated payment process between an electronic charging station and a Daimler truck thus enables the digital transaction in e-euros. Commerzbank had previously deposited this on a blockchain and thus equipped Daimler Trucks Wallet with "Ledger Money". Thus, a truck, for example, perform the refueling process without the driver having to intervene manually. The Federal Financial Supervisory Authority (BaFin) said its approval to the project according to media reports.
This process thus increases the interconnectivity between the devices - in this case trucks - and gives them far-reaching autonomy. According to Commerzbank, human intervention will no longer be necessary in the future.
"As a bank, we see it as our task to create new forms of digital payment architecture for our clients," says Stephan Müller from Transaction Banking at Commerzbank, explaining the approach adopted by the financial institution. However, the Daimler Truck ID and the Truck Wallet, on the basis of which the E-Euros are used, are still in the prototype phase.
In the meantime, Commerzbank can now imagine other use cases for the technology besides this project. For example, in the press release apart from the cooperation with Daimler Trucks, she mentions potential in the chemical sector or the real estate industry.
Commerzbank as a pioneer of crypto implementation
Commerzbank has already excelled in the past as a pioneer in crypto implementation. For example, in February 2019, the bank tested the first blockchain transaction with Siemens and Continental using Corda technology. Commerzbank also used the Corda Blockchain in its cooperation with Daimler Trucks. Another Blockchain project of Commerzbank was a legally binding securities settlement via Distributed Ledger technology in cooperation with Deutsche Börse in March 2019.
Source of shared Link
---