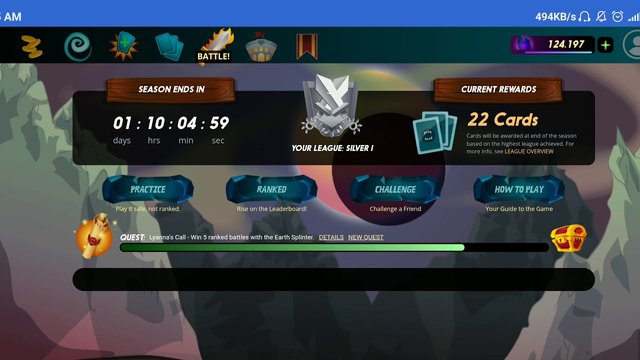 ---
https://www.youtube.com/watch?v=m4OgIubRSWk
Hello, Guys.
Welcome back again on my another vlog of Splinterlands.
So, in todays video I'm going to share my two match recording of Splinterlands. And this video is to participate on splinterlands's weekly share your battle challenge. And the ruleset is: Little League.
This contest is organised by @splinterlands / @steemmonsters team.
So, in this ruleset you can't use those cards which takes more than 4 mana. That's why it is called little league. League of cards, takes up to 4 mana.
Actually, I've recorded these matches 2 days ago. But, I can't post them due to my illness. I'm suffering by fever. Though, I'm not fully well. I thought, I need to share my video. That's why now I'm writing this post.
In this video, there is two match. In the first one I used water splinter and in the second one I used earth splinter. And I won both of the matches.
@splinterlands also asked some questions, which you need to answer to participate in the contest.
So, here are my answers:-
1•
In the first match, I putted Spineback Turtle at first because it has sheild. And it is the best card to put in first which costs 4 mana. In 2nd I used Battle Orca because it has higher life than others. In 3rd I used Crustacean King because it'll heal both Battle Orca and Spineback Turtle. And in the end I used magic and range cards. Because, range cards can attack from long distance and water splinter can rise the attacking power magic cards by one.
.
In the second battle I used earth elemental in first. You may ask why? Because, its a range cards. And range cards do not attack when they used in first. Unless its the ruleset of close range. But, I used it because it has higher life level and costs only 3 mana. So, my lineup was it'll take all the damage and my other cards will attack opponents cards. I also used Wood Nymph to heal it's life. So, it can keep taking damage.
2•
Yeah, my strategy worked. I've won both of the matches. And I hope, this lineup is best for me. I won't try anything else in little league match.
3•
Actually, it's hard so say that I hate this ruleset or love it. I like this when the mana limit is lower for match. But sometimes, it allows me to use up to 99 mana but the ruleset is Little League. In this situation, I really hate it. Main thing is, everything in this world has bright and dark side. You must take your decision by watching both of the sides.
..
After all this, there is only one thing to say.
I Love Splinterlands. 🎮
..
That's all for today guys. See you again in my next post.
Till then stay happy, stay cool.😎
---