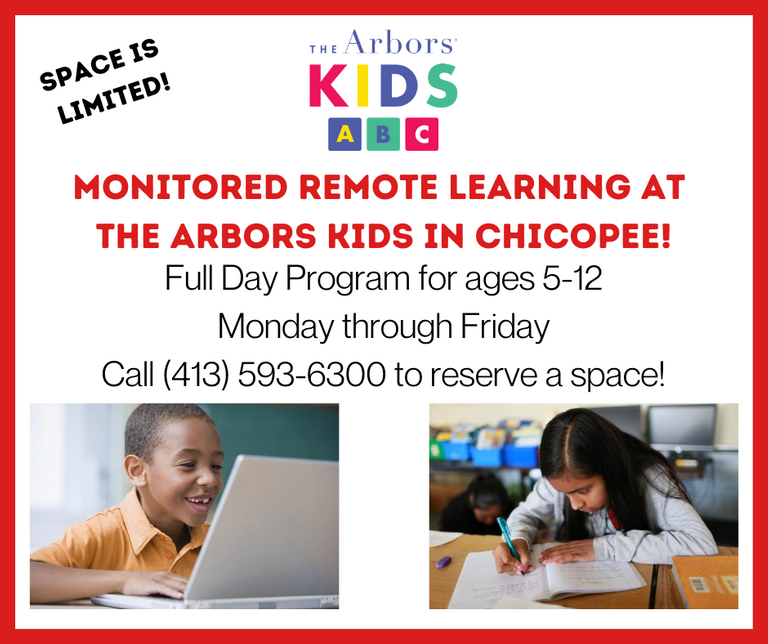 What's good everybody it's your boy, Charlie!
---
With schools returning many of us in the School Age care field have been innovating the way we handle care. I myself am just getting back into my center with a little bit of unease. It's been months since I looked at the space but we all decided to move forward. At this time I have been called back to my center to prepare a curriculum for 13 children at this time. Many of them will be bringing in their equipment from home and will be in course/study time with their teacher from 9 am to 12 pm. The fun will be in ensuring the children are sticking to their course work and schedule. Luckily I've worked in the Chicopee Public Schools systems before. Though many of us are limited I also need to prepare a fun time activity for after the fact. I'm not going to go into any full detail about anything but many can feel free to call me Mr. Laboy.
Tentative Remote Learning School Age Schedule
| TIME | ACTIVITY |
| --- | --- |
| 7:00 AM - 9:00 AM | 🍳Breakfast Time🍳 |
| 9:00 AM - 12:00 PM | 📘Online Required School Time 📘 |
| 12:00 PM - 12:30 PM | 🍎Lunch🍎 |
| 12:30 PM - 1:30 PM | 🏃Outside Play Time🏃 |
| 1:30 PM - 2:30 PM | 📘Additional School Help Time📘 |
| 2:30 PM - 3:30 PM | 🎨Arts and Craft / Virtual Field Trip🎨 |
| 3:30 PM - 4:00 PM | 📘Quiet Time and Prepare to Depart Home📘 |
7:00 AM to 9:00 AM | 🍳Breakfast Time🍳
Children will be starting to walk-in beginning at 7:00 am. As the teacher, I will already be in the room ready to meet the children and answer questions. We will serve breakfast and prepare for our morning routine work with the teachers.
9:00 AM to 12:00 PM | 📘Online Required School Time📘
Here is where I get to put my years of experience and talents to the test! I will be in charge to routinely watch children on their computers and ensure they are keeping up to their teacher's work. 13 Children will be under my care during this time and many of them will be in different grades. However this no different to when I was helping them during afternoon school-aged care. If any of them finish early I will assign them computer math games to play that will attach to our new system.
Estimated Schedule
| TIME | Programming Details |
| --- | --- |
| 9:00 AM - 9:30 PM | 📘Introduction and Greetings 📘 |
| 9:30 AM - 10:30 AM | 📘Whole Group Lesson - Tentative 📘 |
| 10:30 AM - 11:00 AM | 📘Student Time - Tentative (Individual or Group Work ?) 📘 |
| 11:00 AM - 12:00 PM | 📘Second Whole Group Lessons 📘 |
Most likely the children will spend a half-hour getting connected with their teacher and getting the class settled for greetings. Then another half hour to 45 minutes of lecture. After that, I imagine they will get some time to work on what was discussed where I will need to step in and make sure we transition appropriately. The difficult part will be trying to synchronize everyone and making sure all are paying attention.
12:00 PM to 12:30 PM | 🍎Lunch🍎
Well obviously we are going to eat during this time. Things are going to be a little more tricky having to eat six feet apart.
12:30 PM to 1:30 PM | 🏃Outside Play Time🏃
Getting outside for some physical play is going to be very important. We will make use of this time to get out any last energy we have in case we have to go back in to finish any work.
1:30 PM - 2:30 PM |📘Additional School Help Time📘
This time will be allotted for any time that needs to be spent on school work. Thus we will review some things and drill in some facts before we break up.
2:30 PM - 3:30 PM |🎨Arts and Craft / Virtual Field Trip🎨
This is where #creativecoin is going to love me because now I can update my blog with pictures of the projects we do. I also want to create a Virtual Field Trip fund based on these posts.
3:30 PM - 4:00 PM |📘Quiet Time and Prepare to Depart Home📘
Parents will be picking up their children from the building at staggered times. Even after COVID regulations are dropped I will still keep the car line implemented.
---
This week is being spent cleaning up the room we will be using for learning. We also have to clean the outside space for play. Overall I'm excited for the possibilities that are going to come. I've looked over my roster of who is potentially to come. I'm excited that once I figure out how to get them comfortable with the room and their settings with their classes we will be able to get into the good and complicated stuff. The biggest thing I'm going to be excited about is introducing #splinterlands as an activity during the day. I'm also working on an idea for a Hive-Token to implement within too. Also a big shoutout to @gerber because we are going to be discussing my uses for @dcitygame at the Fabolous Fall Festival being hosted by the Chicopee Cultural Council. I've convinced one of the board members to allow me to discuss the implementations I have devised. If I show a live stream where I interact with the chat and giveaway cards to people it will help to promote the branding around Hive and this beautiful blockchain.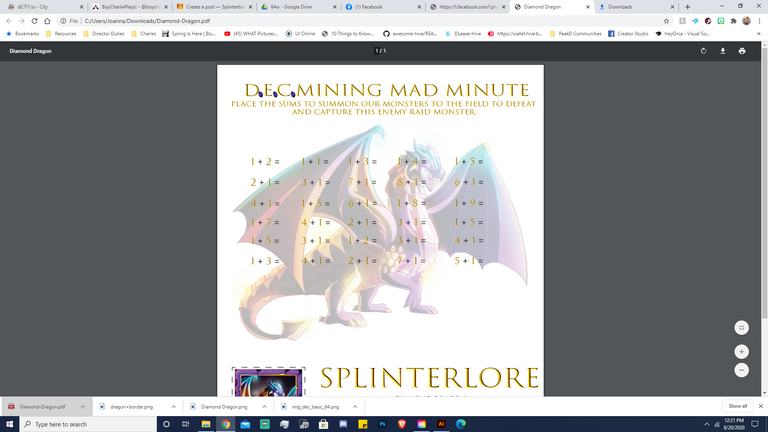 Make sure to check out my Splinterlands Mad Minute Worksheet Article
Thank you for reading!

Make sure to check out more of our @boycharliefamily content through our other associated blogs.
MAIN THREE PROGRAMS
Make sure to check out the BoyCharlieFamily Hive community. Those who post within this community and support the @boycharlieplays posts may receive an upvote from the @boycharliefamily account. I am still currently working on developing the Hive Power for this account so that it is strong enough to curate content by our supporters for great rewards.
Community Entities

center> @klye - Vote KLYE for Witness, Every Single Vote Helps, Thanks for the Support!
Need to get in Contact with KLYE?
Make sure to say hi to my Hive Shoutouts! Drop them a follow, an upvote, and a comment saying @boycharlieplays sent me ;)!
Ways to Connect with BoyCharliePlays!
Be sure to follow me on the other social media platforms provided down below.
---
---
---