Adelaide Steem Christmas BBQ December 14th 2019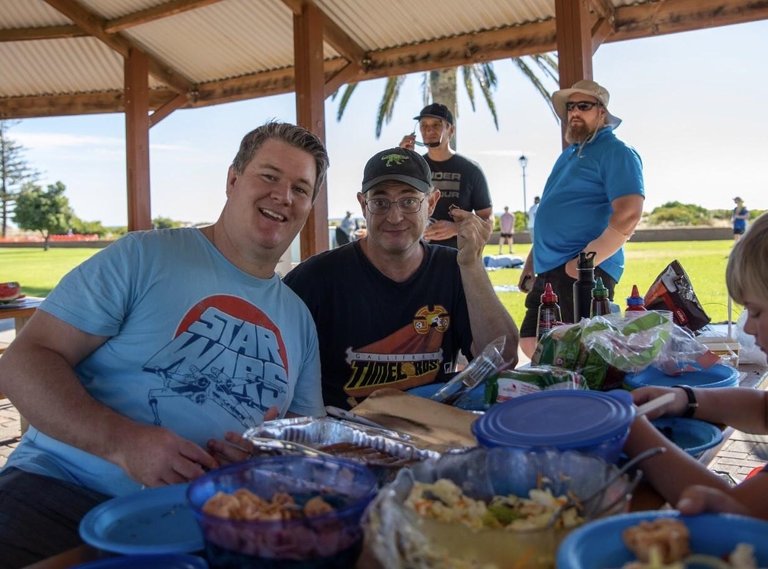 @mattclarke, @shaidon, @ctrpch, @thevillan
Dark blue skies once again meet my gaze as I looked up, waiting impatiently and eagerly for @thevillan to pick me up from the train station. It's a 45 minute drive from where we were to get to Angus Neil Reserve in Seacliff, South Australia.
After only a few minutes of me being there, he pulled up in his red car and we were soon discussing which items needed to stored in his massive esky and which could be left out before we were soon on our way.
Plenty of drinks and ice blocks for everyone!
Along the way we discussed all things Steem-related, and how awesome the weather was. We stopped off to get some sausages and some plastic plates and cutlery. You can never have enough of the essentials!
Once again we were back on the road...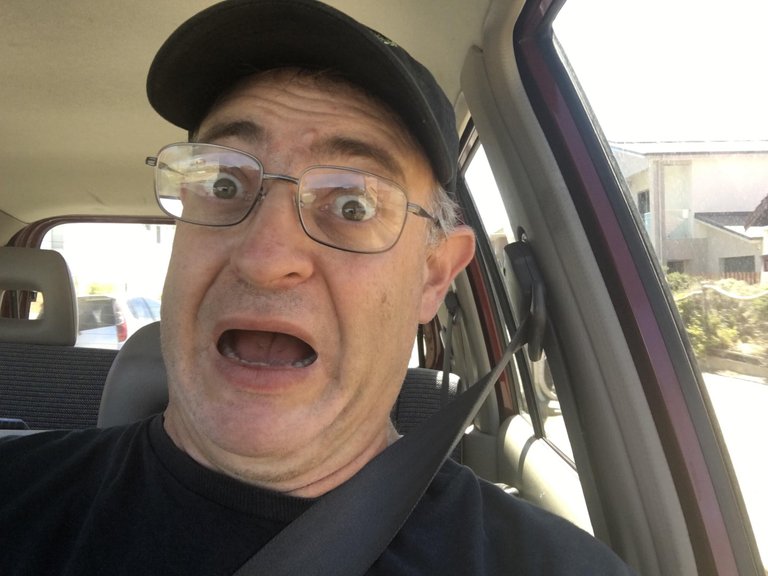 He's a good driver, honest!
The above photo was shot just we turned around the corner and I thought it was funny. Steem needs more humour in it don't you think? @thevillan is genuinely a good driver.
Pretty soon we could see signs that we were nearing Semaphore Beach.

A perfect blue sky means a great day for a BBQ.
Upon arrival we were greeted by @mattclarke, who had paid for these huge blocks of ice with rope through one end. I'd never seen them before but they make great sleds for grassy areas with hills.
It's fun coming down the hill, but soon you have to drag it up the hill again. :)
Who needs a gym membership? Lol.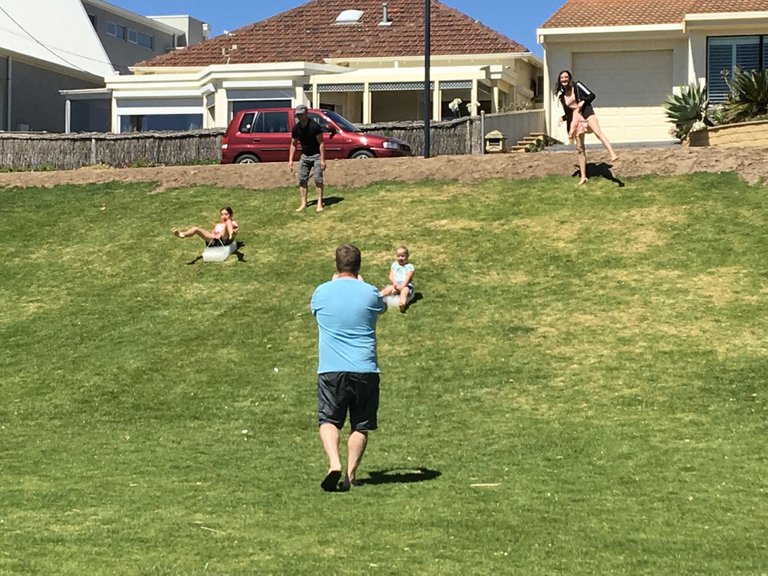 Ice sledding on grass with ice blocks.
Pretty soon it was time to cook the meat, making sure of course that the meat was defrosted long before it hit the hot plate.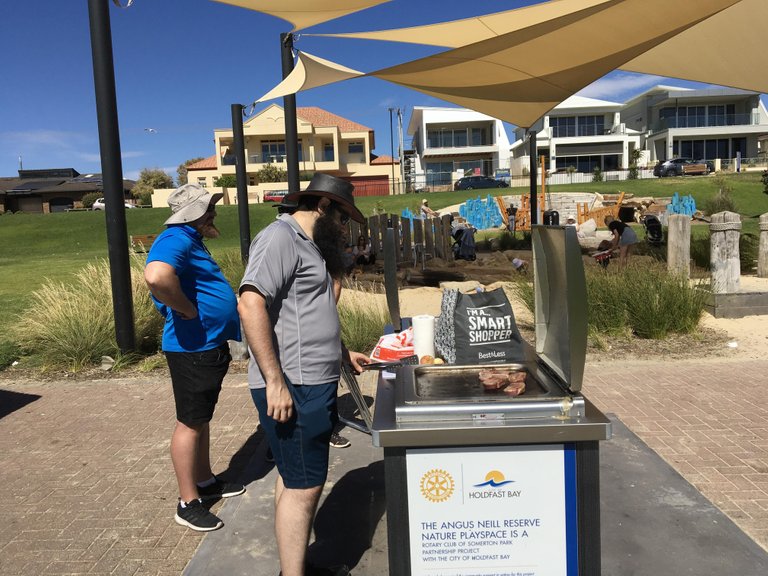 @holoz0r and @thevillan at the electric BBQ
The BBQs are free and run on electricity. You just hold down the button for a few seconds and it heats up and stays on before switching off automatically after 20 minutes. @holoz0r reckons that the best way to clean a BBQ is with half an onion. Not sure of that myself, but it seems to work once you get rid of the excess burnt stuff and leaves from the previous users.
Everyone had a turn at cooking, and as I am not the most accomplished chef, I chose to cook Sizzle Steaks.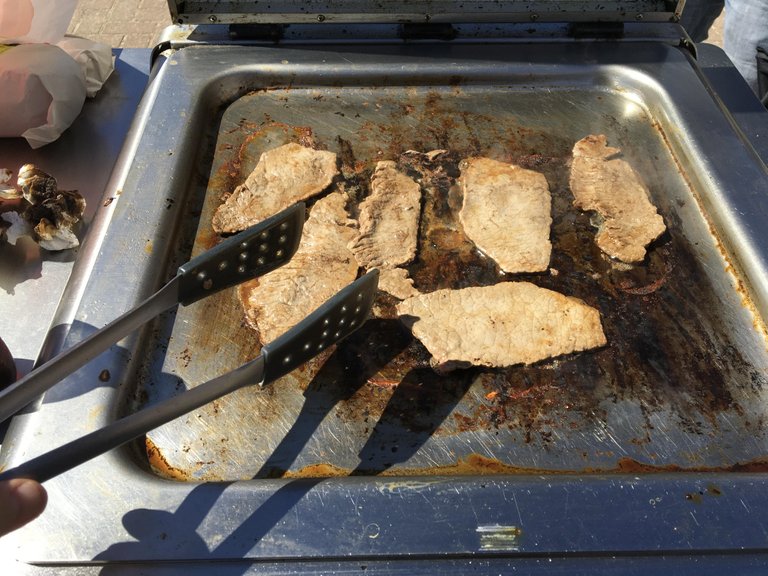 Sizzle Steaks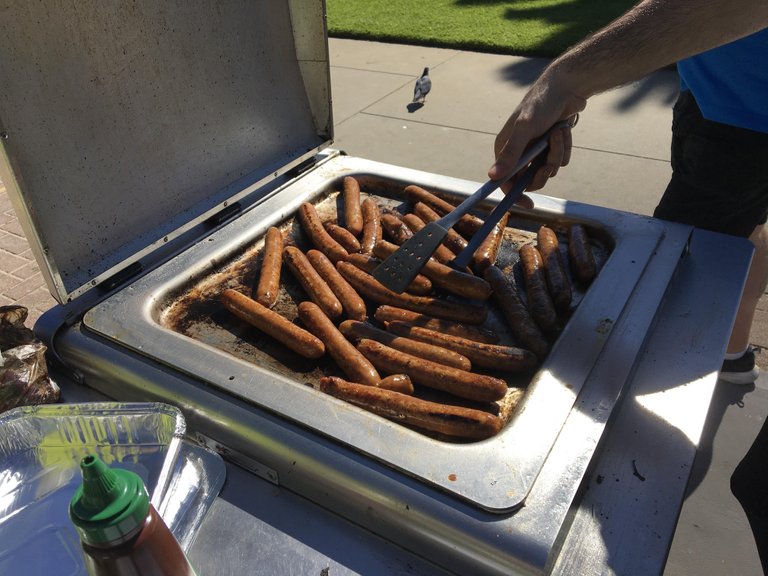 Cooking sausages
The finished product. Mine's the one in the middle
We moved from an area with palm trees, to a sheltered area and laid out a really nice spread of food.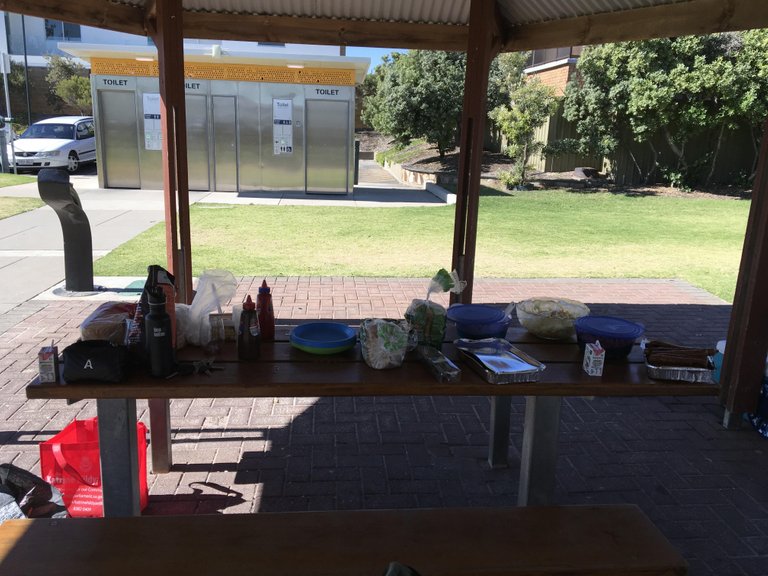 The spread, close to toilet facilities.
Some delicious coleslaw.
@mattclarke also brought some of the best marinated steaks I had ever tasted. They might not look like much from the photo, but believe me they were awesome.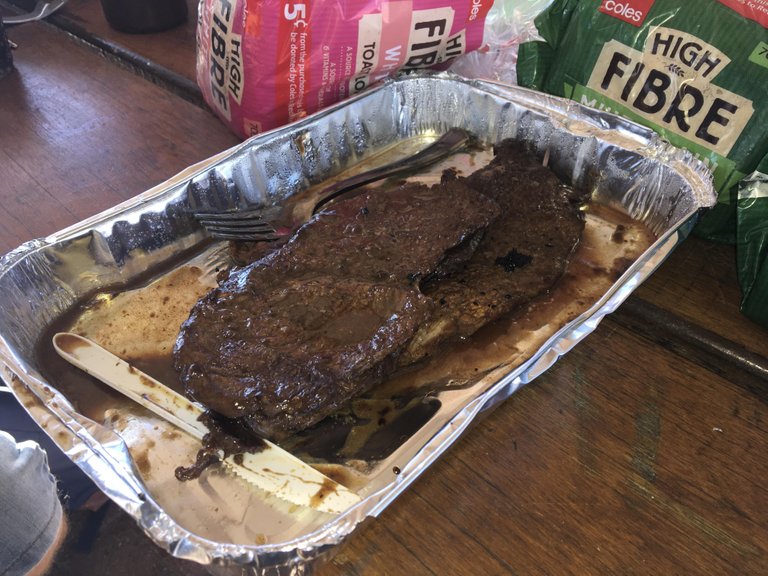 The best marinated steaks ever!
After everyone had a fantastic feed, @holoz0r offered to take photos @ctrpch and myself near his Steemit Mobile. The licence plates are going to be retired soon.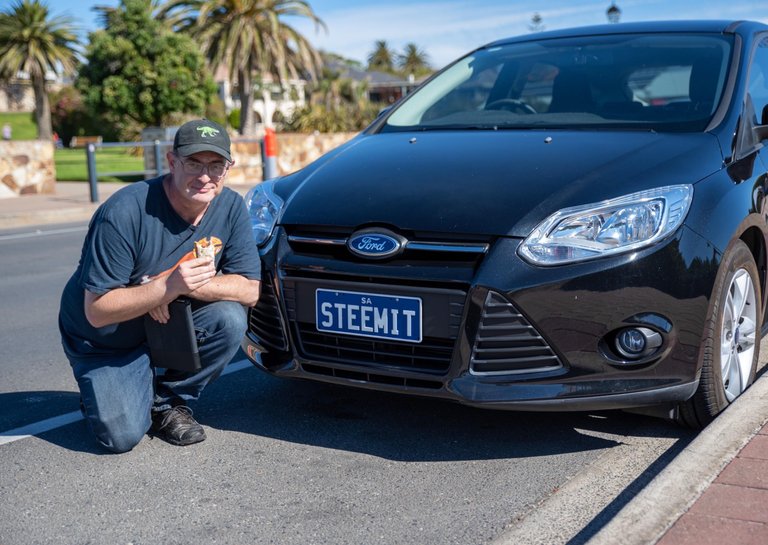 Representing Steem and Splinterlands at the same time.
Any chance to show off my Rexxie cap, really.
All up, including kids, I counted 18 people, which I think is one of the biggest attendances of Steem meetings I have heard of.
@thevillan, @ctrpch, @holoz0r, @mattclarke, @henryclarke, @fletcherclarke @evelynclarke @amandaclarke @minismallholding @sviltaangel @izzydawn @ursa to name the Steemians I could remember. And I know probably about 4 more who couldn't attend.
Soon it was time to leave, as the weather soon turned a little chilly and the wind picked up and no one really wanted to leave. It was a great day out and everyone was a little bit more informed and on the same page about the future of Steem and their individual plans on how to make 2020 a great year for Steem, Steemians and crypto in general.
I can't wait for next year!
From this page to yours, I hope you had a great Christmas and have a Happy New Year 2020!
See you in the kitchen...!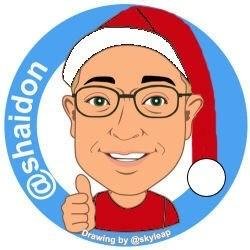 Shaidon's Seasonal Seal Of Approval
---
---