This contest is always allot of fun so why not do it again. In this game I want you to come up with a Stupid question and I and others will give you a Dumb answer.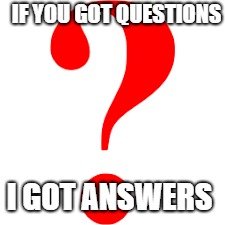 A couple examples on how to play :
Question : What is 2 + 2 ?
My Answer : 22


Question :Is the sun hot ?
My Answer: No its a ball of ice that will give you freezer burn if you get too close.
Rules
Place a dumb question in the comment section.

If you see a stupid question you want to answer then go ahead and hit reply under the question and give your best dumb answer.
Prizes :
Steem-Monsters is a digital card game created by @aggroed and @yabapmatt. Early game release has launched and prizes are already up for grabs. Some of the cards in this game have already sold for upwards of $3000. Prize tournaments have started with thousands of dollars worth of Steem already handed out for free. If you haven't yet checked out Steem-Monsters you can do so by clicking here. Use your Steem details to sign in :)