Finally!
I finally managed to escape from that hellhole I like to call the DIAMOND III leagues as I surprisingly advanced to the next league today and is now at DIAMOND II leagues guaranteeing myself with 50 LOOT CHESTS once this season ends. Woohoo! I honestly thought I would forever be stuck on DIAMOND III this season.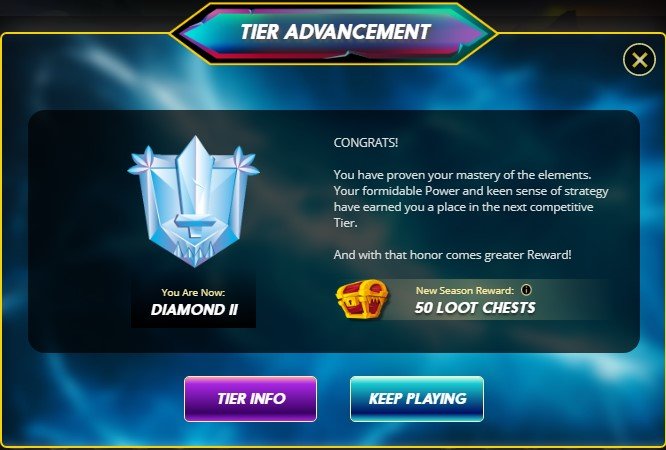 With me advancing to the DIAMOND II leagues, my hopes of ending this season at DIAMOND I leagues also significantly increases seeing as there is still 5 days left before this season ends.
For some odd reason (and based on my past experiences), it's 10 times harder advancing to the DIAMOND II leagues rather than advancing towards the DIAMOND I leagues. The chances of being matched up against full leveled summoners and monsters are higher on DIAMOND III than on the DIAMOND II leagues.
Not that there is no full-leveled summoners/monsters on DIAMOND II but if I have to put it in numbers, it would be something like being matched up against those people 90% of the time on DIAMOND III leagues and at 80% on the DIAMOND II leagues.
Still a big number I know but most of those matches have a high difference in Battle Points so my decrease usually often is only at less than 4-10 per lost match.
Anyways, hopefully I would not jinx this today and smoothly advance towards the DIAMOND I leagues in the next days to come. XD

Current win-rate is at 50.14 % which is 0.14% higher than yesterdays.
How about that?! First time seeing a win-rate that is on a positive side. XD