At this point really I am no longer surprised with how my monsters are behaving on my ranked matches.
Like I have already ranted a lot of times before how when an opponent's monster with poison ability attacks my monsters, the poison is triggered almost 90% of the time whereas when my monster with poison ability attacks and hits successfully the opponent, the poison is triggered only ~30 % of the time.
Of course I don't have any proof of that but that is honestly what I feel every time I see 'poison' monsters on my ranked matches. XD
Anyways enough about that and let's talk about one of my matches this morning which honestly left me all shock.
As you can see below, out of all the monsters on the field my WATER ELEMENTAL has the highest speed of 7. Obviously it will be the first to attack and would then aim on the opponent's GELATINOUS CUBE.
I really though it would hit considering it only has a speed of 3, that is a speed difference of 4! But color me surprised it missed! How unlucky are these monsters of mine! LOL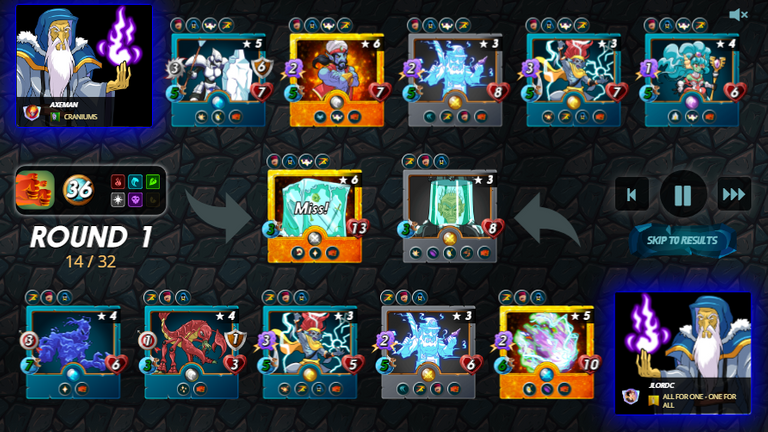 I honestly would understand it if the monster has at least 'SWIFT' or 'DODGE' or 'FLYING' ability making it more difficult to hit but the GELATINOUS CUBE has none. The speed difference is also 4, a huge difference if you ask me. So the only explanation must be these monsters of mine are just that bad. Lol
I'm aware the situation is not at all impossible but what would you feel if a monster of yours with speed of 5 misses a monster with speed of 1. You would probably be a little pissed off right so let me rant a little bit here. XD
Anyways, the good thing though is the above match ended up as my WIN. I honestly would be furious here if I lost that match because of that unfortunate 'miss' but good thing I have a lot of magic reflect monsters on my side.
If you guys wanna see the full battle here it is: https://steemmonsters.com/?p=battle&id=b20b7bb5862cf433551f4c972129f0da072c0185
Also, made it to the DIAMOND I today so Woohoo! XD