There is a prize of 42 Steem and 10 TRON for the winner of this Contest.... Maybe More
Thanks to the very generous upvote of @TheycallmeDan the prize is now 42 Steem
It will run for 30 days. (month of March 2020)
The Winner will be Announced on April 1 2020 (No Joke)
Star Wars Community Stopmotion Contest Rules:
Subscribe to the Steem Star Wars Community : https://steemit.com/trending/hive-106158

Create an Original 1 Minute Stop-Motion Movie about Star Wars.

It can be a drawing, a painting, claymation, animation..... but it needs to be Stop-motion. I will post a few Examples below.

You can use the Time-lapse feature already on your iPod, iPhone or other device , or you can use the Free StopMotion App : https://apps.apple.com/ca/app/stop-motion-studio/id441651297

Create your own Star Wars Post and Share your video on YouTube, DTube, or someplace where you can Also embed or link your Video in Comments below.

Use hashtags #starwars #SteemitStarwars etc....
I am looking for Engagement and Original Creators on Steem. I know you are out there ....
May the Force be with You.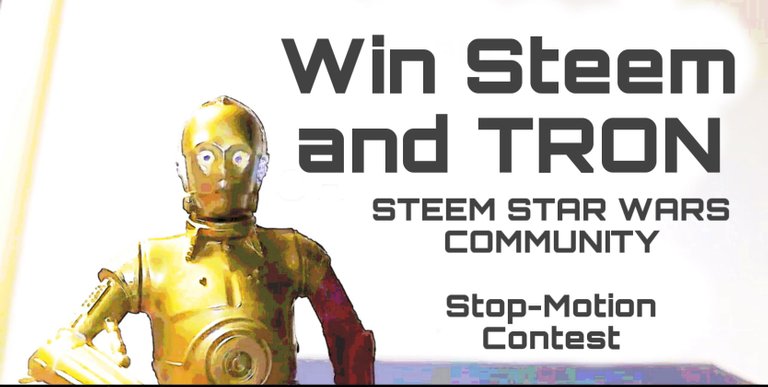 Some recent Stop-Motion examples .....
Steemit / Star Wars: https://steemit.com/hive-106158/@offgridlife/come-to-the-dark-side-scenes-and-artwork-from-my-latest-star-wars-home-movie