Protect & Govern STEEM: Vote for Witnesses NOW!

TL;DR: Vote for Witnesses (or set proxies) so the community has more influence than a single individual!
It doesn't matter which witness. Just make sure they've got Steem as n°1 priority!
Vote here => https://steempeak.com/me/witnesses
---
Fellow Steemians,
the ninja-mined stake from Steemit Inc. has always been a danger to our decentralised governance.
This is true now more than ever.
Justin Sun is a smart business man and if I were a TRX hodler, I'd be pretty stoked about his recent shopping spree.
But I'm first and foremost a Steemian!
I've built on here for more than 2 years and I'm lucky to have seen all the many positive attributes this blockchain brings to the table of crypto.
Especially with recent improvements, such as SPS, Mira, Resource Credits and soon SMTs & RC delegations. The future looks bright!
However, our blockchain is at risk.
There are a lot of rumours going around.
While Justin Sun is saying that for now Steem blockchain is staying as is, there are too many articles & tweets talking about the current STEEM token having to be converted to TRX STEEM, or becoming worthless.
This is a major red-flag in my opinion!
Steem is not and will not become a marketing product for any other blockchain.
If it were to make sense to migrate towards a newer & better technology, then it would make sense to think about it.
But right now, with the improvements that have been built on-top of the Steem core code, there is absolutely no reason why Steem, as a blockchain, should cease to exist, just to become another TRX-10/20 token.
What to do then?
As @taskmaster4450 correctly pointed out (post), there is currently over 210 Million Steempower on Steem.
If I subtract 75 million of Steemit Inc's stake and subtract 48 Million which is currently voting for the n°1 witness @yabapmatt, then there are still 90 Million Steempower left not voting for witnesses.
Alone 50% of that, 45 Million, would mean that the community would have more influence in deciding the future of Steem, than any single individual.
That means:
Vote for Witnesses - NOW!
Vote here => https://steempeak.com/me/witnesses
It doesn't matter which one you choose, as long as the witnesses have Steem as N°1 priority!
It obviously would make sense to support the current top 30 Witnesses, to make sure that we've got enough power to sustain any attack, but there are a lot of great witnesses below that ofc.
Now, if you don't know which witnesses to vote for, then simply set a proxy (you can choose me or any other Steemian you trust) as a proxy.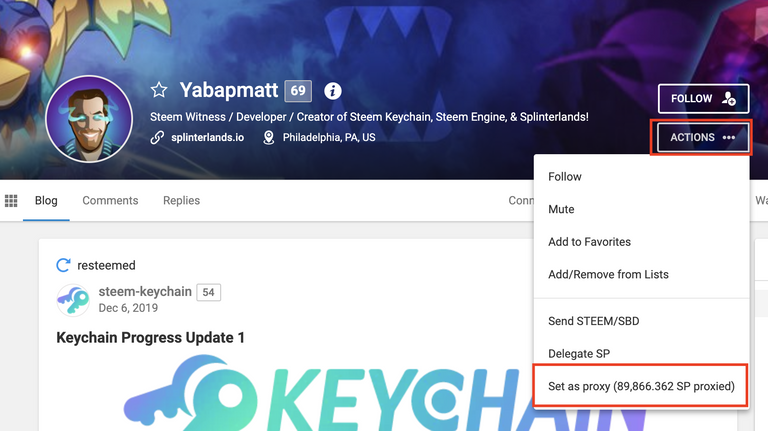 Header over to the user's profile on Steempeak.com and do the action you see above in the image (ACTIONS => Set as proxy)
This will result in your Steempower being proxied to said user who will vote with your Steempower as well (only for witnesses, doesn't include regular post voting).
---
If you want to set me as a proxy: https://therealwolf.me/vote?for=therealwolf&action=proxy
---
This post is not FUD
As I said in my previous post: I'm an optimist by heart and I would love nothing more than a mutual beneficial partnership between TRON & STEEM.
BUT.. I will not accept any risks regarding the stakeholders investments on here nor to give up on a project with so much potential.
We are not just here to make TRX holders richer!
If we can all benefit from this arrangement, then that would be great.
But let's be prepared to fight for our blockchain and our freedom!
https://giphy.com/gifs/braveheart-jaEnOOay0BGGk
---
Vote for Witnesses NOW (or set proxies) so the community has more influence than a single individual!
Vote here => https://steempeak.com/me/witnesses
---
PS: Please focus on using alternative Steem interfaces; such as Steempeak.com, eSteem and more ... https://steemapps.com/type/interface
---
---
---