What's good everybody it's your boy, Charlie! 😅
---
For my first motivation blog in a long time, I want to be fair with myself. I believe starting these blogs as a free write will allow the script for this project to move forward. It's easy during this 2020 pandemic to find new chances and possibilities. The information on building this blog and "content creation" as my business during this time has been invaluable. But what defines the mission of "BoyCharliePlays! - Content Creation," really? Well, if you asked me on the way to this reporting blog, I would tell you a gaming live streaming, rapping, educating, speech giving, superman. And as Coach Rob, a new friend of mine is telling me that's too many things. And he's right. So I need to do what I do best, which is to create tutorials. We will make people happy as a content creator game master!
I find my clouded minds have blocked out the rainbows, and I'm left looking on without knowing how to gaze at it with joy. The innovation is justified for moving this project forward into the limelight of public circles. But do I follow through enough to make sure I am more than just motivated for the thing I am doing? Was the purpose of the mission established and the operation not structured appropriately? Is writing down the task for the setting enough only for the job to not get complete? The actions and the steps to take me are in every Motivation/Life/Mental Wellness Cookbook that someone wants to give. But to accumulate more prosperity and create more possibilities for the @boycharliefamily, I have to do more than just set up my to-do list.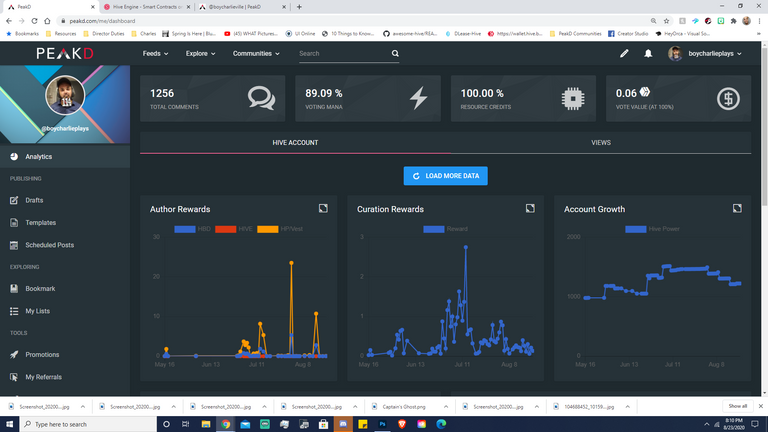 I Am A Champion | Motivation Vlog
---
We are aiming to shoot a mobile handheld series where we aim to motivate viewers with our daily activity and project check-ins. The premise would compromise the wake-up regiment moving into our daily tasks. To get footage and put together a vlog at the end of it. By continuously building and working on our craft in this way, we will be able to create more traffic on 3speak and encourage our local base to visit Hive. Each Vlog will consist of daily motivation, daily task check-in, and yesterday's footage recap. I am ending on a personal reflection a small poem in the form of a quick song to a free instrumental. Then we will expand upon the footage we shoot by incorporating more businesses and venues. I will go out and get Breakfast or Lunch (maybe with a friend) and publicize a local business. Having this included in content allows me to continue the mission of supporting the community. It's time to wake up, and get it done. Look at it. Don't run away from it. Make a list and every item on it come into reality and seize the possibilities being set. I want to be able to say the @boycharliefamily is growing more and more each day. People are connecting with my ability to bring joy or excitement through my music, my video, or my gaming.
BoyCharlieFamily - Gaming and Creative Guild
---
The @boycharlieplays account is creating content and forming contracts with local clients and businesses. The plan is to raise enough funding to draft a team that will assist in the planning of BoyCharlieFamily Programming. We will aim to host our BoyCharlieFamily vendor networking events online through Hive, Facebook, and Discord or in real life places arranged by the group.
The use of the @boycharliefamily discord will expand our reach to people to have them click the link and instantly become official members of the @boycharliefamily Hive Community Guild (Patent Pending). The BoyCharlieFamily guild will assist in creating opportunities for Hive token usage in the real world and teach members how to use the token to assist in their own economic and financial needs as well as the communities. The dream would be to have a collective of local people who work together to create Hive related content under the @boycharliefamily's daily blog. This blog will generate income through upvotes from the blockchain and that income will be used to generate a hedge fund that joined members can bid for weekly by providing a daily entry and interaction amongst the work. As part of my team and under the @boycharliefamily, we would run these tournaments and exhibitions within these Hive blockchain games, assist vendors in their placement in the tournament and meet their needs, and create content about the event. @boycharliefamily Splinterland Tournaments can be sponsored by local businesses for quick access to Dark Energy Crytal Funding. to happen in city parks to benefit the public. DCity Networking parties will take place at local eating spots to market and support local small businesses. Donations to the @boycharliefamily group will assist in covering the expenses of hosting the location and providing spacing for other vendors to table and place wares for sale. @boycharliefamily aims to collaborate and talk with people about how to get on Hive, what their business could look like on Hive, and how we could all be happier supporting each other here. The REAL people are what's going to bring quality engagement here, and that's the last piece to this puzzle that this group can bring if properly supported and manned.
We have the games, we have the technology, we have the information, but the last thing we have to do is help people create these in-person initiatives. The data from my profile shown in the image below displays the current standing on my Hive Profile after the copy from STEEM. Now I aim to present what I would need to explain to businesses in my area to make it worthwhile and fruitful to invest in these Hive tokens and wallets to trade quickly and privately. To have commerce amongst ourselves as citizens and promote quality content online. A system that is able to generate wealth through interaction generated by growing technologies on a sustainable blockchain. I imagine the use of Hive in the local Chamber of Commerce events where local vendors get together to sell their wares utilizing Hive as the currency. Later they get to blog about their market experience hosted by the Chamber of Commerce. They get an upvote from that chamber account. An upvote from a whale on this platform can generate hundreds of dollars in a less than 20 seconds with a Hive account and the proper Hive Power stake. The @boycharliefamily will continue to mine the currency into a city economy and create wealth for the small businesses that are being crushed during this pandemic.
This idea won't be built perfectly overnight, but it will take careful planning from myself as the Director/CEO/Orchestrator of this whole mission.
BoyCharliePlays Final Comments
---
Share your creativity and make yourself seen!
Thank you for reading!

Make sure to check out more of our @boycharliefamily content through our other associated blogs.
MAIN THREE PROGRAMS
Make sure to check out the BoyCharlieFamily Hive community. Those who post within this community and support the @boycharlieplays posts may receive an upvote from the @boycharliefamily Account. I am still currently working on developing the Hive Power for this Account so that it is strong enough to curate content by our supporters for great rewards.
Community Entities
Support some of my favorite blockchain creations and creators down below!
Favorite Dapps



@klye - Vote KLYE for Witness, Every Single Vote Helps, Thanks for the Support!
Need to get in Contact with KLYE?
Make sure to say hi to my Hive Shoutouts! Drop them a follow, an upvote, and a comment saying @boycharlieplays sent me ;)!
Ways to Connect with BoyCharliePlays!
Be sure to follow me on the other social media platforms provided down below.
---
---