Hello, beautiful friends of Splinterlands, I hope you all are feeling good and enjoying your day. Today I am sharing my entry for the Splinterlands weekly social media challenge and in this post, I will share my experience with UNDEAD REXX.
UNDEAD REXX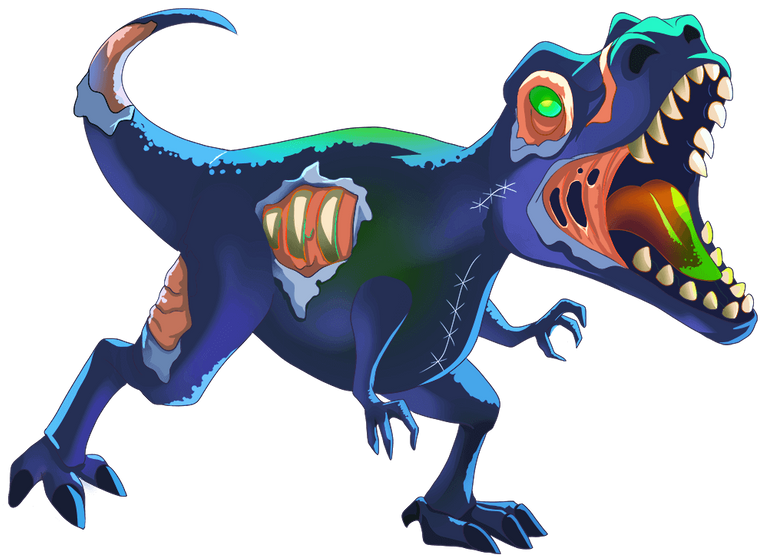 Element: DEATH
Rarity: COMMON
Edition: REWARD
STATS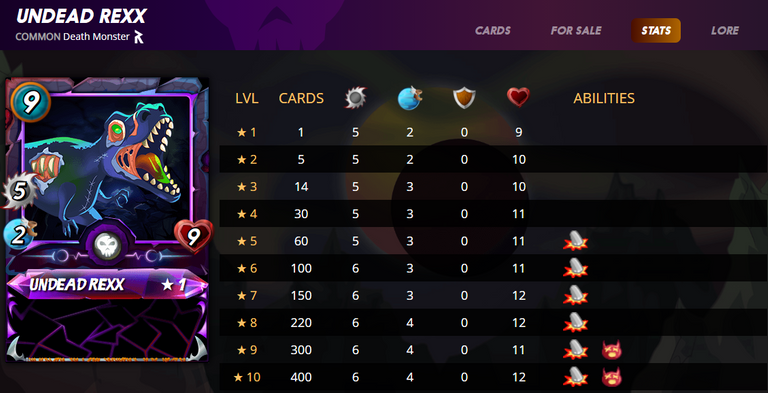 ABOUT: UNDEAD REXX WITH UNDEAD REXX
UNDEAD REXX is a Melee attack Common Monster from the Death Splinter that costs 9 mana, gives -5 Melee damage, and having Trample(When a Monster with Trample hits and kills its target, it will perform another attack on the next Monster on the enemy Team) ability at the level 5. At level 9 it gains one more ability Stun(When a Monster with Stun hits a target, it has a chance to stun the target causing it to skip its next turn).

CHECKOUT MY BATTLE: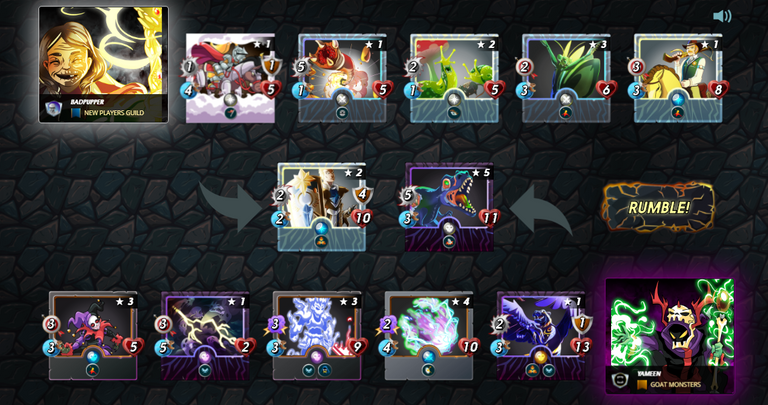 You can watch my battle by clicking on the above 👆 image
WHEN AND WHERE I USE IT:
I always use UNDEAD REXX in the high mana battles because it is a high mana card that costs 9 mana and mostly I am using it in the first position. It is also a handy monster in the Melee Mayhem ruleset because it does trample in that ruleset from every position.
WHY I USE IT WITH THE DARK HA'ON:
I use it with the DARK HA'ON because DARK HA'ON has Taunt(All enemy Monsters target this Monster (if they are able to)) ability so it remains for long in the front row.
WHAT DO YOU SAY ABOUT UNDEAD REXX:
I love this monster and mostly using it my battles whenever I am playing with the Death Splinter. I would love to hear from you guys about this monster.

JOIN SPLINTERLANDS
If you are new to Splinterlands and want to join, you can join from the below link.
If you are a newbie and want to ask something, you are welcome I am always available 🤚 to help you.
All images used in this post are downloaded from the Splinterlands official website.
Thanks in advance If you like my post and show some support.