Eine weitere Folge der Splinterlands-Geschichten. In ihnen erzähle ich mehr vom 'Leben hinter den Karten', als vom eigentlichen Spiel. Hier wird es keine Kampfaufstellungen mit hohem taktischen Wert geben(da hab ich wenig Ahnung von), sondern ich erzähle von dem, was hinter den Kulissen passiert (oder passieren könnte). Dabei lasse ich mich von den Eigenschaften der Karten inspirieren und auch von den Bildern und mache mir mein ganz eigenes Bild von den Splinterlands.
Another one of the Tales from the Splinterlands. They will tell you more about the 'life behind the cards' than about the actual game. There won't be any deck setups or advice with high tactical value (I don't know much about that), but I tell about what takes place (or might take place) behind the scenes. I get inspired by the characteristics of the cards and by the pictures and create my very own picture of the Splinterlands.
(Natürlich gibt es auch hier einen Link zu einem Kampf - aber der ist mal wieder unter "wie man es nicht macht" einzuordnen)
Of course there is also a link to a battle down below - but once again it's more of the "how not to do it" variety.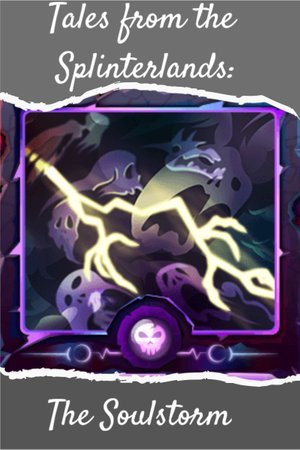 ---
Der Soulstorm / The Soulstorm
Fangen wir ganz klischeehaft an: es war eine dunkle und stürmische Nacht. Eine Nacht einige Tage vor dem nächsten großen Kampfereignis in der Arena, die meisten Kämpfer waren nach dem intensiven Training entweder früh schlafen gegangen oder saßen ruhig beisammen um vielleicht letzte Taktiken zu besprechen. Der Wind nahm zu und heulte um die Gebäude und ließ hier einen Fensterläden klappern, dort das Feuer im Kamin unruhig flackern.
Let's start in a very traditional way: it was a dark and stormy night. A night a few days before the next big event in the arena, when most of the fighters either went to bed early after the hard training or sat quietly together to discuss perhaps last tactics. The wind picked up and howled around the buildings, rattling shutters here, and making the fire in the fireplace flicker restlessly there.
Und in dem ein oder anderen Quartier wurden besorgte Blicke gewechselt. Niemand gab aber zu, wieso die Besorgnis in seinen Augen stand, bis einer der jüngeren Kämpfer nervös fragte: "Meint ihr, ER ist heute Nacht unterwegs?"
And in one or the other room worried looks were exchanged.But nobody admitted to the anxiety in their eyes until one of the younger fighters nervously asked: "Do you think HE is on the move tonight?"
Nur ein Schulterzucken war die Antwort in der Runde, aber eine der erfahreneren Kämpferinnen sagte schließlich: "Das kann gut sein, aber wir haben nichts zu befürchten. Auch wenn er furchterregend ist - und das gebe ich offen zu, ich kämpfe ungern gegen ihn. Aber er ist keine für uns Kämpfer - nicht, solange wir leben."
Only a shrug of the shoulders was the answer in the round, but one of the more experienced fighters finally said: "Maybe, but we have nothing to fear. Even though he is scary - and I admit this openly, I don't like to fight him.But he is no danger for us fighters - not as long as we live."
Die anderen, die dort beisammen saßen, nickten. Sie wussten, um wen es ging - sie alle hatten dem Soulstorm in der Arena gegenübergestanden. Und er war wirklich ein ernstzunehmender Gegner. Nicht wegen einer überragenden körperlichen Stärke, aber sein Flug war zielgerichtet und seine Pfeile richteten guten Schaden an. Schlimmer aber waren seine weiteren Fähigkeiten: Die Netze, mit denen er andere fliegende Kämpfer einholte und zu Boden brachte und seine Aura, welche die gegnerischen Pfeile schwächte. Und es hieß, er würde an einem weiteren Trick trainieren, der die Gegner für kurze Zeit bewusstlos machte, wenn sein Pfeil sie traf.
The others who were sitting there nodded. They knew who they were talking about - they had all faced the Soulstorm in the arena. And he really was a serious opponent. Not because of an outstanding physical strength, but his flight was well aimed and his arrows did serious damage. But worse were his other skills: The nets he used to catch and bring down other flying fighters and his aura that weakened the enemy arrows. And it was said that he was training on another trick that made the enemies unconscious for a short time when his arrow hit them.
Aber sie wussten auch um die andere Seite des Soulstorms, der er seinen Namen verdankte. Die ihn so unheimlich machte. Denn er bestand aus Seelen von Verstorbenen, Seelen die sich verbunden hatten zu einem Etwas, das nicht genau definiert werden konnte. Sie alle hatten nach ihrem Tod noch nicht abgeschlossen mit dem Diesseits aus den verschiedensten Gründen. Meist war es aber kein guter, jedenfalls nicht für die lebenden. Ob man es Rache nannte, Vergeltung oder Gerechtigkeit - der Kampf in der Arena war für den Soulstorm nur Zeitvertreib.
But they also knew about the other side of the Soulstorm, to which he owed his name. The one which made him so scary. For he was made up of souls of deceased people, souls that had joined together to form something that could not be precisely defined. They all had not yet finished with this world after their death for various reasons. Mostly it was not a good one, at least not for the living. Whether one called it revenge, retribution or justice - the fight in the arena was just a pastime for the Soulstorm.
Denn eigentlich hatte sein Dasein einen viel dunkleren und ernsteren Hintergrund: Er war hinter anderen Seelen her, hinter solchen, die Ursache für Gerechtigkeit oder Vergeltung gegeben hatten. Wehe ihnen, wenn nach dem Ende des körperlichen Lebens die Seele sich vom Körper löste und nicht schnell genug war. Oder nicht vorsichtig genug. Der Soulstorm erwischte sie und verleibte sie sich ein.
For actually his existence had a much darker and more serious background: He was hunting other souls, those who had given cause for justice or retribution. Woe to them if, after the end of physical life, the soul separated from the body and was not fast enough. Or not careful enough. The Soulstorm caught them and absorbed them.
Sie waren dann mit dem menschlichen Auge kaum zu sehen, nur dunkle Schatten hinter den helleren Silhouetten der anderen Geistformen, aber man konnte sie erahnen. Und wenn man genau hinhört, konnte man sie hören. Ihr Jammern, ihre Schreie... Aber der Soulstorm ließ sie nicht eher gehen, als bis sie geläutert waren und nicht mehr dunkelgraue und schwarze Schatten waren, sondern hell; bis ihr eigener Schmerz denjenigen Schmerzen, den sie verursacht hatten, weggewaschen hat.
They were barely visible to the human eye, only dark shadows behind the lighter silhouettes of the other spirit forms, but you could almost see them. And if you listened carefully, you could hear them. Their whining, their screams... But the Soulstorm did not let them go until they were purified and were no longer dark gray and black shadows, but bright; until their own pain washed away the pain they had caused before.
Dann ließ er sie ziehen, oft bei einem Kampf in der Arena, und so einige der Zuschauer hatten vermeint jemanden zu erkennen, jemanden der nach langer Zeit befreit war und Ruhe und Frieden gefunden hatte. Und vielleicht war es das, was für die Zuschauer der Reiz des Soulstorms war: dieser leise Gedanke im Hinterkopf, manche Entscheidungen noch einmal zu überdenken, damit man nicht selber eines Tages einer dieser jammernden Schatten werden würde.
Then he let them go, often during a fight in the arena, and quite a few of the spectators thought they recognized someone, someone who had been freed after a long time and had finally found peace and rest. And maybe that's what the appeal of the Soulstorm was for the spectators: this faint thought in the back of their minds to reconsider some decisions, so that one day they wouldn't become one of those wailing shadows themselves.
---
And of course, I used the Soulstorm in one of my battles. Or should I say misused?
---

DACH-Community Discord - für alle deutschsprachigen Nutzer


Du hast keinen Hive-Account? Hier ist der schnellste und einfachte Weg dorthin!
You're not on Hive? Here you'll find the best and most fast way to enter this world :)
---