What to expect with Rentals 2.0
Rentals 2.0 will be on peakmonsters.com primarily. The protocol is ran by Splinterlands and there will eventually be a generic ui on Splinterlands. (Other interfaces are able to do an interface if they wanted. Probably manual rentals could even work with it) ... This documents what to expect from the updated manual system... all the way to the final product which is a fast and easy automated rental system where owners can rent tens of thousands of cards with a few clicks and renters could maybe rent an entire deck in a couple of clicks.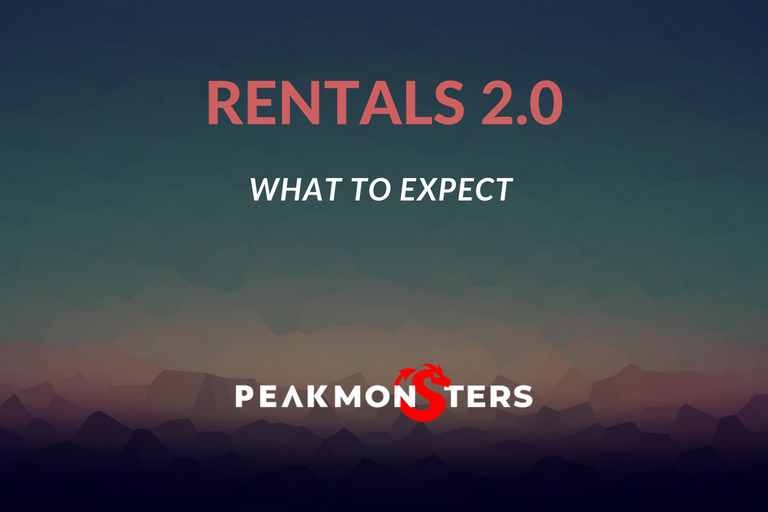 First step "Protocol": DONE
Splinterlands developer has recently created the underlying protocol which is now done and ready to be live tested and developed on.
A huge part of this is no more cooldown on rented cards.
Another part is it will be in DEC now and PeakMonsters doesn't actually handle the payments or storing of funds (which we LOVE!!).
Second step "Manual Listings": Coming soon
PeakMonsters will replace the Manual system with the new protocol.
It will use DEC... prices will be shown in DEC with a side by side USD value there as well.
Rentals will be 1 day minimum and 1 day day locked.
Users will be able to store more funds for that card in the Splinterlands protocol but the key word is "STORE" the funds there for x days... it's not a guarantee of rental and after the 1 day minimum those rentals can be stopped by either side and whatever funds are stored will be returned to the renter. (Remember it's just a storage so you don't have to come back on the daily to re-rent)
PeakMonsters plans on showing you the value of that card if you were to buy that card on the market. Then compare it to if you were to rent that card at that price for 365 days and show you a yROA% (yearly return on asset) Because maybe you'd prefer to just buy the card or maybe it's way better to rent it.
Third Step "Assisted Manual"
We also hope to keep track of which rentals ended early (for our users) and hopefully which ones ended before the stored DEC got used up.
We hope we can help our users duplicate those rentals with the best possible deal really quickly when you sign in.
Meaning they'll see if any of their cards need to be re-rented and in a very quick amount of time have them all rented again. (Which should be easier the second time since we already know what it was you were previously renting)
This is not even close to as cool as the automated system which is much quicker and easier for renters and owners. Not to mention much more fair of pricing across the board. But assisted-manual is at least a good stop gap to help users before the auto rental system is done.
FINAL STEP: "Auto Rentals"
The idea is a renter will choose all the monsters they want and the levels they want... ONE TIME. (They do not pick cards... they pick the monsters/summoners)
Perhaps even just clicking a button to duplicate what is a popular deck.
We will then simply make sure they have those cards every day until they change their mind.
Pricing will be fair for renters and owners... no more with one side getting stuck into a bad deal for long periods of time.
If they want they can optionally set some limits on pricing.
They can also easily and quickly change the make up of their deck to add or remove whatever cards they want.
On the other side the hope is owners can literally just dump every card they want onto the auto-rental market in almost one click. Or they can be more picky about pricing if they desire.
The basis is with locked 1 day rentals renters will ALWAYS have the cards they want but it won't matter nor should they care about who they're getting the card from that day... in fact it may change up day to day and it will never matter to the renter.
There is some more fun secret sauce to the auto-rentals but I prefer to wait off on that for now.
---
While everything is still in development I can't 100% commit to anything but those are the present hopes and plans... Any questions?
---
---