Hello Everyone



How are you ? Hopefully you all are fine and I am also well. Today I am here to share with you my season ending rewards of Splinterlands.
@Splinterlands hosts a challenge named "Social Media Challenge" every week. You just need to write a good post and share your post link in their comment section and you need to share your post on other social media platforms. The main intention of splinterlands is to spread splinterlands all over the world.

Here is the video of my rewards. :)

I claimed:-
2x Nightmare
2x Chain Spinner
1x Centauri Mage
2x Alchemy Potion
1x Legendary Potion
63x Dark Energy Crystals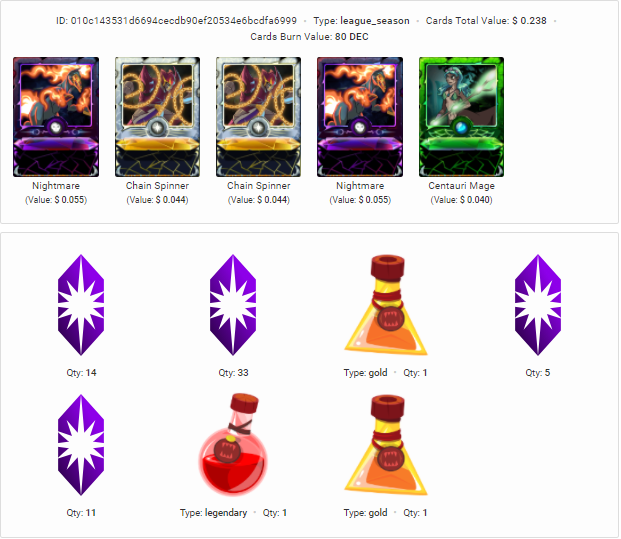 Let me describe my claimed rewards. :)
Nightmare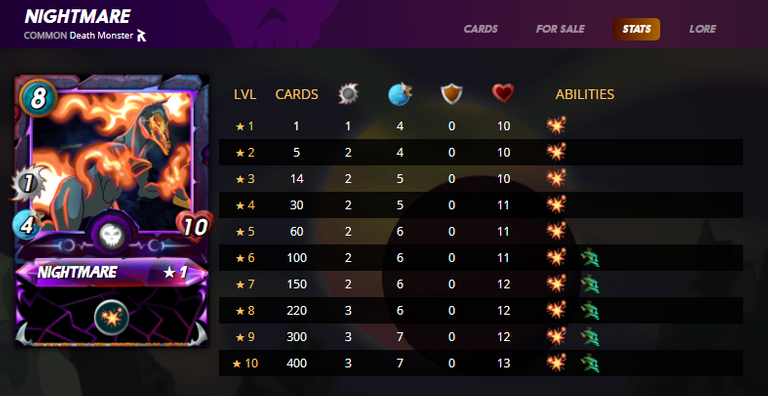 Nightmare is a Common Death Monster and a melee card. It costs 8 mana. It has only one melee damage and four speed in level one. And also has ten health in level one. It has Blast ability from level one and Phase ability from level six. In maxed level, it has 3 melee damage, 7 speed and 13 health.
Chain Spinner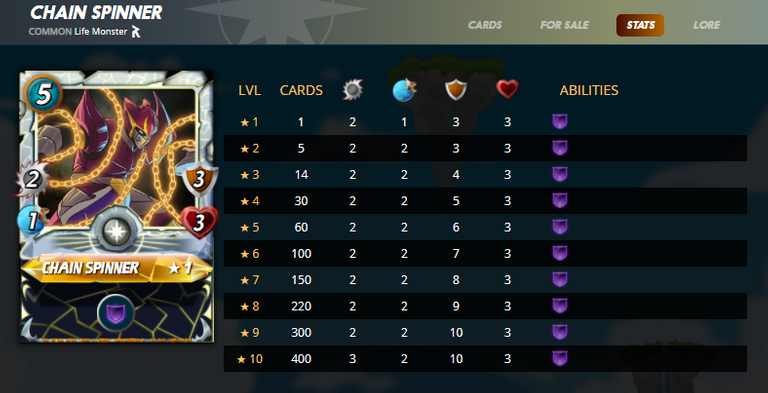 Chain Spinner is a Common Life Monster and a melee card. It costs 5 mana. It has 2 melee damage, 1 speed, 3 armors and 3 health in level one. It has only one ability and that is Void Armor and this ability starts from level one. In maxed level, it has 3 melee damage, 2 speed, 10 armors (literally amazing) and 3 health.
Centauri Mage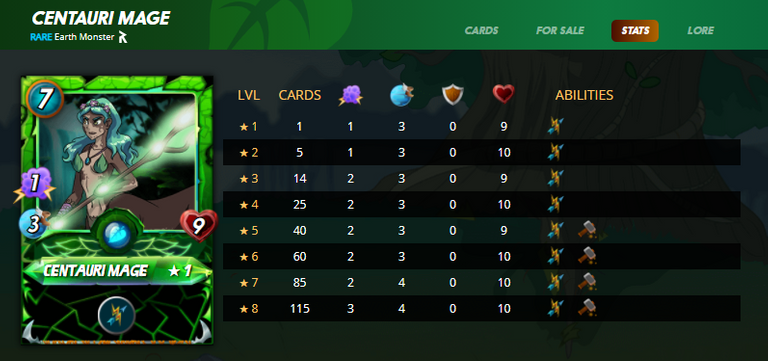 Centauri Mage is a Rare Earth Monster and a magic card. It costs 7 mana. I love this card and I often use it. It has 1 magic damage, 3 speed and 9 health in level one. It has Return Fire ability in level one and Repair ability in level five. In maxed level, it has 3 magic damage, 4 speed, 10 health and both Return Fire and Repair ability.
Besides I got 2x Alchemy potion and 1x Legendary potion. I also got 63x DEC. According to Peakmonsters, my claimed total card value is $0.238.
If you are interested to join Splinterlands, you can join by clicking my referral link :- https://steemmonsters.com?ref=sm-player
That's all. Thanks everyone for reading my blog. If you find my articles/videos helpful/enjoyable, consider following me. And don't forget to share your thoughts in the comment section below.
Bdcommunity is an initiative on the steem/hive blockchain trying to help all Bangladeshi standard authors and share their work and knowledge, to improve their skills. If you are from Bangladesh then you are welcomed here. If you are non-Bangladeshi you are also welcomed here as bdcommunity help not only Bangladeshis but also foreigners.
If you want to help @Bdcommunity then you can delegate some hive power there.
Join Bdcommunity on Discord
Subscribe to my YouTube Channel