Hey Splinterlands fans
So another season has come and gone and I managed to make it up Diamond 2, not my best finish but good enough to score a nice Little package for myself and grew my deck!
Daily Reward
I finished today's daily challenge and managed to get 3 rates and one epic, how crazy is that?
Although not the most expensive cards, still a mega pull compared to the average day so I'll gladly take my $0.26 worth. Also managed to upgrade my Spirit Shaman in the process and get stun effect, so I may be tempted to his this card more in the future.

End of season reward
I managed to score 21 new cards total worth of $0.56 so not great but not the worst I've ever gotten. There've been times where it was far more items and very few cards. Bagged a couple of rares but nothing to upgrade with so I'll just have to keep stacking these bad boys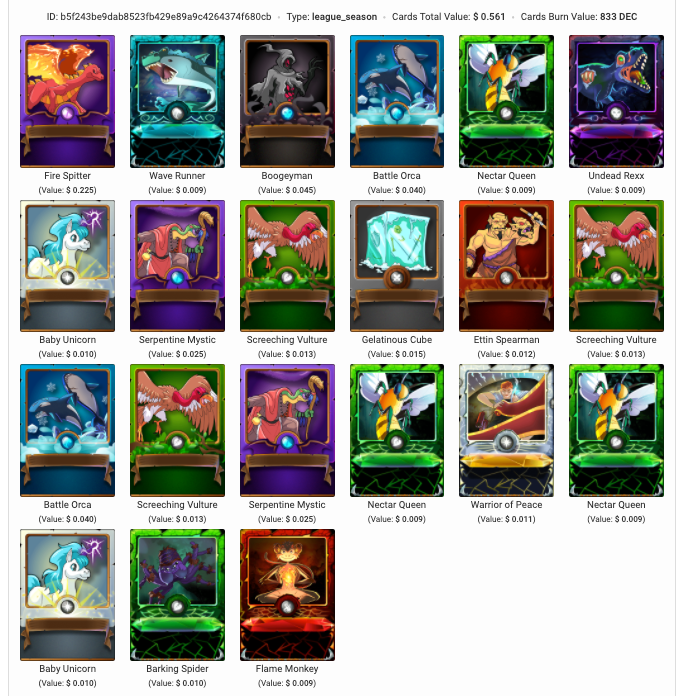 Orb extra
My season reward included an orb with $0.26 worth of cards with one rare in the electric eels. I also now need one more armoursmith to upgrade mine, so one step closer I suppose.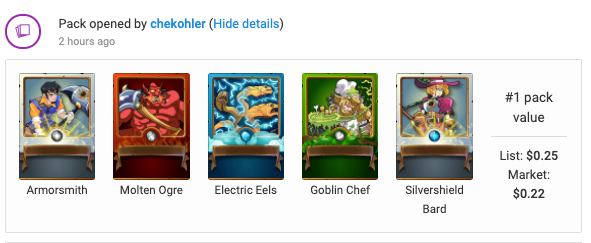 Also, I was wondering how come I didn't get any of that special halving card the HALFLING ALCHEMIST? Was there anything special I was supposed to do, or is it just luck of the draw?
Have your say
What do you good people of STEEM think? Did you pull anything better at the end of this season?
So have at it my Jessies! If you don't have something to comment, comment "I am a Jessie."
Let's connect
If you liked this post sprinkle it with an upvote or esteem and if you don't already, consider following me @chekohler
| Browse & Earn Crypto | Donate LikeCoin For Free | Earn Interest On Crypto |
| --- | --- | --- |
| | | |
---