Smart Investing? Most rare NFT thus far
Am I just following the trend persay? Riding the wave? I find myself looking at Splinterland anything...
But, I am also thinking about gains and massive profits galore! I mean Look the game has of course exploded no one can deny that, people have multiplied their value in Splinterlands assets. Card values through the roof, totems insane purchases, packs even more so since there is no guarantee you'd get anything good of value.. But with anything crypto as you can see holding any assets in Splinterlands has proven to show results in value.
I bring this to you and share with you a very cool purchase I did hours ago, of course I should of purchased more.. I could not at that moment, I wanted to get the 1st edition.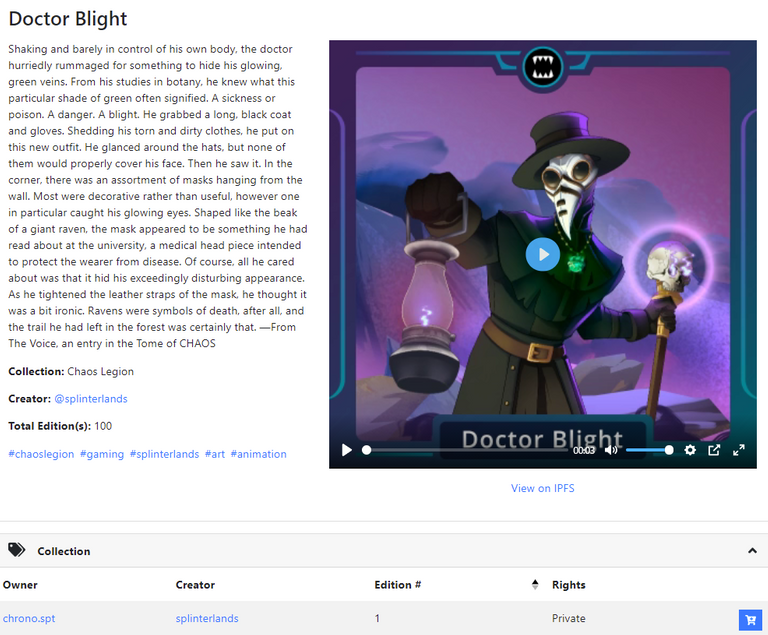 AS you can see I am the owner of this 1st edition and from splinterlands post on it , its one of the most rare, even though they said it is it gives it that value.
Can you imagen if there is a case use for these guys in the game or gives bonuses or what ever.
there where only 100 made, and I would have loved to pick up more.. should have.
Buy checking the market for this one, you can see there are some heavy people that are heavy in the game.. Sure it's just an NFT you say.. but so are cards, maybe there will be some use for these nfts.
If nothing else I know I would be able to make a nice chunky profit off of this guy, just going off of what was said about it.
Most rare NFT thus far
This is the 5th and final animated NFT for our first story, "The Voice".
Doctor Blight is our most rare NFT thus far and will only have 100 editions available!
Doctor Blight - Animated Limited Edition NFT only on Splintertalk!
Can I 10x my investment? Maybe If we where allowed to place them in the WAX market Id get some pretty crypto for it. Until than I am not selling.
---
---