Monster Market week 4 - 3 Legendaries!

Hello Splinterlands fans!
Wanted to share a post about one of the lucky things that I learned about 4 weeks ago, the Monstermarket which is a service by @zaku and @reazuliqbal over on @monstermarket. You can find their site at monstermarket.io and sign in with your Hive/Steem info.
You can get 2% back on your purchase just for using their service. Sign me up if you can give me a deal! I've purchased all of my stuff right from the Splinterlands website before, not even knowing about the alternative market you can grab things at. The best part about it is that the packs you buy still count towards your overall pack purchasing which includes you in airdrops and ups your chances of getting them! If you buy things on Steem Engine, you aren't eligible for airdrops it seems like. I'm up to 198 packs eligible towards airdrop rewards, the vast majority of that is from using Monster Market! (not sure if some packs get counted twice, I don't think I've purchased that many lol, 150 sure but almost 200?)
This week, I purchased 30 packs from them, using up some of my powerdown Steem (390 Steem). Since the price of Steem was down this week, I was able to grab 30 packs at 390 Steem. The 2nd week I was able to grab 37 which was great, but I'll take what I got!
This week was one of my best as far as flipping Lengedary cards. I added two new ones to my deck. Check out what I got below!
The first one up was a great two summoner flip. I really need both of those so I was really excited to grab them!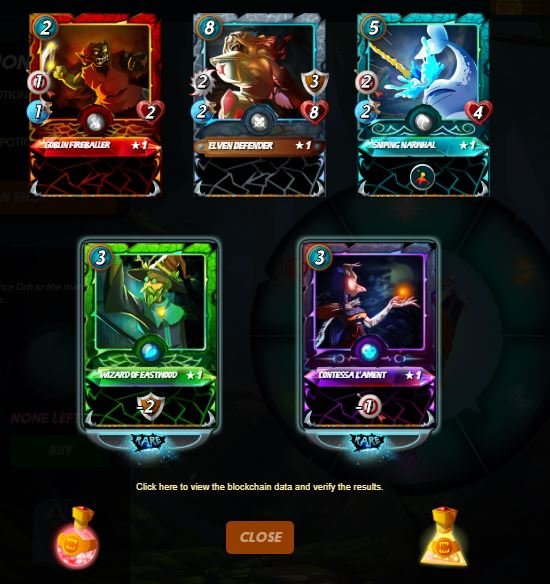 First Legendary! I don't have one of these yet so that was awesome, and to also get a new Epic and a water summoner. I was pretty damn happy with those results!
I saw the screen shake and was thinking, damn I've got good luck this week! I've been hoping to get another Cornelius so I can get mine to level 2 but this Magnor is also new for my deck so I most certainly scooped that one up.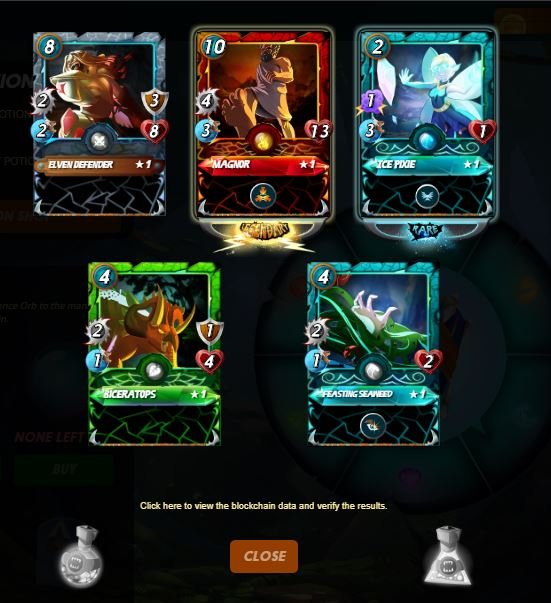 Got a new Epic with this flip, the pyro. Pretty awesome card, sneak and ranged. Don't see many of those!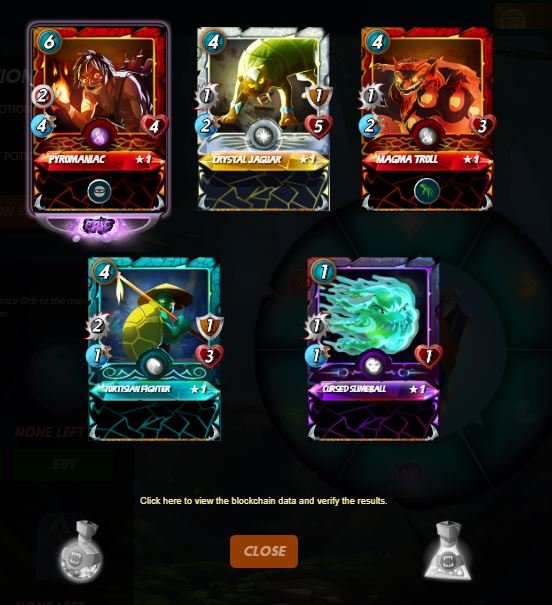 Only had one gold foil this week but I am still excited to grab that. Was able to level up the one I've currently got.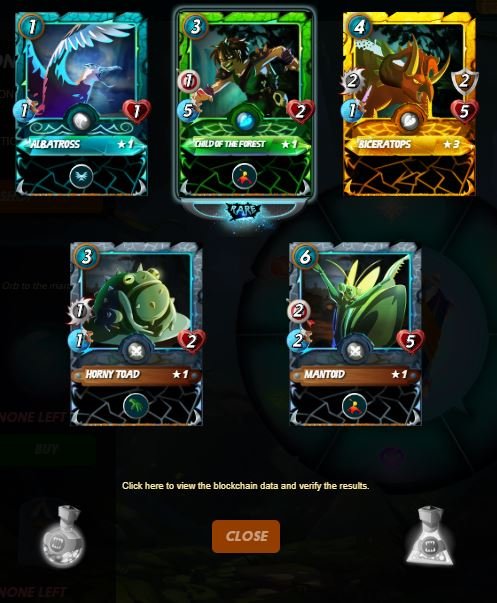 I had 3 packs left and was thinking, 'well that was a pretty decent run I had' and all of a sudden the screen shook again. Bam! Another Dragon Jumper. I love this card, I could technically get it to level 2 right now but this is an awesome card to have on my alt account so I figured I might as well just keep it and wait for another one later. Hoping to get another one someday, if not I will buy it from the market.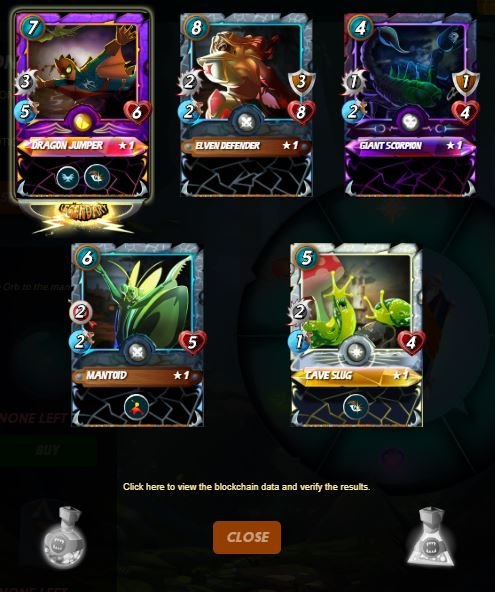 Those were the good cards I grabbed this week! I also was able to grab a bunch of regular and rare cards. Those help level up my deck so that I can have a more diverse deck and take advantage of rules. I've been finding myself using a good blend of the untamed cards alongside the beta cards. Will be helpful to get more leveled up, eventually I'd like to be able to compete in the higher leagues and tournaments but that's still quite a ways away.
If you haven't yet, I would really recommend if you want to buy some packs to use Monster Market! They have an awesome service and send you the 2% back very quickly. I stack my saving and spend it the next week.
That's it for this week's opening, I'll be sure to share what I get next week! Hoping for some summoners or for another legendary or two.
Have you opened any packs lately? Let me know what you got in the comments!
Connect with me!
Did you enjoy this post or my other posts? Please consider following me for more! @cmplxty
Do you want to get paid, in crypto, for searching the internet? Try using and signing up for Presearch to earn some great crypto! I've currently got 1,225 PRE tokens, with a market value of $19.94. It doesn't sound like a lot but when you search using sites like Google you get paid $0! Join Presearch to break Google's stranglehold on the internet searches. If you'd like to sign up, use my referral link below and spread the word!
https://www.presearch.org/signup?rid=513043
Still using hive.blog? Upgrade! PeakD is a much better user-interface, gives loads more information at your fingertips and has some of the best developers behind it. Give it a try, go to www.peakd.com and see how much easier it is. You just need to use Hivesigner or Peaklock some of the most secure ways to log into other Hive frontends.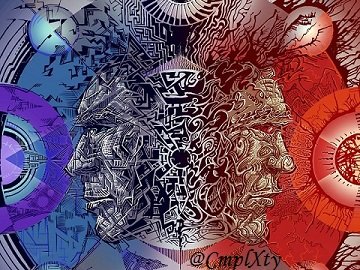 ---
---