Hi Friends,
It's just my second season and I am already into so many battle because I like this game and I keep battling.
I opened the chests today morning from the Season End Rewards, 30 chests in all for completing in Gold I league and the details are as below.
I was fortunate to get couple of gold foiled cards Ettin Spearman and Screeching Vulture and an Epic Kretch Tallevor, one of the new rewards cards introduced.
As we know, Kretch Tallevor is a Dragon summoner and with 3 mana cost, it should be the one we will be seeing more and more used by lower ranked players instead of the current Untamed Dragon summoner or high cost Daria Dragonscale and other summoners.
We can see below that, I got a Silvershield Assassin, an Octopider, an Ant Miners along with a Baby Unicorn as reward cards.
There are many Alchemy potions and a Legendary potion as well.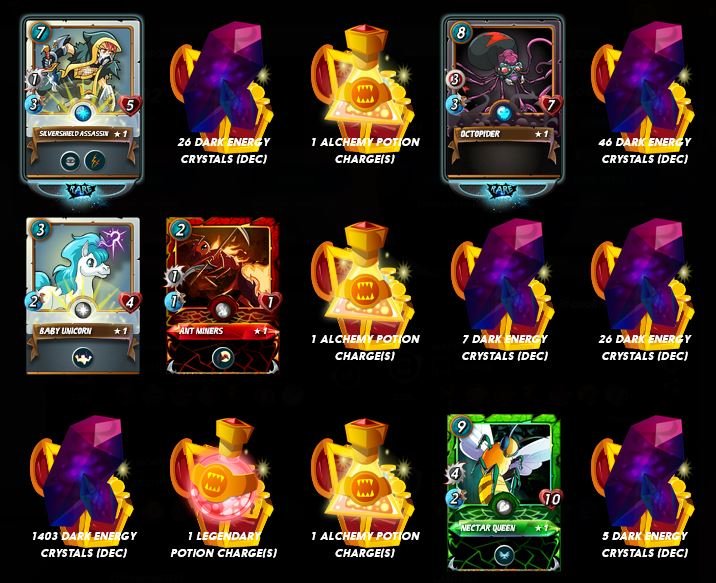 In the below one, 2 gold foiled monsters and an epic Kretch Tallevor as summoner and few common cards.
But from both above screenshots, we can see couple of huge DEC returns.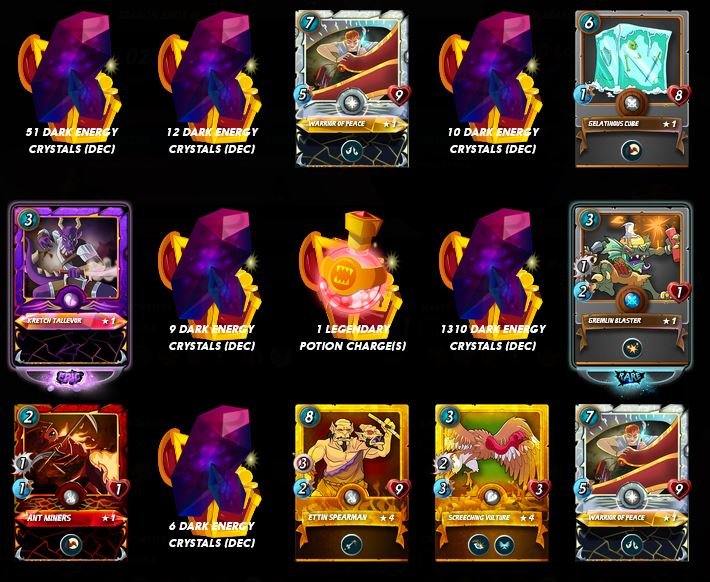 I got chest with 1403 DEC and another one with 1310 DEC with many others in the range of 20 to 40 DEC which all counts roughly about 3K DEC!!!! not a bad one for someone who is just into third season.
Hopefully, these rewards will help me to level up few cards and new rewards cards are always exciting and I should be using wherever there is mana cap which can accommodate the new cards.
Thanks all for reading and hopefully, you all got good returns and raring to go in the new season.
I am as excited as ever to go and battle it out to level up the cards and reach new levels in Splinterlands rankings.
Wishing you all happy Wednesday in advance :)