Hello Splinterlands Family,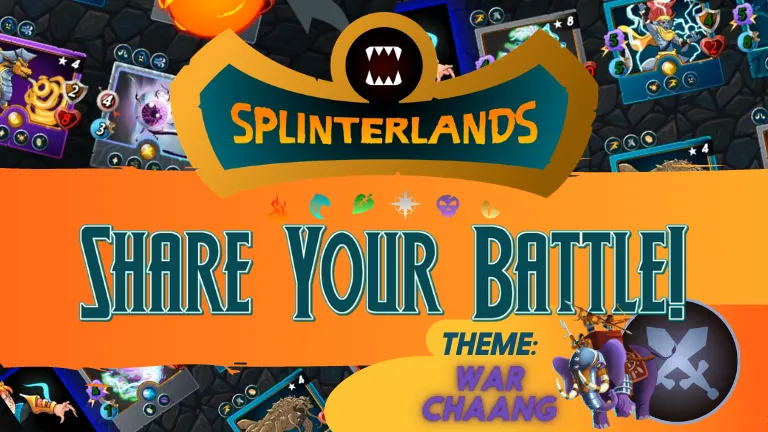 https://peakd.com/splinterlands/@splinterlands/share-your-battle-weekly-challenge-war-chaang
The recent changes related to Collections points are a bit of hurting me and many other Splinterlands battlers, but the the love for the game continues in-spite of not able to reach the levels I used to reach until last season.
Having said that, we all wish the changes are for the better experience of the game and will include better rewards with the number of chests we use to get are getting reduced with the changes.
The recent cards introduced as part of Rewards edition cards and also the Azmare Dice are making the game more interesting and I am fortunate to get one of the Legendary cards Robo-Knight Dragon.
Coming back to the theme monster for this week as part of SHARE YOUR BATTLE Weekly Challenge i.e. War Chaang, it's a neutral epic monster of Untamed category and is a special card which can deliver 2 types of attack in each round it battles.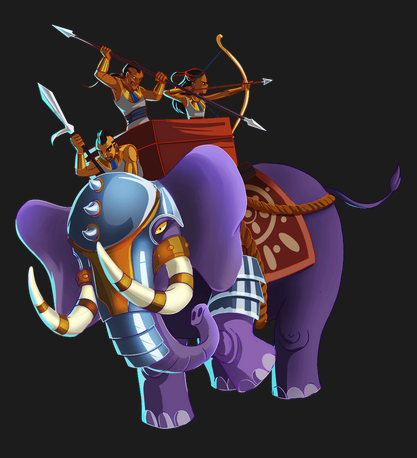 Why this card is a featured one this week? What are the specialty of this card?
Well, this card is definitely a special card in the sense of the attack and we got a melee and another ranged attack for this card which means, in certain rule sets, it can attack with both attack types enabled.
Now, let's see what this card possesses as part of the attack, speed, armors and health.

This 7 mana cost monster has couple of nice abilities like Retaliate(chance of reverse attack when a melee monster attacks) and Trample (attack the second monster when the first monster it attacks loses it's health completely). While the first ability is available from level 1 and the second one is available from level 4.
The melee attack starts with 2 attack in level 1 and increases to 2in level 5.
The ranged attack starts with 1 and increases to 2 and finally 3 in sixth and final level.
The speed is a better one with constant speed of 3.
No armors for this monster.
The health is good enough with starting at 8 and increases to 9 from second level.
---
That's about the statistics for this monster and now, let's move on to the lineup I built to win this battle.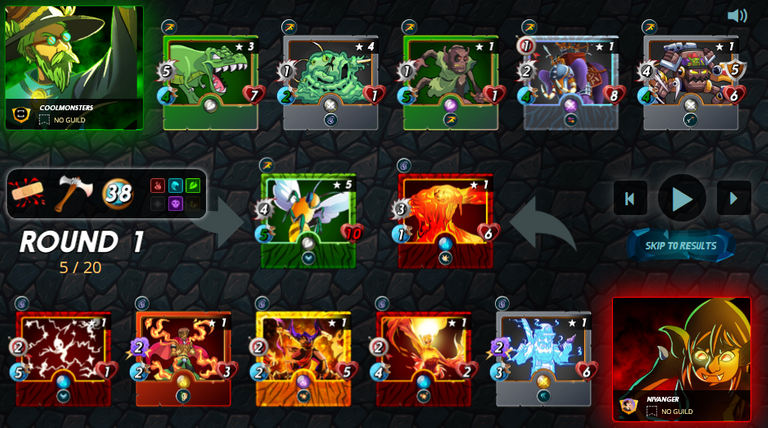 https://splinterlands.com/?p=battle&id=b06fba04e336837266aaad024a3c9d55110f505b
As we can see above, it was a Healed Out and Melee Mayhem rule set battle and I felt the melee Mayhem is good for War Chaang since it enables the melee monsters to attack from any position and also, the ranged attack from War Chaang can also be utilized.
I had a quest with Earth Splinter today and hence, I used the monsters from that and neutral monsters including War Chaang.
My lineup was as below:
1. Nectar Queen:
Nectar Queen being a flying monster, good to have in front position as it can evade the attack from melee and ranged attack monsters.
This is also with speed of 4 and melee attack of 4 with awesome health of 12 to sustain for one or 2 rounds in this Melee Mayhem battle.
---
2. Rexxie:
One of the most used monsters in Melee Mayhem and Super Sneak battles.
It has melee attack of 5 and health of 7 which makes it a solid second position monster.
---
3. Creeping Ooze:
Since I had couple of spare mana left after setting up the required monsters, I used this and the next one i.e. Brownie to slow down opponent's monsters.
---
4. Brownie:
Another low mana monster to fill the spare spot and cover 1 mana.
Notable thing is that, this and Creeping Ooze can also contribute with 1 melee attack.
---
5. War Chaang:
This being the theme monster, I wanted it to last longer and hence, used it in Fifth position and point to note that, we can utilize both melee and ranged attack this monster provides since this is a Melee Mayhem battle.
---
6. Goblin Mech:
There is a tip from Splinterlands which says, position your best monster to last longer in the battle and this one being one of the best melee attack monsters, I wanted to position it last in my lineup.
---
That was my lineup which was good enough to win a battle with slowing down opponent's monsters.
Let's move on to the battle:
Battle:
Opponent positioned Fire Splinters for this Melee Mayhem battle which is one of the most used for the rule set.
His monsters were: Living Lava, Spirit Miner, Fire Elemental, Pyromancer, Zalran Efreet and Spark Pixies.
Round 1:
Living Lava from opponent's side being the slowest of all, couldn't attack before it got removed against the better melee monsters in Nectar Queen, Rexxie and Goblin Mech and remained the only monster got removed in First round.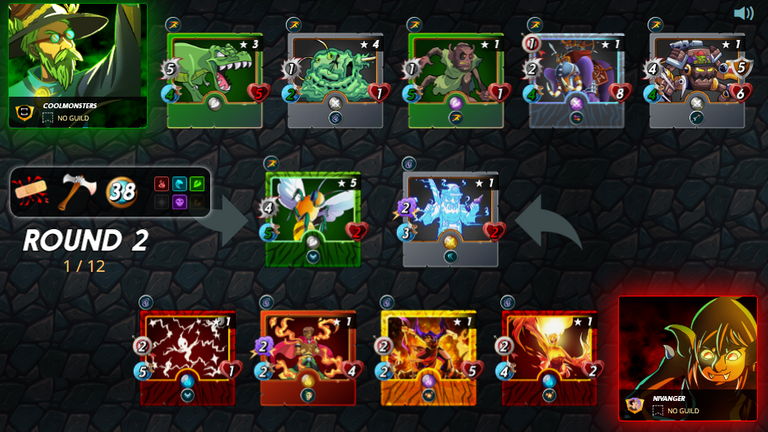 ---
Round 2:
The monsters from Second to Sixth position for opponent were all with lesser health and couldn't stay longer.
Theme monster of War Chaang accounted for removal of Spirit Miner first with it's 1 ranged attack and successfully removed the Fire Elemental with it's 2 melee attack.
That was not enough as Pyromancer and Zalran Afreet also got removed in this round which was like mass destruction one and only Spark Pixie was left.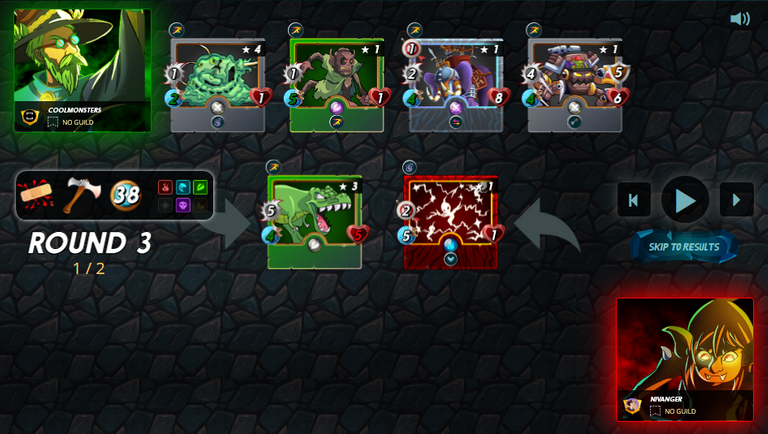 ---
Round 3:
Brownie being the fastest of all monsters, attacked the 1 health Spark Pixie to remove it and end the battle.
Normally, Brownie doesn't miss the attack when it attacks and I have seen it evading the attack from melee and ranged monsters a lot.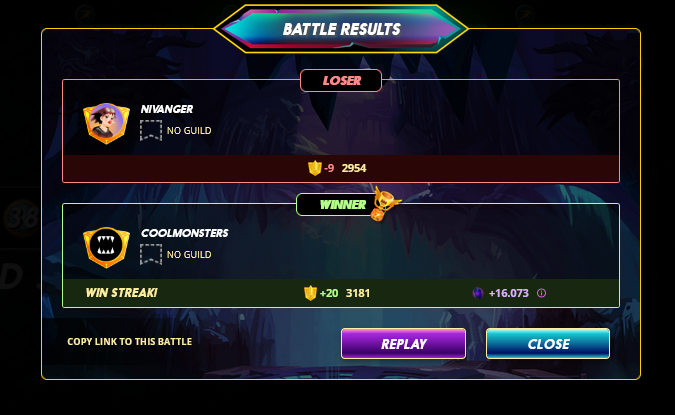 That was a short battle and I never thought this 38 mana battle will end this soon, but it did because of better attack from my side and opponent using most of the magic and ranged monsters.
---
Did your strategy work? What will you try differently next time?
Yes, the comfortable win means, my lineup was better than opponent's.
Given a chance to change my lineup, I would have used a monster with thorns and dodging from front position instead of Nectar Queen, but that was the best bet I have as of now :)
---
Do you use the WAR CHAANG often? Why or why not?
I have used it few times but not very often. Having said that, this battle showed the usefulness of War Chaang and I will make use of it in Melee Mayhem and Super Sneak battles and I think it's even best suited for Close Range battles as that enables to utilize the melee and ranged attack using it from front position.
---
Thanks for going thru the details of this battle and lineup I used.
It was not every day that we win high mana battles with this much ease.
Thanks again and wishing you all Happy Sunday :)