Hi friends,
This is my first ever blog on HIVE and I am blogging about the Weekly Challenge for Splinterlands battles involving a monster Twisted Jester.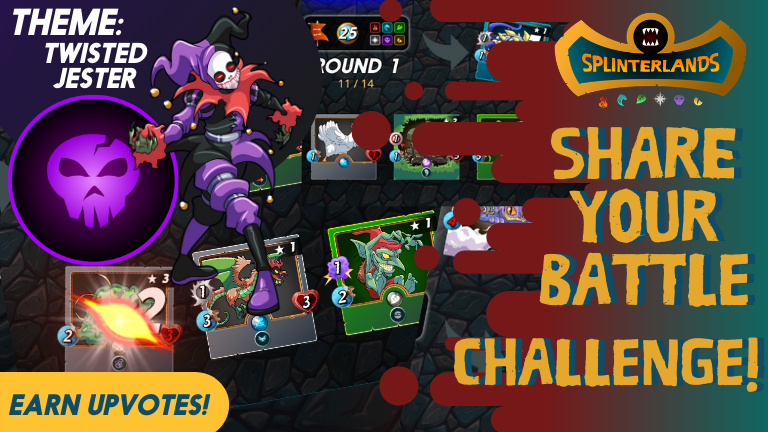 https://peakd.com/splinterlands/@splinterlands/share-your-battle-weekly-challenge-twisted-jester
Twisted Jester is a Death Splinter Rare monster from Alpha and Beta editions and me being a new Splinterlands player(playing since 3 weeks), I have to purchase one from monstermarket.io in order to participate in this Weekly Challenge and I am happy to win the battle with couple of initial battles itself with Twisted Jester.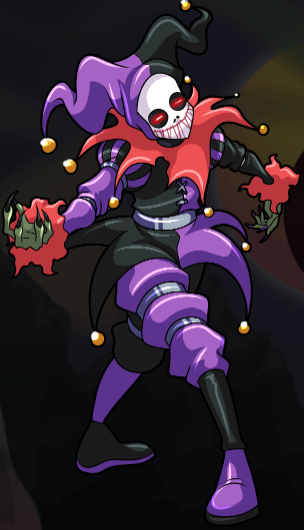 Twisted Jester being a ranged attack death splinter monster, gives us 2 ranged attack which is with snipe ability and can be a maximum of 4 ranged attack at level 8.
It has good speed starting with 3 and a maximum of 4 from level 4 onwards and also has good health beginning with 4 and a high of 6 in levels 6 and 8.
The abilities of snipe from level 1 and dodging from level 5 makes it one of the best snipe monsters and also has increased chances of evading the attack from melee and ranged attack monsters due to dodging.
---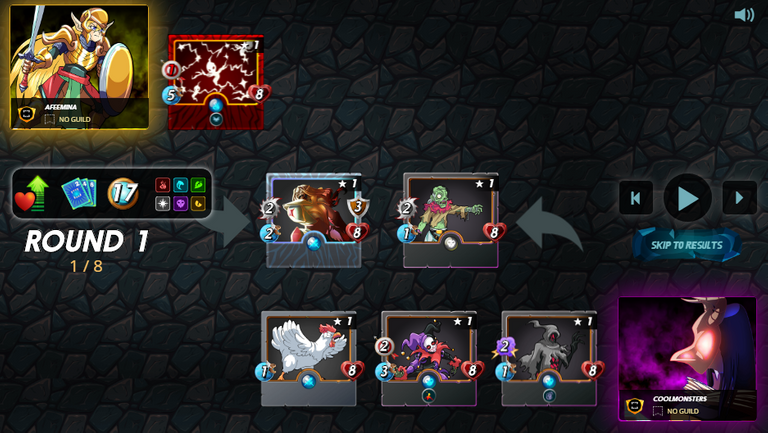 https://splinterlands.com/?p=battle&id=c36e45611ceaf469579dd9156efa29250f0794df
The battle I fought for this weekly challenge was with 17 mana and included battle scenarios Equalizer and Even Stevens.
Equalizer being the battle enabling all monsters to have mana of the monster with highest mana from both sides and Even Stevens enabling only the monsters with even mana cost.
For this low mana battle, I included monsters as below including Twisted Jester.
1. Animated Corpse: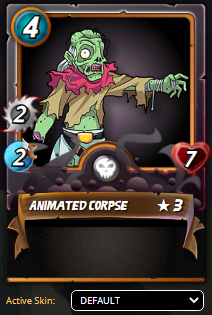 Me still being a new Splinterlands player, have some cards delegated to me and this is one such monsters and I used this because this was the one with 2 melee attack and the one with highest mana among the cards I used.
2. Boogeyman: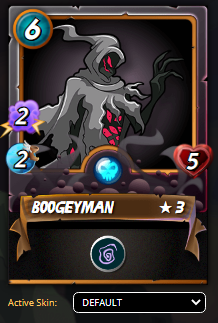 Next, I included Boogeyman since that was the only other card from melee or magic attack with 2 attack and it's ability of slow will be useful in such low mana battles.
3. Twisted Jester: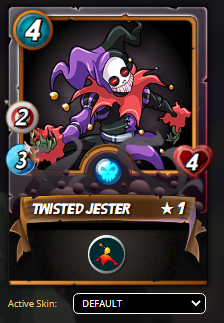 This is the monster featured in this week's challenge and being a ranged attack monster with snipe ability, helps in removing second line ranged or magic monsters and was particularly useful in this battle to remove Spark Pixies.
4. Furious Chicken: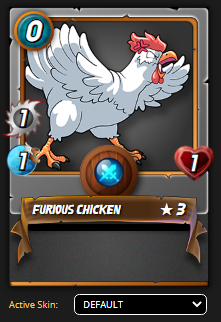 This No mana cost monster I used in the last position since this being a Equalizer battle and gives protection to other monsters from sneak attack.
Battle:
This battle with 17 mana cost, but with Equalizer battle type is expected to be of medium rounds and opponent used Daria Dragonscale Summoner to increase the melee attack by one and involved Elven Defender and Spark Pixies in his lineup.
Round 1: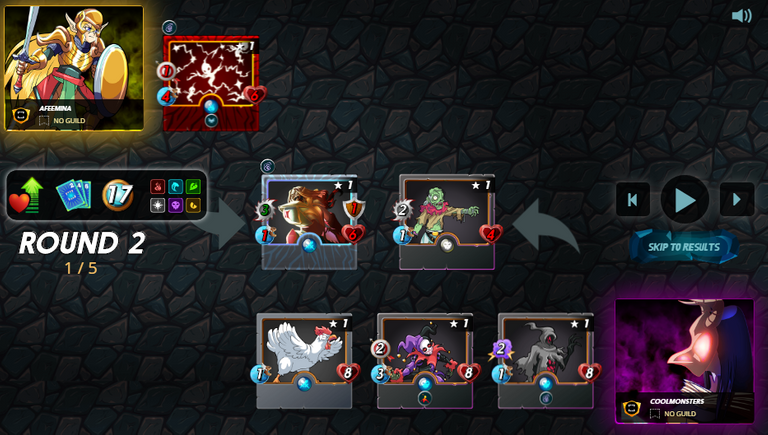 In round 1, Summoners bluffing and de-bluffing enabled opponent's Elven Defender to gain a melee attack to go one up to 3 and the Summoner I used, reduced the ranged attack by one from opponent's Spark Pixies making it the attack as per original attack.
Also, Boogeyman usage reduced opponent's monsters speed by one.
Round 2: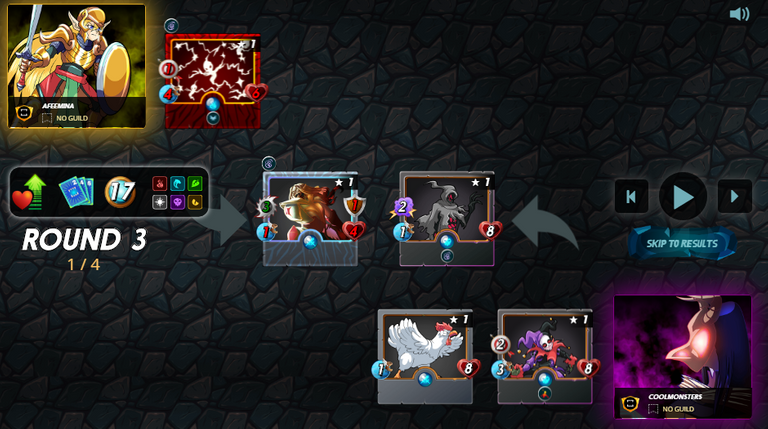 Animated Corpse with 4 health before second round started, has to go off because of combined attack of 4 from Elven Defender and Spark Pixies and Boogeyman now got elevated into the main attack position and it's usage proved to be worthy as it could withstand the attack from both monsters I mentioned above and see through the battle.
Round 3: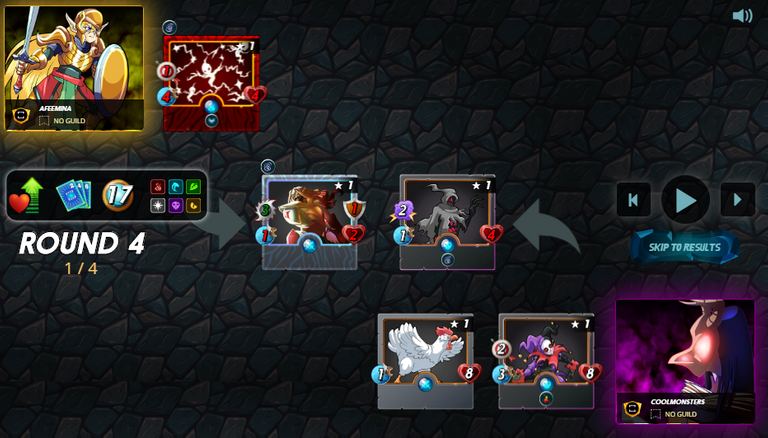 No monster was removed in this round, but Boogeyman's magic attack kept reducing the health of Elven Defender and it was left with 2 health by the end of this round.
Round 4: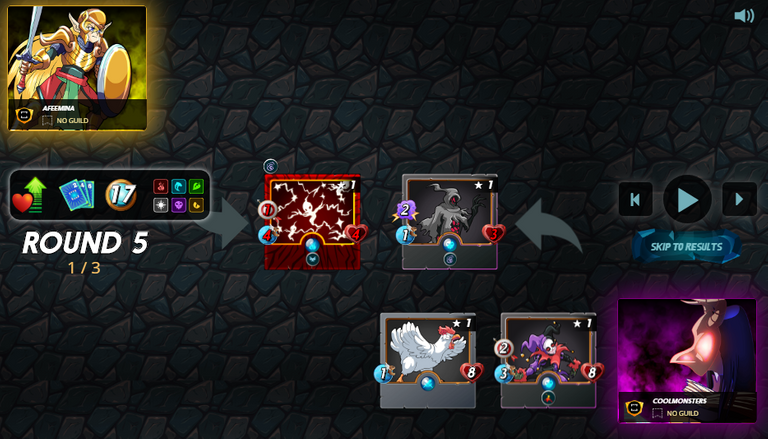 Elven Defender finally removed in this round because of Boogeyman's magic attack and Spark Pixies couldn't attack further because it being a ranged attack monster.
Round 5: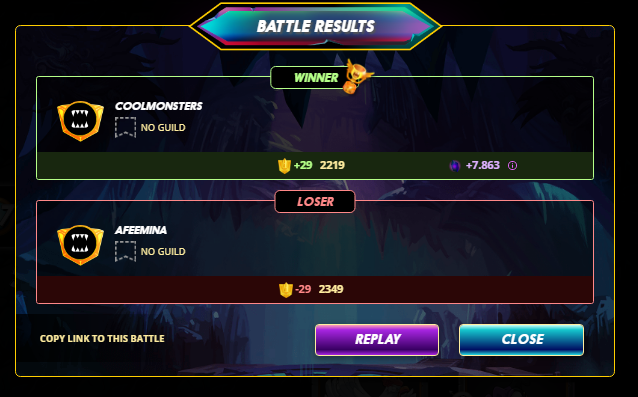 Spark Pixies has to bow down to magic and ranged attack monsters I had by this round and that was a win for me.
Twisted Jester missed to attack the Spark Pixies couple of times due to flying ability, but was crucial in this win and Boogeyman was equally helpful as well.
---
Questions from Splinterlands team:
Did your strategy work? What will you try differently next time?
I think yes, although, the usage of Boogeyman was a last minute thought, it proved to be important one in this battle involving Twisted Jester, but this was also the best lineup from the limited monsters I have.
Nothing I could have tried differently since these are the only 3 monsters with best attack level for me.
---
Do you use the TWISTED JESTER often? Why or why not?
I purchased this monster particularly for this challenge and hence, it's newly used for me and I am sure I will be using it in further battles as it is one of the few monsters I have with 2 attack.
---
Thanks for going thru this blog and I hope I was able to give some information about the Splinterlands battles in this blog and also some information on Twisted Jester.
Thanks and request your feedback.