As some of you know, I'm slowly getting back into Splinterlands. A year ago, when I started my leave-of-absence from Steemit[1], I was ranking Champion level, getting nice rewards each season and every day. Now I come back and find I'm no longer allowed above Gold level, daily awards are no longer as nice as they were, and I missed some kind of early-bird discount on lands, not to mention the end of the beta cards.
Ah well, such is life. So I have a lot of catching up to do.
I've been back about a week of so, and thus far my daily quest rewards haven't been much. Here is what I got for today.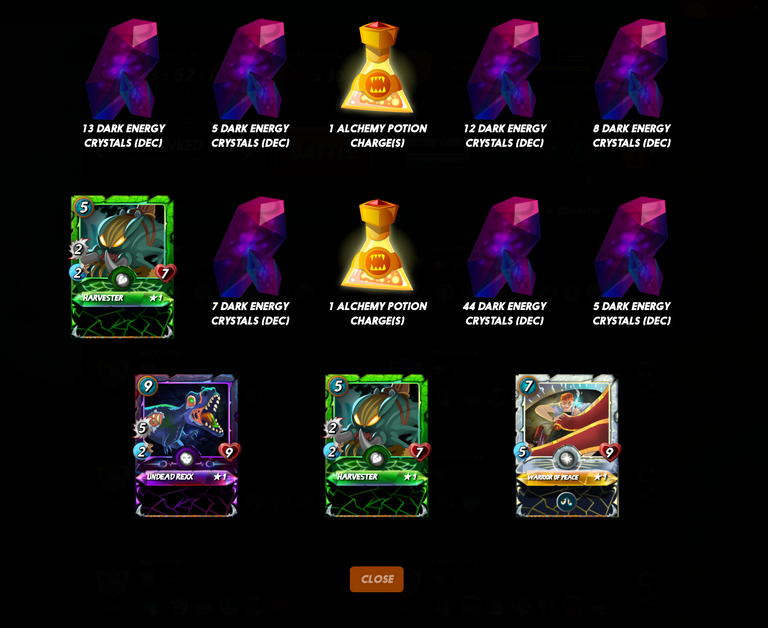 I don't mind the common cards or potions, but taking up spots with a random—usually lower than one gets for a battle win—amount of DEC isn't thrilling. Oh well. Let's hope for a golden legendary tomorrow!
All in all, I'm enjoying the game. Despite my gripes on the new power system and rewards, I'm finding that it is more fun to play than it was a year ago when I last was here. Whether that is due to positive changes in the game or due to my time off, I don't know.
playing splinterlands
just one
more game
---
| | |
| --- | --- |
| | David LaSpina is an American photographer and translator lost in Japan, trying to capture the beauty of this country one photo at a time and searching for the perfect haiku. |
---
Not yet Hive when I left, so I missed all the Drama. ↩