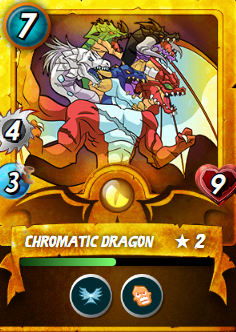 Chromatic Dragon delegation raffle
How about using this powerful dragon splinter tank throughout the whole season? It does really well in almost all rule sets, but it is particularly good if you can heal it. Rare summoners of level 3 will have no trouble using this card to its full extent.
All you have to do to participate is upvote this post and comment the @username of someone you know who might be interested in using this gold-foil legendary monster! In two days from now, I will use a tool to randomly select a number in the rage of participants.
results are in: @wonderwop was the lucky chosen one for this delegation