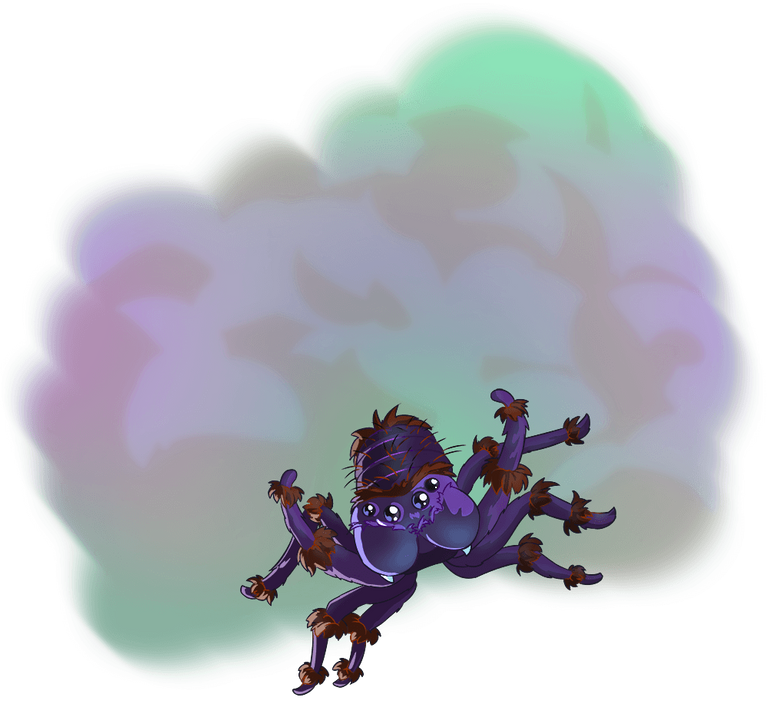 Barking Spider vs @jrvacation - @splinterlands "share your battle" contest entry
It is not just a scary spider. It is a stinking, barking spider with a butt-face! How can this thing not turn the tides of battle? This little bugger hits hard, does it fast and includes Blind which is actually much more useful thank people think.
What can Blind do for your team? When combined with high speed monsters and agility buffs, you no longer have to worry about physical attacks, since most of them are going to miss anyway. This opens up the opportunity to use mostly anti-magic monsters.
Take Unicorn Mustang for a ride. What is he bad at? Tanking physical attacks. He excels against magic and slow monsters, so he's going to throw any slowpoke meat-shield tanks into the garbage can. Even if it's a maxed out Flesh Golem.
Of course, if you are not going to use a monster with shield in the frontlane, then you better pack the punch to roll with it. If you can't destroy the enemy tank quickly enough, it means a swift defeat because you will get out-sustained.
That's why I decided to bring along Mitica Headhunter. Her, along with Barking Spider and Unicorn Mustang dish out 11 damage combined, which is enough to take out the majority of the enemy front liners.
This even means a dead Arianthus on the first round, because my team deals 9 damage in total against both shield and void. So there is enough damage to kill almost anything before they get a chance to retaliate at all, thanks to Spirit Miner's agility buff.
A combination like this would not work as well without Barking Spider. I could have used my own Wood Nymph in it's place, but then my first turn's damage would drop below Arianthus' total health. I would get out sustained. Slowly but surely, I would get crushed.
There was the possibility of the enemy using quick hitting snipers. That was why I had chosen Gelatinous Cube as my off tank. Considering Spirit Miner has Dodge, my back line was also safely protected. Thanks, Barking Spider. I would not have won without you.