Hello battlers,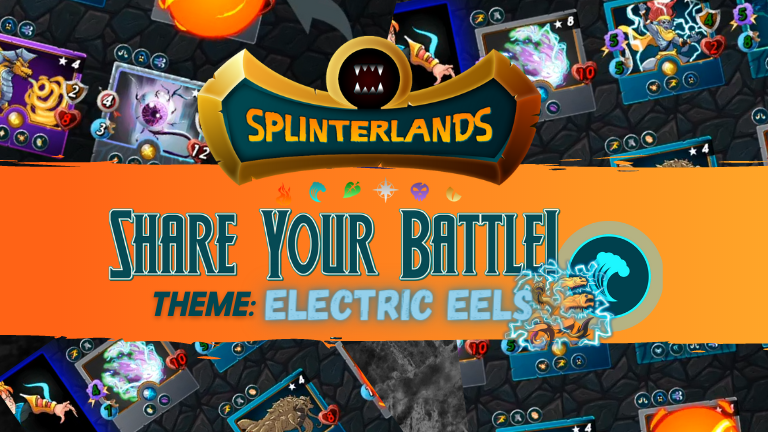 Good to have another Share Your Battle weekly challenge from Splinterlands and it's always a happy moment to participate in these challenges.
The cards on Splinterlands market are getting high price day by day and it's the best time for sellers or is it like the prices will still go higher? Well, one has to wait and see and not sure it is because of the proposed airdrop of Splinter Shards .
Here is my battle detail for this week's challenge and we have Electric Eels for the challenge as a theme monster.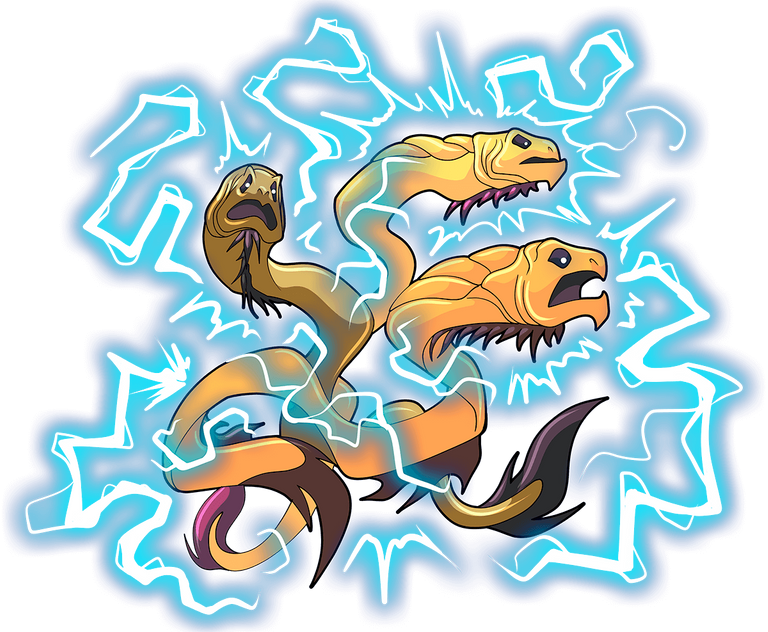 Electric Eels is a monster from Water splinter and this is a monster which is not much used by me because of the low level monster I have which is a good one, but there are other better options like Wave Runner which gives 3 melee attack as against 2 from Electric Eels.
Electric Eels is a melee attack monster from Promo packs introduced earlier by Splinterlands and Promo packs were limited and are not available right now for purchase except that, we can purchase the individual cards from the market.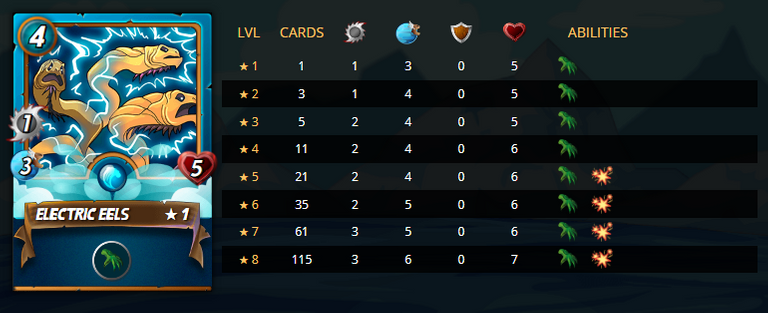 From the above shared statistics screen, we can see that the monster will have 1, 2 or 3 melee attack based on upgrade to various levels as shown.
When the monster is upgraded to level 3, it will give 2 melee attack with speed of 4 and I feel that is a good one considering the good speed it has.
When this is further upgraded to level 7, it will have maximum of 3 melee attack and this being a blast ability monster from level 5, those 3 attack will have additional 2 more attack on second monster with blast.
The speed also varies between 3 to 6 for this with it gaining 4 seed from level 2 and speed of 5 at level 6 and maximum speed of 6 at the final level which is level 8.
As for it's health, it starts with 5 which is good for a 4 mana cost monster and this increases 6 at level 4 and final level enables it to have 7 health.
The abilities are nice too for this as it has Reach ability from level 1 itself and that will be accompanied by Blast ability when this is level up to level 5.

Lineup: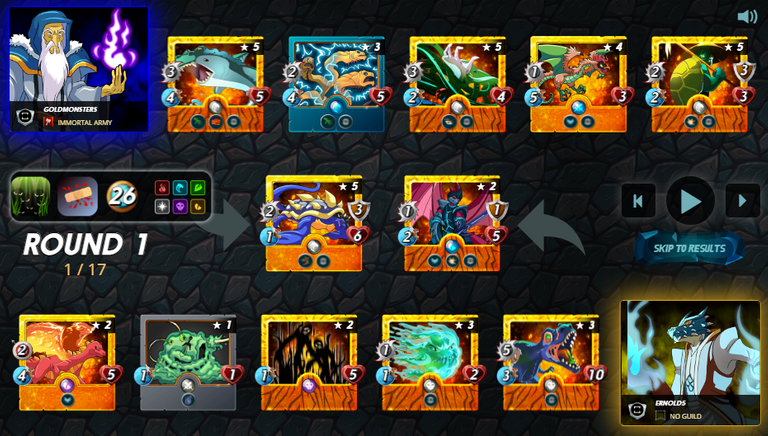 https://splinterlands.com?p=battle&id=d58736b41a7da494b5832970dba163418d9bb9d1&ref=goldmonsters
I got a nice battle for this challenge as the battle gave a mana cap of 26 and had rule sets of Super Sneak and Healed Out.
Since all the melee monsters will target the last monster on the lineup, I placed a monster with shield ability having few armors as I detail in the lineup below.
1. Spineback Turtle: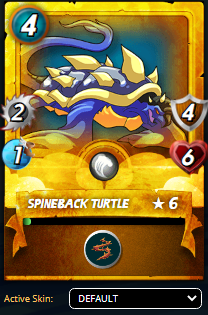 Used this monster with thorn throwing ability at the front for front monster which will be normally a melee attack monster itself.
This was good with it's armors as well and could see off the melee and ranged attack coming at it.
---
2. Wave Runner: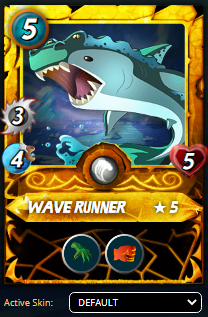 My regular monster at Second position, I use this because of it's good melee attack and also for it's speed to attack early.
This was with 3 melee attack and also has ability to attack with double power on a monster which is stunned.
---
3. Electric Eels: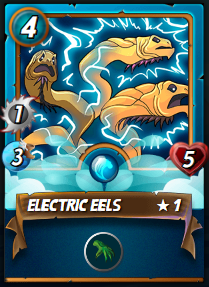 Here comes the monster for this week's challenge.
This will give an attack of 2 and like Wave Runner, this too has good speed to attack early and remove a monster.
---
4. Feasting Seaweed: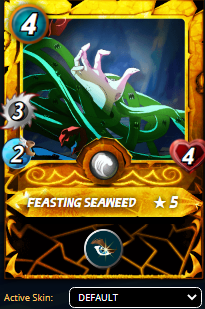 The only monster with Opportunity ability in this lineup.
It gives 3 more attack along with the monsters I already mentioned.
---
5. Cocatrice: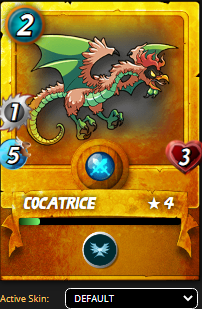 A monster which often evades the attack at it as it's a flying monster and has good speed although it's single attack is a bit drawback, but it's main purpose in this battle will be to escape from getting attacked and protect the monsters placed before it from early exposure.
---
6. Tortisian Fighter: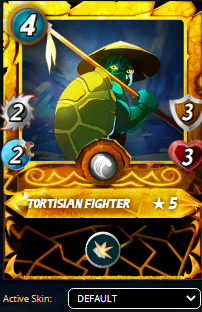 Last monster on my lineup, this gives 2 melee attack but more than that, it's main purpose of using it in last position is to stay longer at that position so that, other monsters can all survive to attack more then once.
---
Opponent used death splinter monsters in combination with a dragon summoner and his monsters were Gloridax Soldier, Undead Rexx, Cursed Slimeball, Shadowy Presence, Creeping Ooze and Fire Spitter

Battle:
Let's see how the battle went as I also share few screenshots from the battle so as to understand the way it went. Here we go..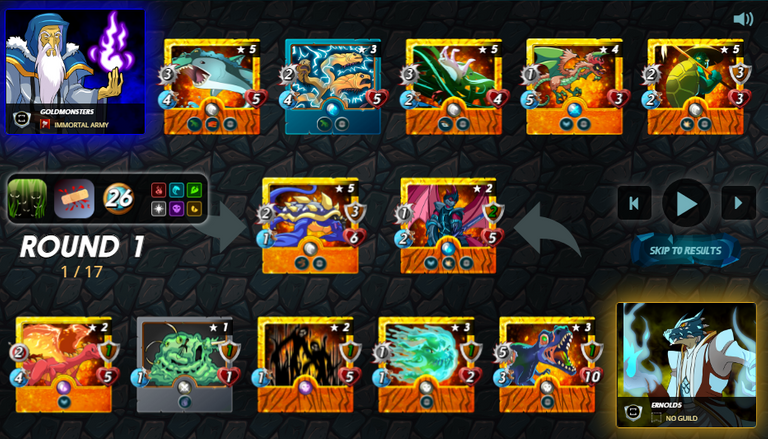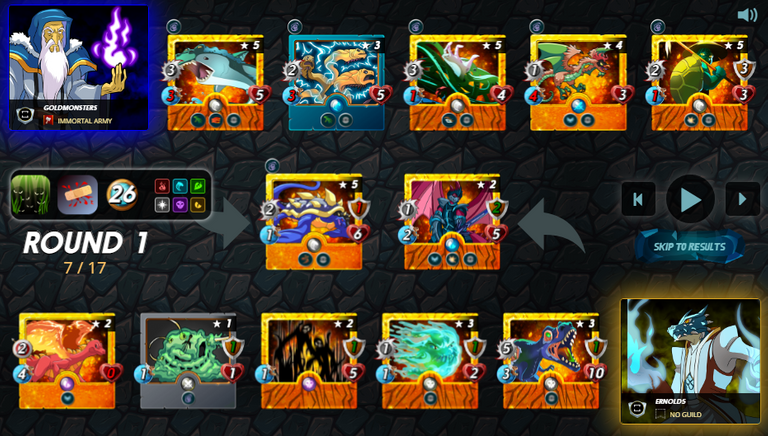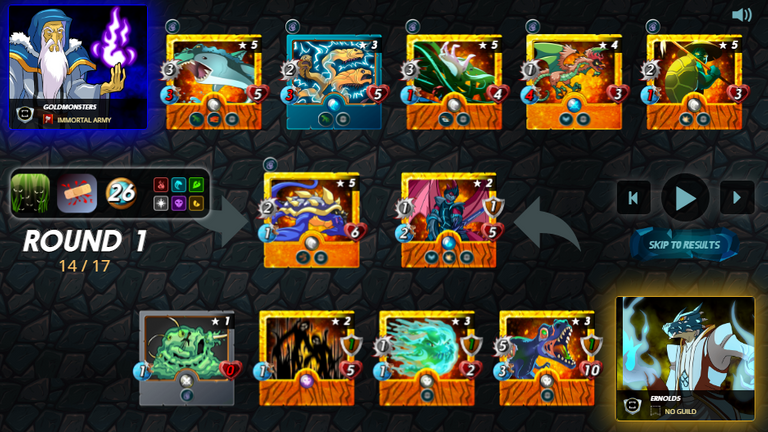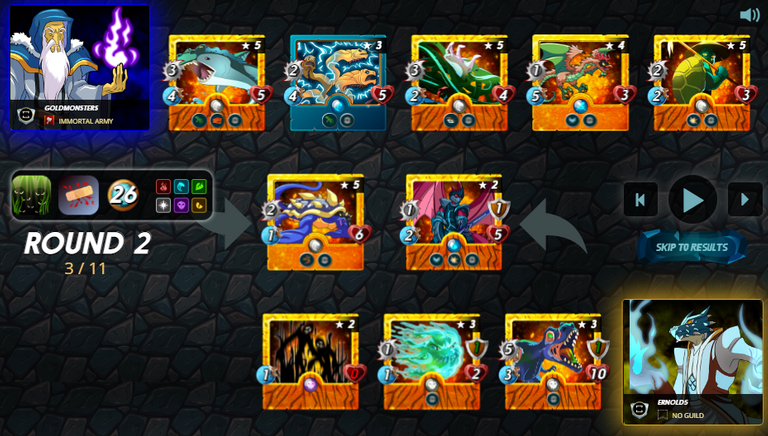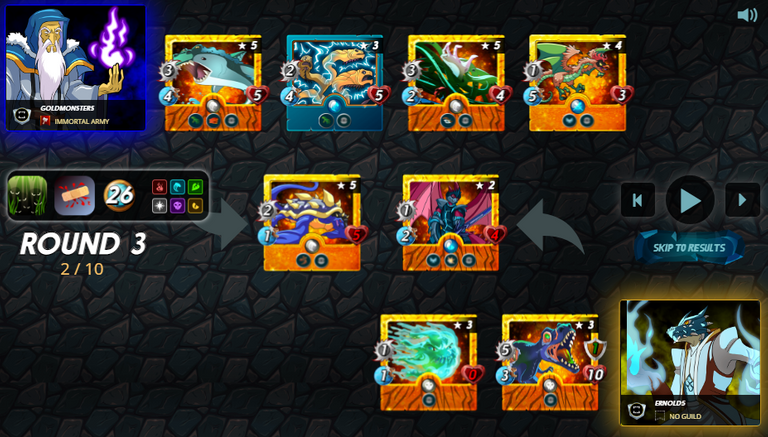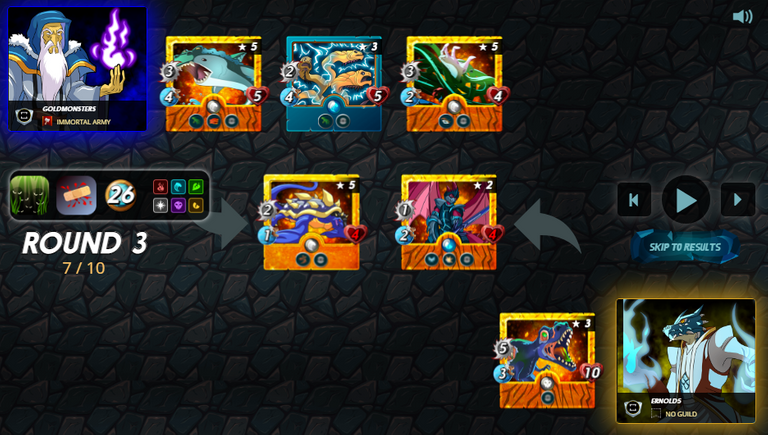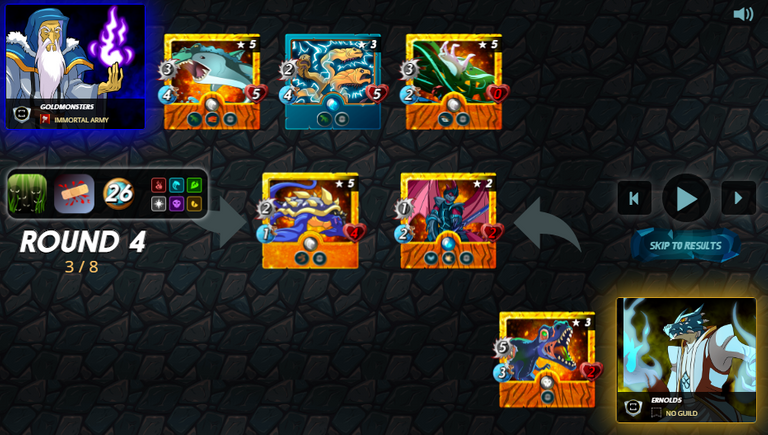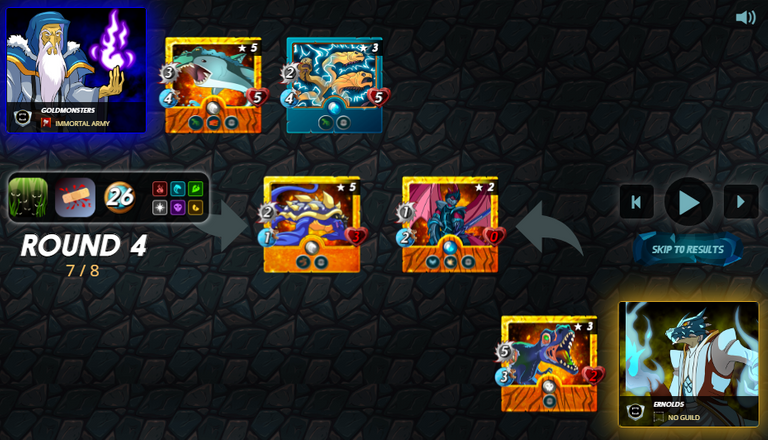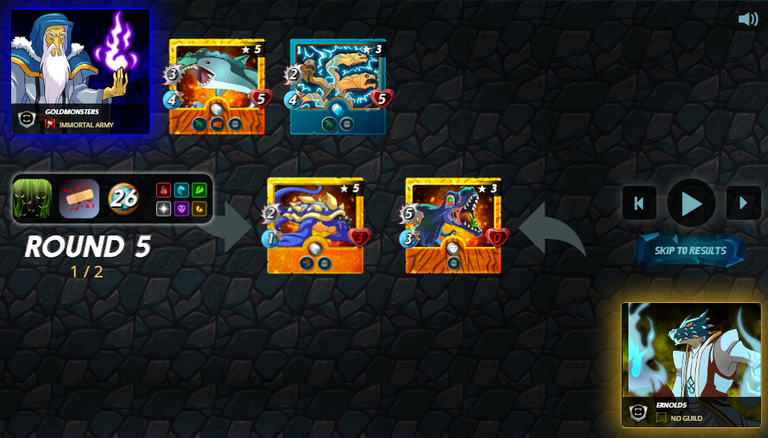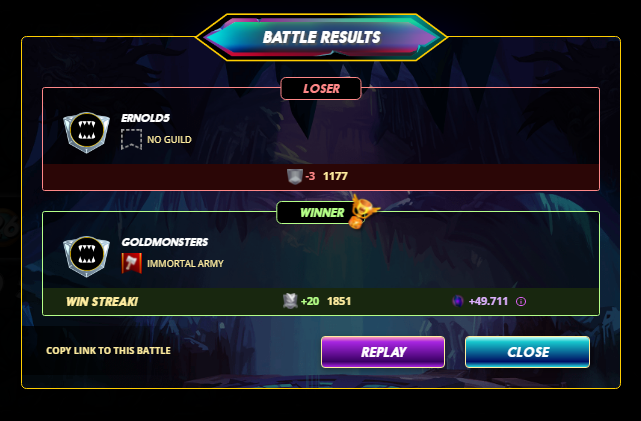 Did your strategy work? What will you try differently next time?
Yes, the usage of good monsters with nice speed and a shield ability monster at back end were all good to win this battle with ease.
The monster of this week's theme, Electric Eels was also good in this win as it kept attacking with 2 melee attack in each round.
---
Do you like the ELECTRIC EELS? Why or why not?
I am not that big fan of this, but yes, if it is upgraded to level 5 and above to have blast ability, this can be a good one with it's speed at 4 or 5 to give it more advantage to attack early.
It's not that, it is not good one, but at the level of monster I have, it is not a good one over Wave Runner, which gives 3 attack with same speed and I am happy to use that over Electric Eels at this point of time.
---
That was against a lower ranked opponent, but a win was important one considering the low attack monsters I have to use for the super sneak battle and yes, I would like to share even better battles in the coming challenges.
Thank you and have a good day ahead and keep battling :)

New to Splinterlands or yet to Join?
You can join using my referral link: splinterlands.io
Join now and start battling and have fun and also earn rewards in the form of Crypto and even you can trade the monsters cards on market to earn Crypto.