Hello battlers,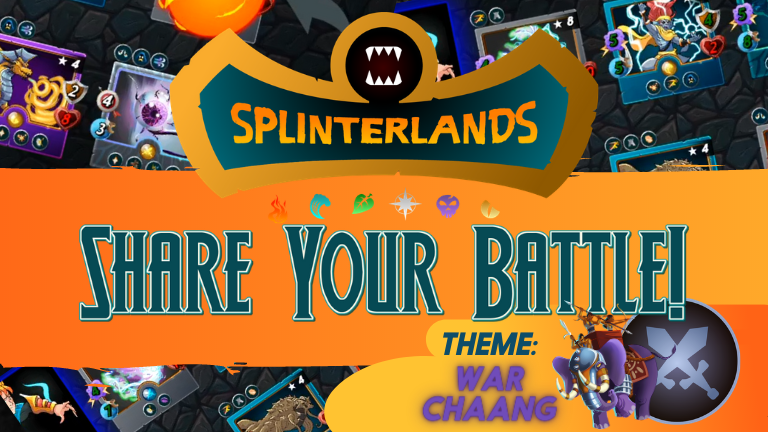 https://peakd.com/splinterlands/@splinterlands/share-your-battle-weekly-challenge-war-chaang
Hey buddies, how are you all doing? Do you still playing with same spirit after recent changes in Splinterlands based on Collection Points? Well, I am bit of disappointed as I can't make the Champions Leagues any more soon as I am around 400K Collection points :(
Well, that's how it goes right now, but let me share the details of a battle involving War Chaang for the Weekly Contest of Share Your Battle.

War Chaang is a neutral Epic monster which can give us 2 different types of attacks as in few other monsters.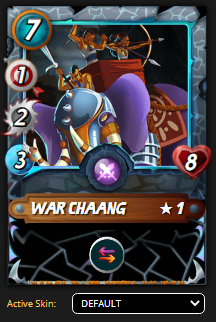 So, what makes War Chaang interesting monster to use in the battles? Simple, it can attack with 2 different attack types melee and ranged and has couple of interesting abilities.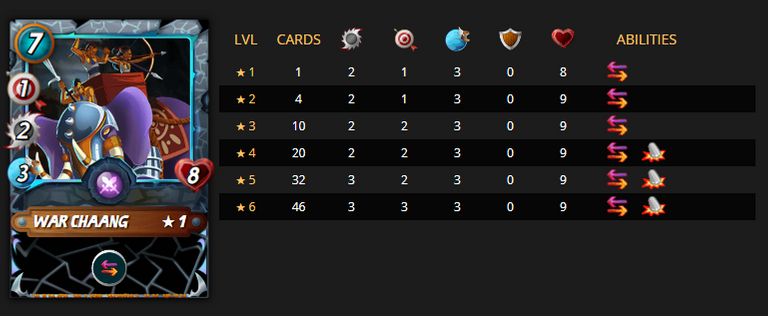 As we can see from above statistics for War Chaang, it's very good on health side with health starting at 8 and increases to 9 from level 2 onwards.
Although bit lower on attack, but combined melee and ranged attack gives us a 3 attack from starting level and as the level increases, the attack stats also goes up with a level 6, i.e. max level War Chaang gives us 3 melee and 3 ranged attack.
The speed for this monster stays constant with 3 speed throughout.
The abilities on the other hand, makes it more potent one with Retaliate ability enabled from level 1 itself and we get Trample ability from level 4 onwards.
In total, this is one of the lesser used, but interesting monsters and definitely worth trying this using it in a battle.

Lineup:
Every time I want to share a battle for this weekly challenge, I want to ensure I share a battle with different rule sets to make it interesting and I always look out for challenging rulesets.
Likewise, I had an Earthquake ruleset enabled for this battle with Close Range enabled as well.
While Close Range battle is good for War Chaang to be used from first position (to utilize both of it's attacks), Earthquake ruleset makes it more interesting.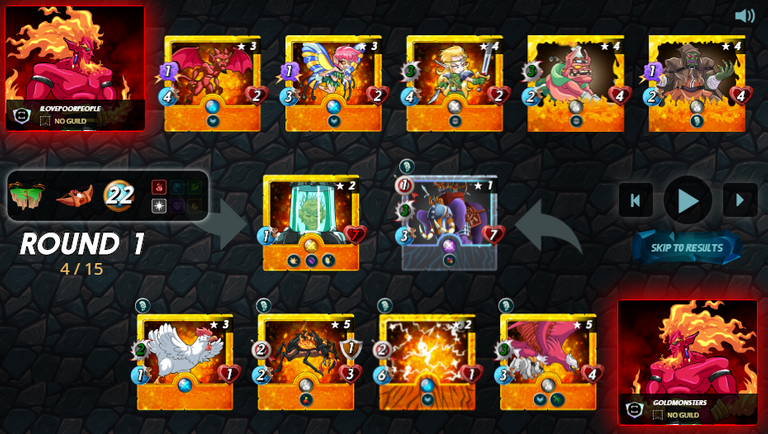 https://splinterlands.com/?p=battle&id=460af39e3fe7ee3699aba14dd5479cb5a0541af4
As we can see above, the battle I had was with 22 Mana cap and without a healer monster in my Fire deck, it was a risky one considering it is a earthquake battle.
I just went ahead and lined up my monsters as below:
War Chaang: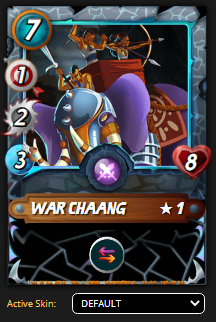 Being a multy attack monster, I used this given the Close Range rule was on.
With 2 melee attack (increased to 3 because of Fire Splinter) and a ranged attack, I felt this is best suited to attack from first position.
---
Giant Roc: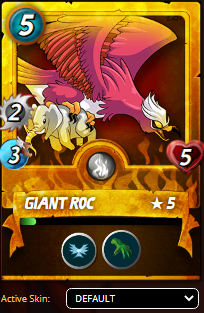 Being a Reach monster, it is one of the most used by me in second position which give 3 melee attack and also since it's a flying monster, it's good for this battle as it is also an earthquake battle.
---
Spark Pixies: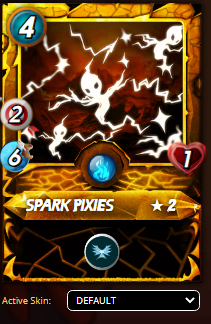 Second flying monster used by me in this battle to counter attack earthquake and this one with speed of 6 is among early attackers.
---
Fire Beetle: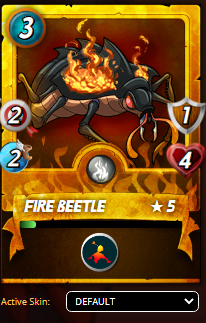 A snipe monster which also has an armor to last a round more in this earthquake battle which also gives a 2 ranged attack.
---
Furious Chicken: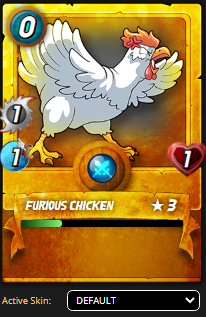 Fifth position was occupied by this Zero Mana cost monster to give hide the ranged monsters I used from any sneak attack in round one itself.
---
It is customary to mention about opponent's attack as well here. He used the Fire Splinter* as well and lined up monsters Lord Arianthus, Flame Imp, Enchanted Pixie, Elven Cutthroat, Kobold Miner and Goblin Shaman.

Battle:
Round 1:
Earthquake battles are always fun considering that a non flying monsters loses health at the beginning of each round.
In this battle in first round, there were 2 monsters lost even before the first earthquake happened.
While Furious Chicken my side was done in by sneak attack of Elven Cutthroat and opponent lost Flame Imp because of snipe attack of Fire Beetle.
Here are the monster after round 1.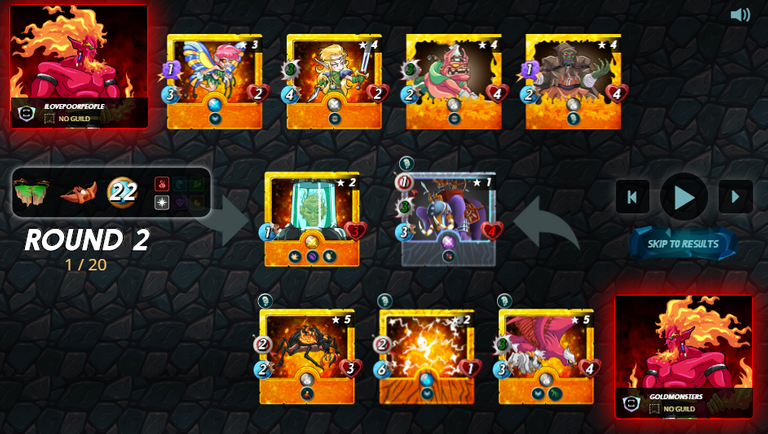 ---
Round 2:
Earthquake removed the 2 health Elven Cutthroat and then the battle got under with Lord Arianthus getting removed by War Chaang and other monsters and Enchanted Pixie was removed by snipe of Fire Beetle and the round 2 ended with War Chaang also getting removed.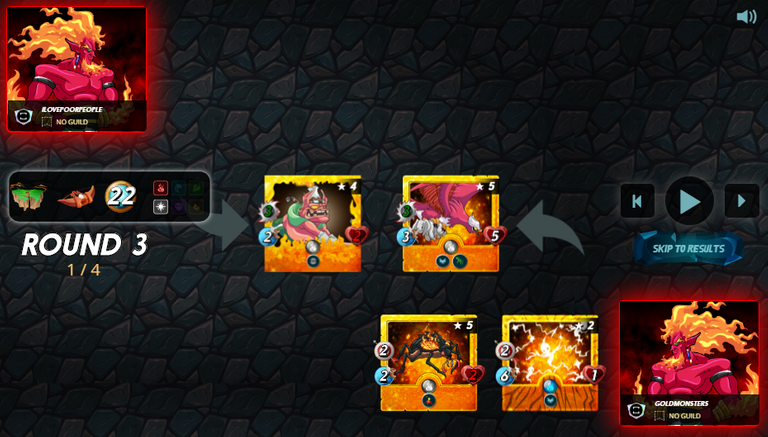 With 2 health Kobold Miner just left after round 2, it didn't need any effort to remove that as earthquake removed that.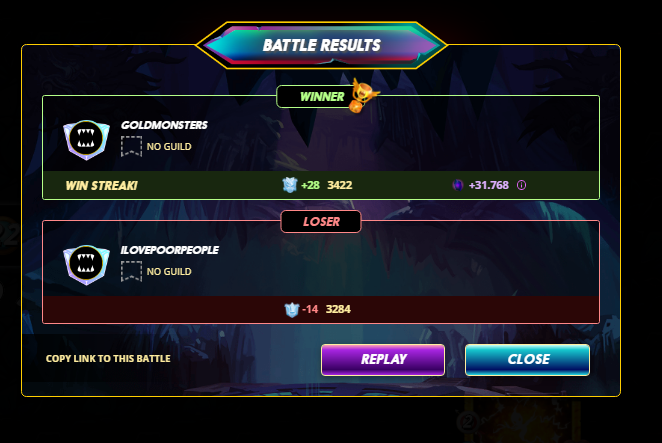 Like I said, Earthquake ruleset makes these battles more interesting....
Time for questions and answers.
---
Did your strategy work? What will you try differently next time?
Yes, inspite of knowing this as an earthquake battle, I still lined up War Chaang at front position. Although it got lost in second round, but it ensured it takes out couple of monsters from other end before it dies.
I think all the monsters did contribute in this win, so no complaints about the lineup I used.
---
Do you use the WAR CHAANG often? Why or why not?
No, I haven't used this before this, but I intend to use it more and more as I now know, this is made for some specific rule sets such as Close Range

Thanks as always to team @splinterlands for curating the Splinterlands blogs.
Good day to all.

New to Splinterlands or yet to Join?
You can join using my referral link: splinterlands.io
Join now and start battling and have fun and also earn rewards in the form of Crypto and even you can trade the monsters cards on market to earn Crypto.