Hi Dear - SplinterMates,
For this week's Battle Share Contest Organised by the SplinterLands Team; details can be found @ Weekly Splinterlands Battle Share:: For this week challenge, we have NEUTRAL Element Monster who is named as MANTOID; we will explore this Ranged attack MANTOID monster in our post today. I strongly feel that Winning or losing battles does not matter. What matters most is how a player is building upon his/her game strategy.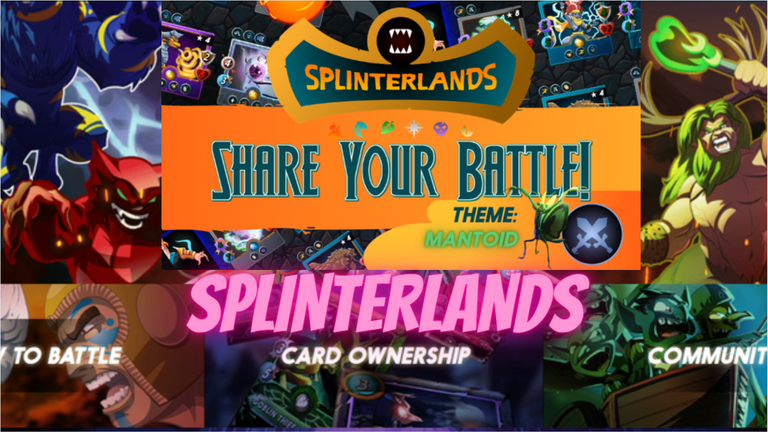 In this post, we will explore this NEUTRAL Element Monster MANTOID-; share my strategy around it and how I'm using this card i.e. its placing position on the battlefield and how often I use the card, and at what level it should work the best for you. At the end of the post, we will also be doing a Cost-Benefit Analysis of this Card MANTOID
The high-level pointers that we are going to discuss are as follows::-
MANTOID Monster card level discussion, stats, and how I am stack with the neutral monster card MANTOID
Gameplay & Strategy discussed in detailed
Battle Results & How Often I use this DRAGON element card NAGA BRUTE
A Final Note to keep things simple; talking a bit around the cost-benefit analysis for this card. Simplicity is the one that is admired by most people & I'm one of them that likes to keep things clean, simple, and straightforward.
How Often I use this NEUTRAL element card MANTOID
Check the following image to know how many cards I've of this Neutral Ranged attack Monster.

For the Untamed Version of Cards, I've only the above listed Neutral Monster Cards. As seen clearly and highlighted in RED, I've 10 of these NEUTRAL element cards MANTOID. So with respect to the question of how often I play with this card. The answer is pretty clear. This is for the first time that I would be using the card MANTOID.
First thing first, I'm gonna combine all of these 10 Cards first and then check the card stats to see which level this card has been raised too.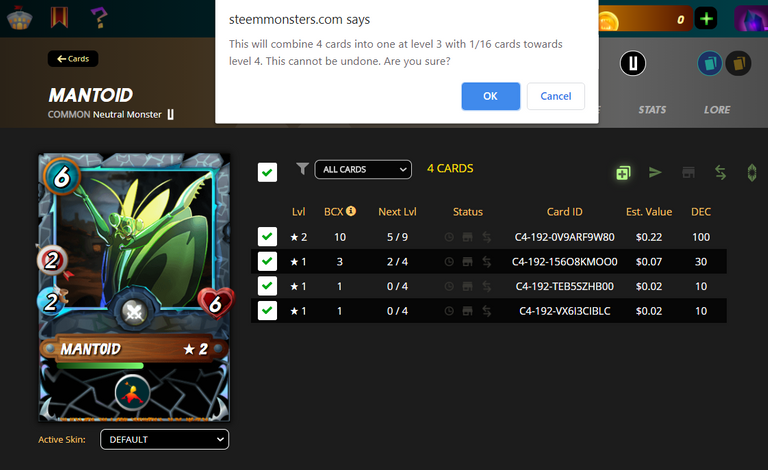 Combining the 10 cards brought this card to level 2. But then I was short of another 5 cards to reach level 3. Since I had some DECs in spare, I bought another 5 cards as shown in the above image and combined all of them to reach level 3. Now that this monster MANTOID is at level 3, further enhancing its speed, I feel comfortable taking him to the battle-field. Before we BATTLE and find our opponent. Let's talk a bit around its ability of SNIPE. By default, this monster has the SNIPE ability, which means it attacks the opponent monsters with ranged, magic ability, and no attack ability which are not in the first position. Kind of tricky but comes in very handy.
Now that we know about the card and how I'm stacked up with it. Lets Battle As
THE::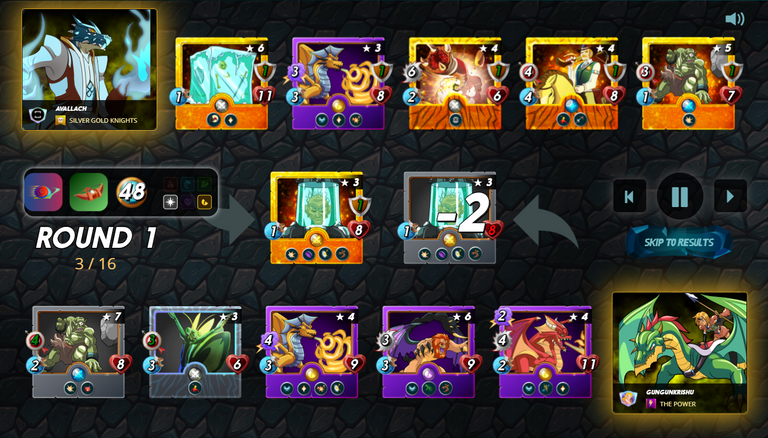 So it was a 48 MANA CAP Battle with TWO Rule - Reverse Speed & Close Range; where a ranged attack can attack from the first position also. of War. Just carefully look at my Monster LineUp and we will be discussing it in detail in the game plan and strategy discussion.
Game Plan & Strategy Discussion::
SELENIA SKY was the Summoner that I selected because of two reasons. The first being that I have this summoner at the max level and the second and quite obvious reason being that it adds +1 Range Attack to all you Ranged Attack Monsters. As clearly seen in the above image. You will notice all my Ranged attack monsters like; CYCLOPS && MANTOID got +1 Ranged attack added to their ability because of SELENIA SKY Summoner ability.
The Game strategy was pretty simple here due to the game rule CLOSE Range. This gives your Ranged attack monsters to attack from the first position, so I wanted to leverage that and on the other hand, make my Ranged attack monsters a bit stronger via SELENIA SKY Summoner.
Also, notice that most of my monsters had a low-speed attack. This gave me an added advantage because one of the other GAME rules was that REVERSE SPEED; which gives/makes lower speed monster stronger as opposed to higher speed monster and also the lower speed monster attack first.
Before we go on to the Battle results. I wanted to talk about the Dragon monsters that I took in the Battle-field; especially the emphasis being on the RED DRAGON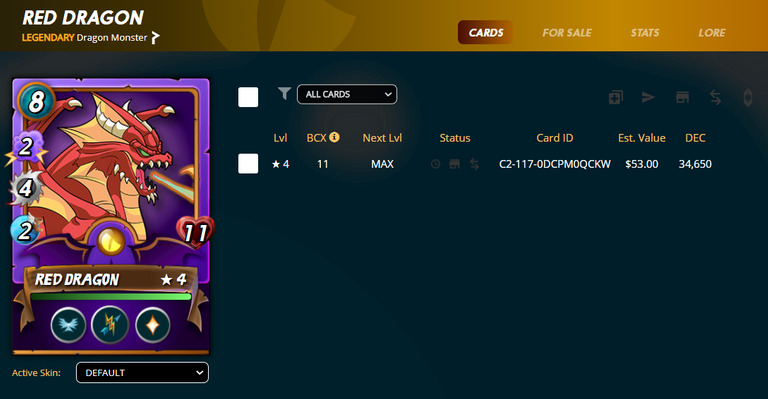 I'm a bit lucky to have this RED DRAGON at Max level. Its self-healing and the RETURN FIRE ability was a blast and did bring in some real damage to the opponent's monsters. On the other hand, our very own Neutral monster MANTOID was doing the damage with its 3 RANGED & SINPE Ability destroying the monsters which were not in the FIRST position.
The Battle RESULTS;
The rest is history and I'll keep it for you to explore in the Replay Match. So overall the strategy did work out well and here is the result:: A Clear WINNER getting me 24 points and +31 DECs the In-game currency.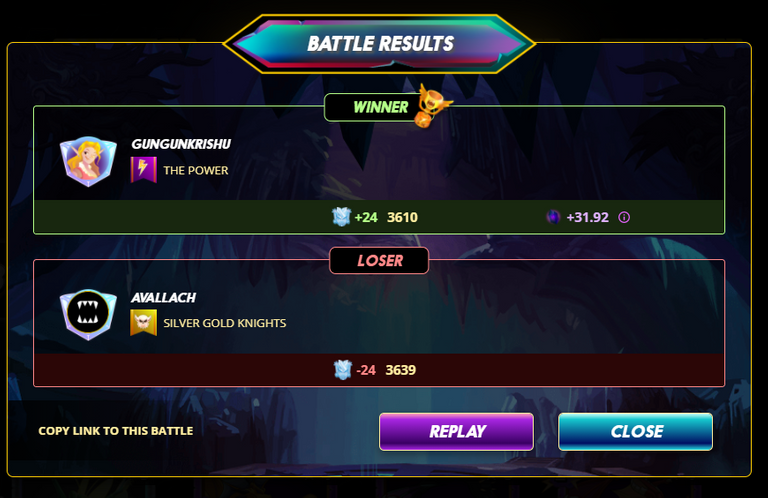 Watch the Battle HERE
A Final Note to keep things simple; Tell me in One Word Should I include MANTOID in my card collection?
I'll be very frank here and the straight forward answer is YES. One should definitely consider having this Neutral Monster MANTOID. I'm a great fan of Neutral monsters as they can be taken/selected for any Battle Rule, only where it mentioned Neutral monsters cannot be used at that point of time you cannot select Neutral monsters. Apart from that, the Neutral Monsters can be selected for any Battle Rule and with any Summoner; that's a great advantage when compared to another type of monster.
Cost-Benefit Analysis for MANTOID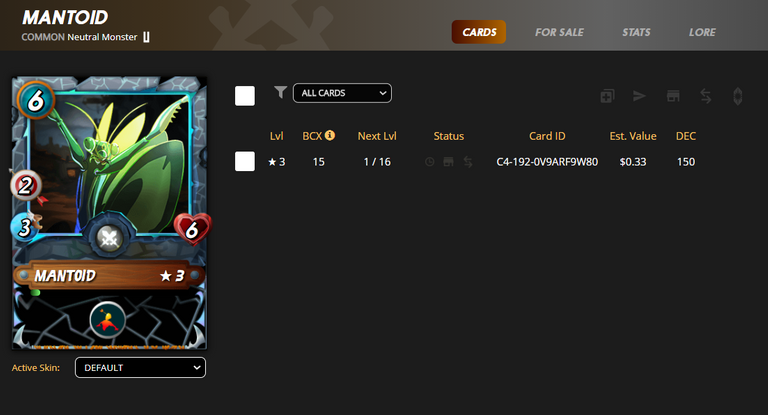 As seen from the above image; at level 3 you need to combine 15 of these cards and it costs around $0.33. The ideal level that I would love to have this card is at level 6. And for which you will need to combine 100 cards and that's around close to $3.5. Currently, one MANTOID cost $0.33; hence 100 will cost you::
100* $0.33 = $3.33+ MANTOID card at level 6
At level 6 you get to explore another ability of this card which is SNARE; removing flying and cannot miss ability from the flying ability monsters. So altogether this Neutral Monster at level 6 is good a addition to your collection of cards. On the other hand, you shouldn't be in a hurry to buy all these 100 cards. What I do recommend is to start with level 3 and move upwards based on your experience with this Neutral Monster Card MANTOID

Best Regards
Do you love playing games and do you want to earn as well while playing the game. If YES then come join this amazing online trading cards game SPLINTERLANDS here
See You @ The Battle Field - May the POWERS be with You!!
Cheers & Thank You!!!
Find me on LBRY & Earn LBCs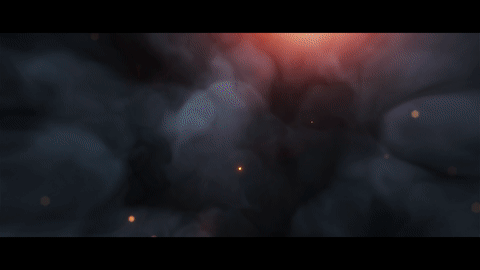 ---
Image Courtesy: SplinterLands