Addiction is knowing your limit and still over stepping it. Everytime I buy card, I go hungry. @xawi is always crying for this but she cant seems to stop and slowly and foolishly I joined her. Now I am hungry and still buying cards. @splinterlands has jinxed me and there is no remedy.
Been powering down my account in other to upgrade my summoner but then I got derailed yet again and instead upgraded my Mrs Mimosa Nightshade to level 2 which is not cool by the way because she will be used only for a silver league game which is below my standard..ahahah...So I need to take it up a notch to level 3. I bought 2 of it for 95steem which was surprising low compared to the price I last saw it (66steem per one). Now I need extra 6 for level 3 and an additional 5 for a max level.....I am finished. Whenever I think about the insane amount I am to spend on Mrs M I feel really sad and angry but then I think about her story and I am moved to help a 5 year old child who was left orphaned at an early age and had to beg passersby for gold so as to buy food.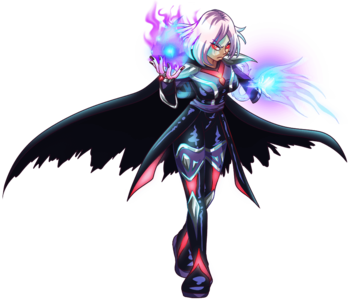 I hope she is not controlling my mind like she does on the field🤔?. After she was captured by the great Archmage Arius of life there was calm in the witch coven amd the town of Beluroc but not for long though, because the great lord of darkness sets her free and made her one of his. I hope I wont end up in prison by using death alone in my battles...Mimosa is dangerous and terrible on the battle field with her Void and affliction stats plus giving the enemy a minus 1 range attack coupled with the usuage of her lord (the darkness) and the Dark enchantress in a battle....The outcome remains deadly and death to all monsters on the war zone.
Again @xawi made a post about beautiful Camila Sungazer and I felt why not...Xawi is always right when it comes to splinterlands...The battle field is her home and these little monsters are her soldiers. So I went ahead to my monstermarket to buy me some of her but my money could only take me as far as level 2. Oh no......Will get more of her later on hopefully.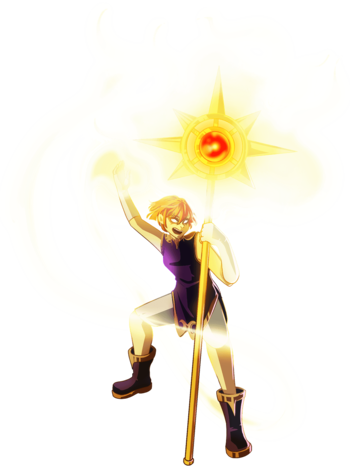 This legendary dragon summoner Camila represent light to me unlike the dark mimosa...She gained her magical power from staring at the sun until she became blind and powerful. Her magic on the field is non contestable and she has a low mana compared to her cohorts. Camila Sungazer is my little friend that I will be nuturing until she comes of age (maxed)...heheh until then.....Dragon Daria will continue slaying.