SHARE YOUR BATTLE Weekly Challenge! EFREET ELDER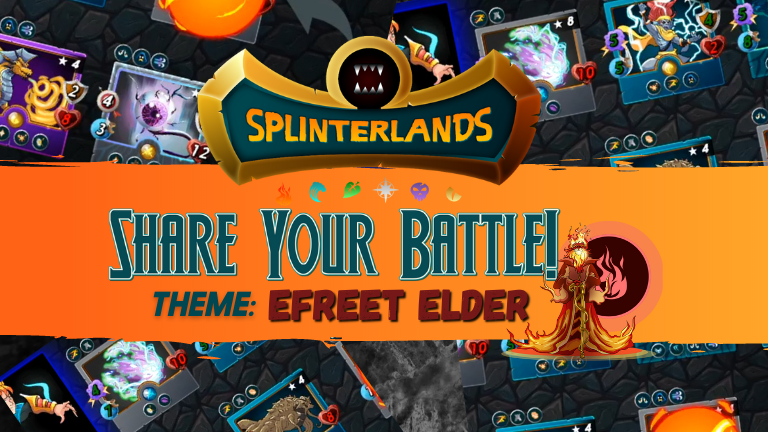 Every week there is a Splinterlands challenge to share a battle using a specific skill and on this week's post it is the Retaliate skill. For this challenge, I plan to use the Efreet Elder card. I also encourage Splinterlands players to partake in the challenge because you get to try different strategies and earn some crypto in the process.
Featured Monster with Retaliate: Efreet Elder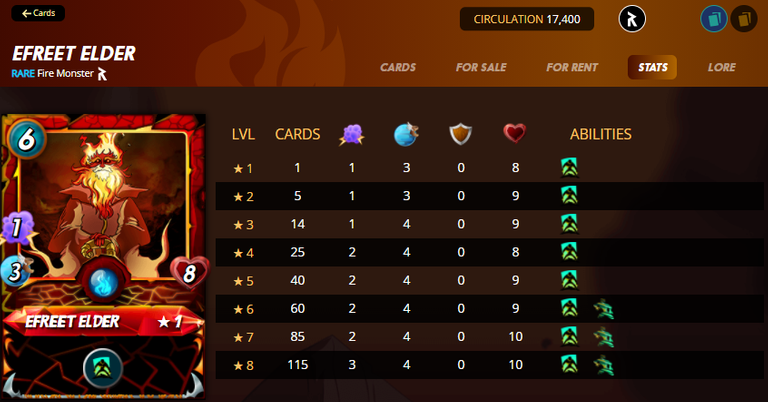 Efreet Elder is one of the rare fire mage cards. I generally don't use it much because I prefer large variety of ranged monsters and great melee monsters available. It has two abilities: Last Stand and Phase (at level 6). Last Phase increases its stats when it is the last monster and Phase allows it to dodge magic abilities. It doesn't have much attack at low level but it is a bit tanky.
Given it's stats and abilities, I think it is a great tank to place as the last monster in your set up. This way it can tank some of the sneak attacks and if there aren't any then you can take advantage of the last stand ability in a close fight. My current Efreet Elder is level 1 and it is one of the new cards added a few months ago. I have only gotten two of them so far from my quests and league rewards.
Rule set, Battle and Plan

The rule set this time is trample and no ranged attacks. Unfortunately I don't have much mana available to me and the only splinter available is fire, earth and death. The no ranged monster looks like it will hurt me and I am thinking of outlasting my opponent.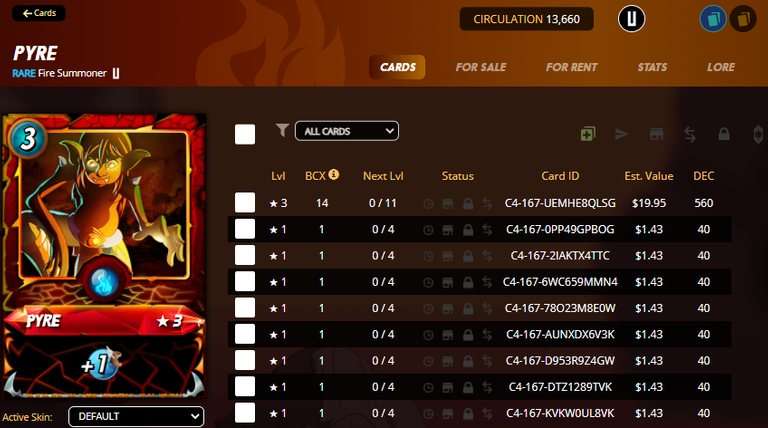 The summoner I choose to use this time is Pyre. Between this card and Yodin Zaku, I don't use any other summoner since they would be stuck at level 1 and I would not be able to use my leveled up cards. Unfortunately mine is still level 3 and with the increase in prices for Splinterland cards, I don't really feel like buying more off the market for now. The only buff he gives is a +1 speed to all cards and while it generally doesn't make a difference, it can be the difference between a card dying before attacking or not.
My strategy is to using Living Lava as a tank in the front. With the low mana usage, I am betting on the fact that my opponent will not have any heals and that I can kill off my opponent before he kills me. The Efreet Elder will be in the last spot to take over on damage and also to tank any sneak monsters.
Round 1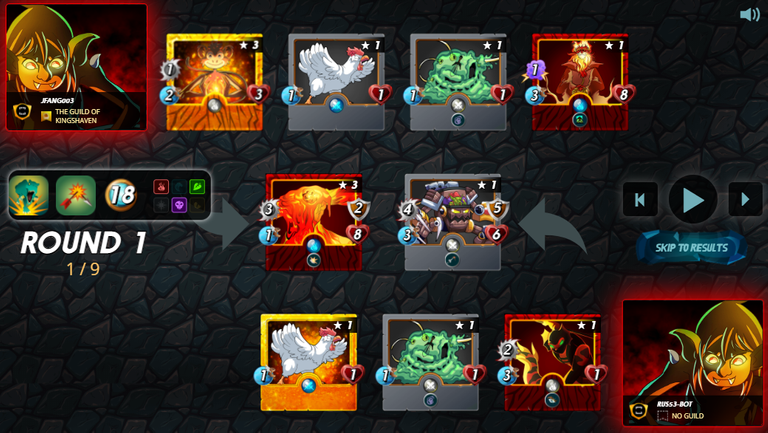 My opponent's lineup is looking dangerous but I think the odds are in my favor. The Goblin Mech will require 5 hits by itself to kill off my Living Lava while his Serpentine Spy will be hitting my filler cards. At worst, my Efreet Elder will be able to activiate Last Stand.
Round 2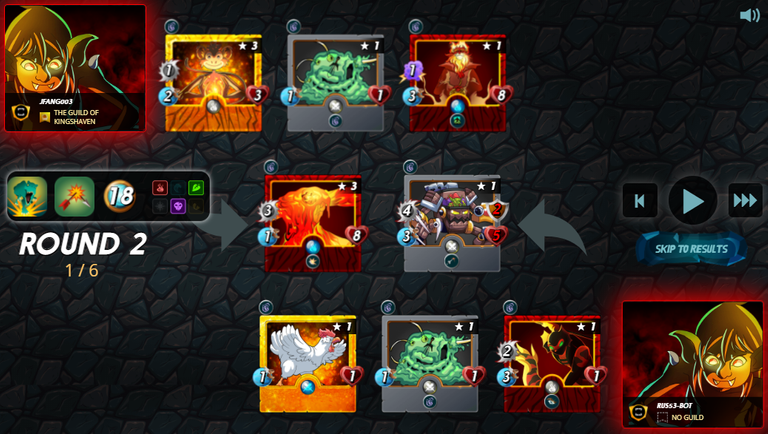 The chicken died but everything is playing out as I expected. My Living Lava should take out his shields and the Efreet Elder will take out another health on the Goblin Mech next turn. I don't have to worry about wasting my attacks on my opponent's chicken or ooze since I am not using a sneak or snipe card.
Round 3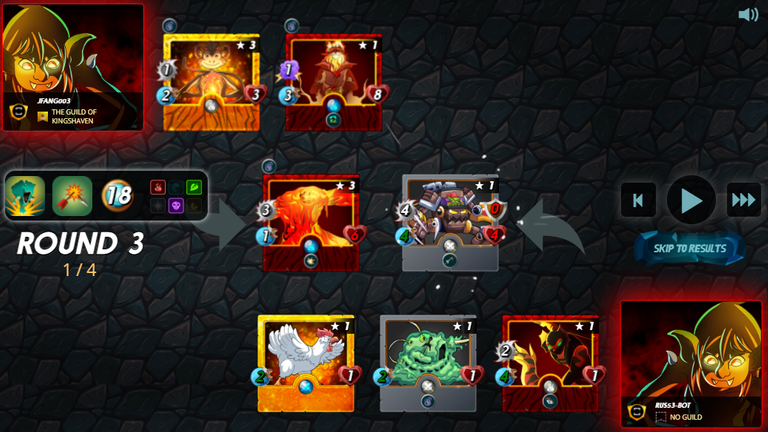 My ooze is dead but if my Living Lava doesn't miss then I should be able to kill off his Goblin Mech this round. If this happens, the match is pretty much over since Efreet Elder won't miss his attacks. His Serpentine Spy will be targeting my Flame Monkey so I am not worried even if I miss.
Round 4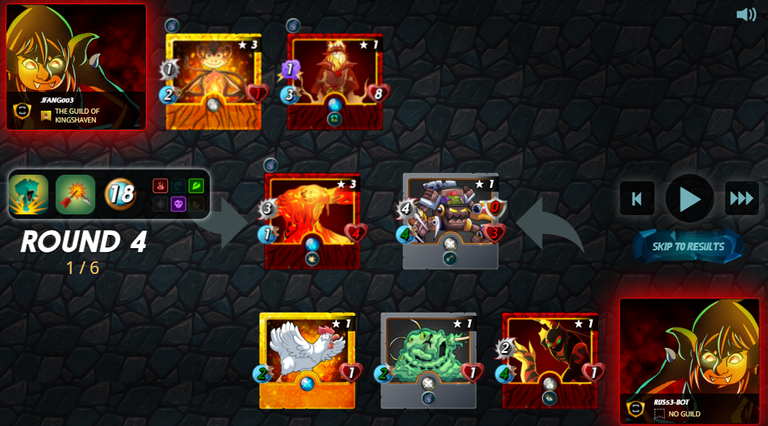 Luck is not in my favor because I miss with Living Lava. I am worried if things will come down to last stand on Efreet Elder because my Living Lava only has one more chance to attack before he dies off next round.
Round 5-6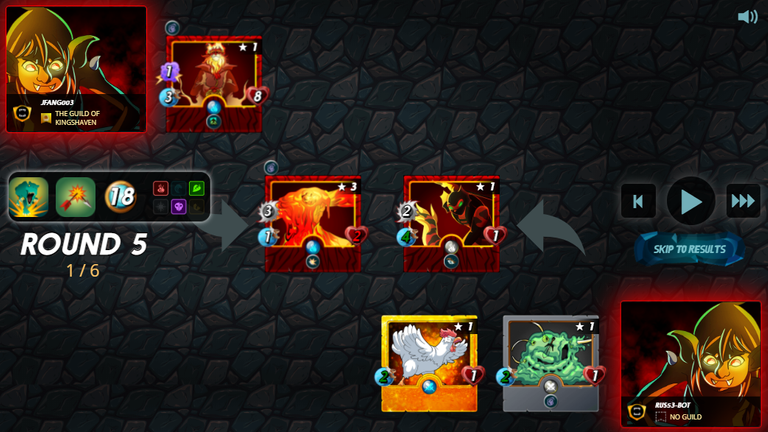 Since my Living Lava did not miss this round, the match is over since magic attacks can't miss because the opponent doesn't have a monster with the phase ability.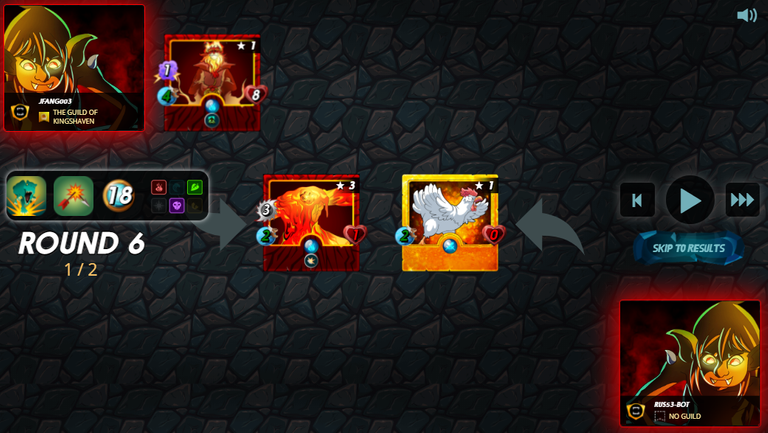 Conclusion
Efreet Elder is a card I don't use a lot and it is currently the only card I have in my deck that has Last Stand ability (some of my cards aren't high enough level). So this battle was a bit dangerous but I was fully able to outlast my opponent. I was worried when I missed with my Living Lava earlier in the fight. Unfortunately there were no sneak monsters and it never became the only card on the field so I was unable to take advantage of the Last Stand ability.
Pyre did help to offset my opponent's slow but I am not sure if you can go under 1 speed. One of the issues with using Living Lava as a tank is that it has low speed so it is more likely to miss unless you are in a reverse speed match. I am just glad that my Living Lava only missed once during this fight. The fight might of played out different if my opponent had Serpentine Spy later in his lineup but this worked out in my favor.
You can see my entire match here.
What did you think of my match? Was there anything you would of done differently? I think it is quite interesting to see how different players use the same card.
---
---