The Catapult: My First Top 50 Placement

With the deadline rapidly approaching, a dramatic victory over @hossainbd got me into the top 50, placing me at rank 31. This was actually a lot deeper than I thought I would get. I decided to actually analyze the victory, to figure out what choices allowed me to win. One of my favorite things about the game is my ability to experiment with different cards, sometimes that reflects in my overall placement.
For this particular win, I narrowed it down to the quickness and dodging ability of the Serpentine Solider, coupled with timely shield refreshes from the Flame Monkey. My original justification for my choice was going for speed to get a jump on a tough opponent, but my back ranks quickly got shredded by the Blast Ability of Yodin Zaku. Despite this and it being a Healed Out round, my Serpentine Soldier only lost one health, thanks in part to Mr. Flame Monkey.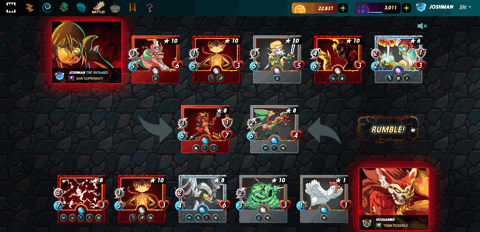 What could I have done differently? I feel like eliminating the Halfling Alchemist, and replacing him with the Ant Miners put right behind the Serpentine Soldier, would have negated the blast ability on my rear ranks, and help better protect my vulnerable sneakers.
Here is the full fight:
https://splinterlands.com/?p=battle&id=53a4438d2723d7131838917e912ad7b48d91d55d
Was this win pure luck? What would you have done?
---
---