Share Your Battle Challenge with Giveaway! Dragons!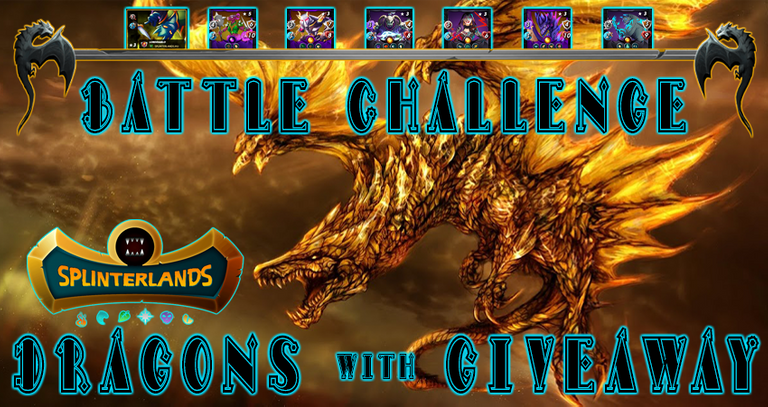 ---

---
Quix had wandered the chaos realm for so long, he'd almost forgotten where his life had begun. Most of the memories only came to him in dreams now, flashes of images that were hard to connect and make any sense of. It was only when he came upon the Ravaged Void and rested by its black well that something stirred within him. It prompted a deep hunger for mana and he became obsessed with magic. Not only that, but the images he saw in his dreams became clearer and he witnessed great dragons. Some of them were native to the realm of chaos and some looked completely alien. Their nature appealed to him and demanded his attention, and so he remained by the void where over time his power grew, the vast emptiness filling him with potent energy.
If you want to follow his lore you can continue in here.
---

The Dragon race is one of the most amazing species. In the world of Splinterlands they consist of the biggest and strongest (also expensive) monsters and Summoners. I always like to play with the Dragon Splinter, because they are very versatile and you have the answer to all kind of threat your opponents could bring.
The uniqueness of this race in this game is that they have their own deck of cards just like the other Splinters, but the main difference is that you can choose another Splinter and you can use their deck as well for your upcoming battle. This feature could result amazing battles and it is much harder for your opponent to predict what you are going to bring into the battle. 😇


Let's see his stats and abilities on all levels.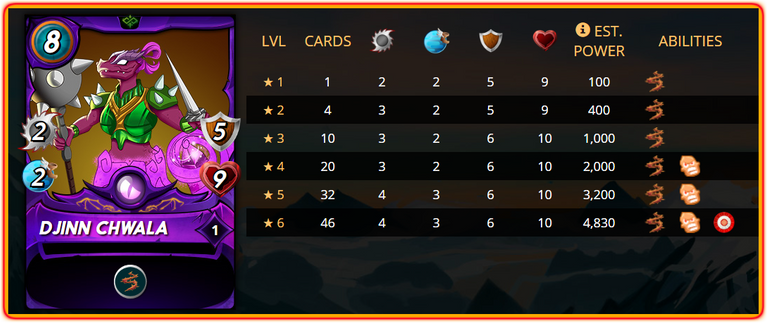 There is no specific monster in this week's battle challenge, so I decided to feature one of the most iconic Dragon monster, which I used in my battle.
The Djinn Chwala is a pretty strong monster especially in lower levels, because from Level 1 he has the Thorn ability, which means when this monster is being hit with a Melee attack he will damage back to the attacker 1 or 2 damage. 💪
He also has huge Health ❤️ and Armor 🛡, which is a must for a good tank. The only counter for him is the Magic 🔮 attack creatures, because they can damage under his Armor and the Thorn ability will be useless against them.
I am playing in gold league most of the times, so it is very important me to hire a Level 5 Djinn Chwala for my battles, because he receives +1 Attack ⚔️ damage and more importantly the Enrage ability, which will increase his Melee attack and Speed when damaged using a 1,5 multiplier. 😊
He has 2 or 3 Speed, which is not the best, but on Level 10 he will acquire the True Strike ability, which will make sure that this beast can not miss any attack. 😇
---

---

| Ruleset | Description |
| --- | --- |
| Fog of War | Monsters lose the Sneak and Snipe abilities. |
| Melee Mayhem | Melee attack Monsters can attack from any position. |
Hint for Melee Mayhem: If you have melee monsters in the back-line with Sneak or Opportunity, those abilities take precedence. Select a summoner that increases melee attack or a summoner that reduces melee attack of enemies + a tank with Shield. Thorns, Inspire, Blast, Retaliate help in this ruleset.
My lineup and the decision behind it!
Summoner
Quix the Devious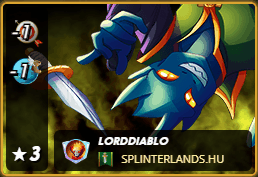 Quix the Devious became my favorite Summoner recently, because he is not so expensive to rent and his abilities creating a difficult situation for my opponent monsters. He reduces the Speed 👟 and Ranged 🏹 attack to all the enemy monsters, which is huge. 😇
He cost 4 mana, which is quite okay for a Summoner who has to most energy cost creatures in the whole Splinterlands. The Ranged monsters are quite strong especially General Sloan, so Quix has a very good de-buff against them combined with the reduction of their Speed.

Main Tank
Djinn Chwala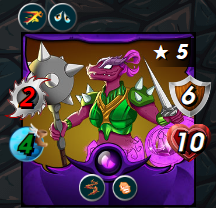 I chose the Djinn Chwala for this battle as my main tank, because of his Taunt ability. In the Melee Mayhem ruleset the Melee monsters could attack from any position and if the Djinn Chwala is in my front he will reflect 2 damage back to all of his attackers.
The Enrage ability allows him to deal huge amount of damage if he is damaged, which is something that is very difficult to negate. 😁

Damage Dealer and Off-Tank
Carnage Titan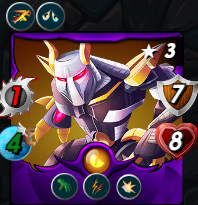 The Carnage Titan is my personal favorite monster beside of the Chaos Dragon, because all of his abilities are amazing. First of all he has Reach, so he can attack from the second position and he has Double Strike, which makes him attack twice. 😱 The third skill, which he receives on Level 3 is Shield, which is halving all the Melee ⚔️ and Ranged 🏹 attack damage (gets halved (rounded up), except attack 1 which deals 0 damage) he takes. 😉
He is such an amazing monster and the only thing stopping me include to all of my team is his mana cost, which is 11. The battle I feature him has 99 mana cap, so that is not an issue here. 😁

Damage Dealer
Djinn Muirat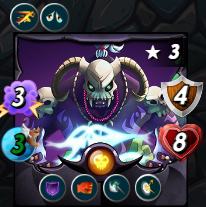 I never really used the Djinn Muirat before, because in Silver and Bronze league is quite useless. I started using him a lot in Gold league, because of his Magic Reflect and Giant Killer ability. The Giant Killer ability does double damage against targets that cost 10 or more mana and in Gold league there are big bad monsters who is the perfect target for the Djinn Muirat.
The Void Armor (Magic attacks hit this Monster's armor before its Health) and Magic Reflect helps him to survive against Magic 🔮 attack creatures, which is the most dangerous attack type in Splinterlands.

Damage Dealer and Speeder
Lira the Dark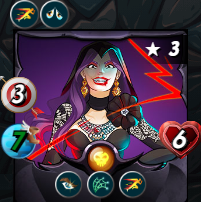 Lira the Dark is everything a Ranger should be. She is fast, has high damage and quite okay health. The most important abilities she has are Opportunity, which means that she can attack from any position (melee also attacks) and will target the enemy Monster with the lowest health. 😊
On Level 3 she receives the Speed ability, which will increase the speed to all of her friendly Monsters. She is a truly amazing and undervalued monster, because sometimes she would need some protection and the Death Splinter is lacking in that area. 😏

MVP
Chaos Dragon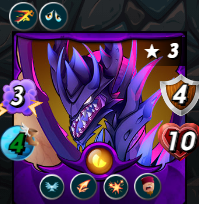 The famous Chaos Dragon is a monster that I never leave out from any of my battles. He is expensive that's right, but his abilities and body is something that you can't ignore. This creature has Scattershot, which means that when he attacks his target will be random, so you can't hide behind the tank and to make it worse he will attack with a Blast, which will do an additional damage to Monsters adjacent to the target Monster. 😊
The third ability is Blind (All enemy Melee & Ranged attacks have an increased chance of missing their target.), which comes handy to protect my team against Melee and Ranged attacks. 😁

Backline Protector
Harklaw

In this special ruleset of Melee Mayhem I used the Harklaw in the last position of my team, because recently I found a lot of Sneaker monster in the enemy team and the Poison from Uraeus always gave me hard time. Using a Harklaw will solve this problem, because he has Shield and Immunity, which means that this monster will be immune to status effects, suc as Poison.
The Demoralize will reduce the enemy Melee ⚔️ attack monsters damage by one. In a normal battle this monster could not attack from the back, but in the Melee Mayhem he can attack without any problem. 😊

---

Click on the picture for the replay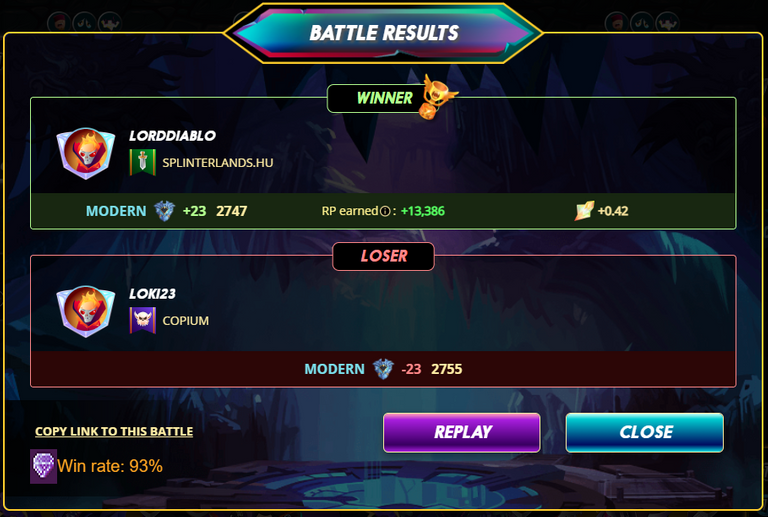 Unfortunately Quix ability of reducing the Ranged attack from the enemy monster didn't work, because my opponent didn't bring any, but he at least reduced their speed by one. Lira the Dark gave me Speed boost, so it was a huge difference in Speed between my team and the opponent, which gave me a huge chance fo winning. 😉
The Djinn Chwala reflected back a lot of attacks wit his Thorn ability and in the second round Lira killed their first support monster (Adelade Brightwing) with her Opportunity attack.
The Djinn Muirat used his Giant Killer effectively against the pretty strong Uriel damaging him with 6 damage in every turn. Even with his Heal ability he couldn't resist that damage. 🙏
My opponent strategy was to kill my tank quickly and from there just kill everyone after each other. The problem was that my Chaos Dragon and Lira the Dark started to kill their backline removing his support and damage dealers. 😇
My team had a huge Speed difference, so my opponent monsters were struggling to hit me at all. 😁

Giveaway Time!
I love giveaways as I personally think it is a very good way to reward those people in the community who are willing to read and support others contents.
So, I will run a raffle and this time the prize will be a Dhampir Infiltrator for a lucky winner.
---

The Winner 👑 will be chosen and notified when this post pays out and will be chosen with this tool.
In order to participate just need a comment. Any upvote, re-blog, tips are not necessary, but it is much appreciated. 😊
---
And let's see who won the Life Sapper from my previous Battle Challenge post.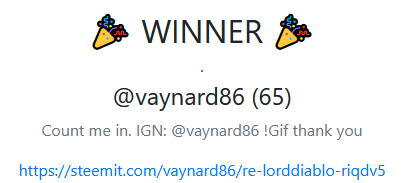 The Winner is @vaynard86, Congratulations and thank you to everyone who was participated.


---
I like to help new players 😉, so if you are just starting this game and you can use my referral link to sign-up, write me a message on Discord (LordDiablooo#3750), so I will send you 100 DEC and few key cards (delegated for an entire season) to kick off your career in Splinterlands. 😊
---
If you would like to use some of my dividers I have created for your blog feel free to use them following this link. 😉
---
Thank you so much 🙏 that you took the time to read my Weekly Battle Challenge.
I hope it was informative and you liked it. 🤞
---
---