Finding Synergy: Grandmaster Rathe & Adelade Brightwing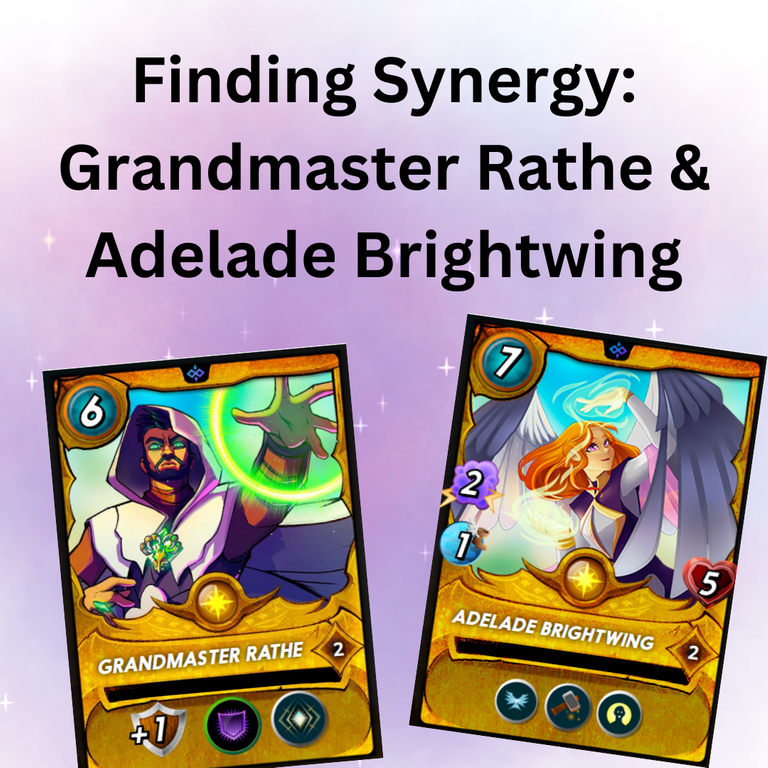 You know, the more I play Splinterlands, the more I realise that this game is all about synergies - and I recently found a synergy which I think could well become an unbeatable force - so today I wanted to discuss Grandmaster Raithe and his mate, Adelade Brightwing. Join me, let's explore these cards and see just how powerfully they complement each other.
First up, Grandmaster Rathe - now this is a summoner who truly deserves his LEGENDARY status, you see, he offers multiple benefits:
Adds +1 armour to each card in your deck
He gives each card VOID ARMOUR, which means all attacks hit your armour prior to your health
He offers each card amplify - a great defense to take your opponent's down.
In a nutshell then, he's a very good anti-magic asset, as he is able to rob magic attacker's of their ability to go around your armour. All of a sudden, making them similar to arrow attackers. This card does need 6 mana to be played, however, which could be thought of as it's biggest downfall - but in a game playing big mana caps, it is obviously not a problem (and in truth, in a low mana battle, you'd be better off playing LORNA SHINE and low mana sneak hitters).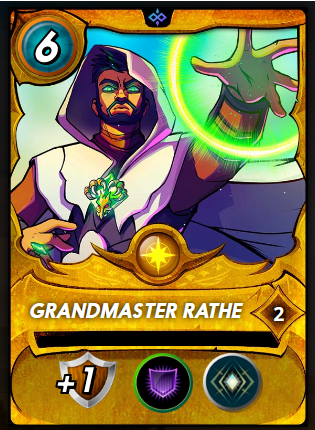 From an investment point of view, this card is not cheap - but for a powerful LEGENDARY summoner, it's not 'the worst' either. You can expect to pay around $186 today, but earlier the low price was $192 so it does seem to fluctuate somewhat. Now, I'll be honest, I love my gold foils, but this one would cost nearly 400 bucks to get to Level 3 - so while I'll be looking to grab this guy in a regular foil, I won't mind renting him.

Speaking of rentals - you'll notice that this guy is really reasonably priced, and I paid around 20 DEC for this card - and let me tell you, he was worth that small sum. In a funny pricing scenario, you'd be surprised to know that this card at Level 2 Gold Foil rents cheaper than the Level 2 regular foil. Funny, huh?

And then, we need to find Grandmaster Rathe's perfect partner, and as I said before, that card is ADELADE BRIGHTWING. This is a card I rather love, and my is Level 2 Gold Foil. This gives it some impressive abilities:
Flight - always a good one for Earthquakes!
Armour Restore - this is the key for this card, as Grandmaster Rathe gives each card armour, and attacks must hit armour first. What this means is, that by restoring armour, essentially you will be creating extra obstacles for opponent's to overcome.
Resurrection - such a good skill, when your first card dies, it will be brought back to life - and then she'll restore his armour and the frustration your opponent is feeling will grow!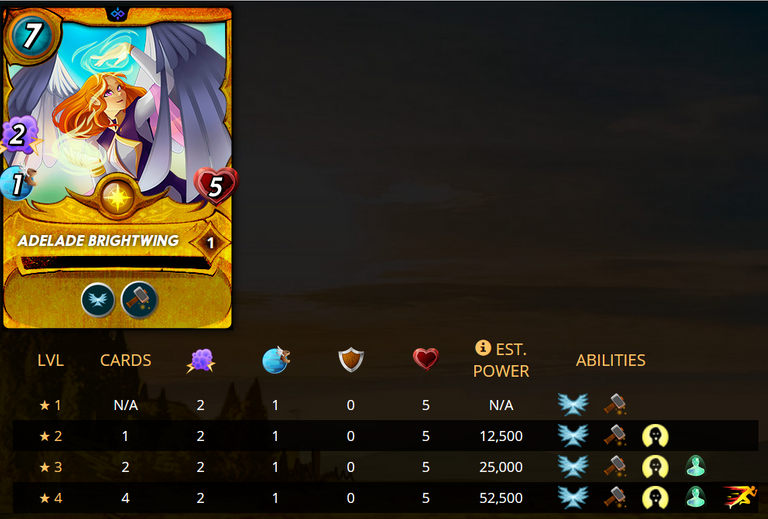 From an investment point of view, this card is fairly rare, as less than 800 are in print. I think I paid around $50 for my card, and you can see, this card has popped to $85 - not a bad little profit, am I right? But, if you want to replicate my strategy and go down a rental pathway, you could pick this card up for around 30 DEC per day. It does look like this card will continue to provide a good return in the future, given it's awesome utility. At Level 2, this card is pretty amazing; I didn't bother taking her to Level 3 as the anti-poison skill isn't really one that I'd need that often, and while SWIFT would be amazing on this card, I play in GOLD LEAGUE, so the Level 4 wouldn't be any help to me.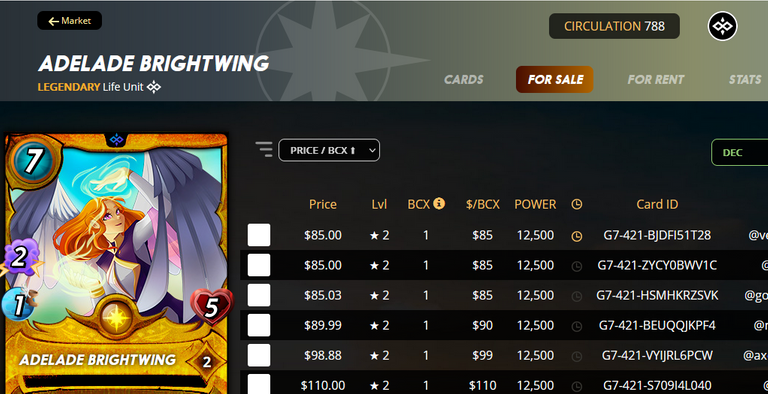 So - the next question - how does this pair perform in battle? Let's check it out! You can see I found a 30 mana battle, with an equalizer ruleset. The other thing about this ruleset is that every card will also start with +2 armour - which is great, given Grandmaster Rathe will make opponent's hit this before health - those magic attackers opposite me are now a whole lot less intimidating!
In my line-up I needed to be aware that Grandmaster Rathe and Adelade Brightwing take 13 of the 30 mana, leaving only 17 mana for the remaining 5 cards. Out the front then I played the PELACOR CONJURER, mostly because he only costs 2 mana, but also, he has the REFLECT ability - which the Grandmaster Raithe will AMPLIFY. I then chose to play JARED SCAR in the second position. This was probably a mistake, as he doesn't get to be part of the early hits in the battle, but I wanted to see how his BLOODLUST would play in this game. I also pick up the 2 mana DAX PARAGON who hits for +1 magic damage, the TIME MAGICIAN who casts SLOW on to all my opponents, while hitting for +2 magic - and then I finish off with the 2 mana HARPY. I like her in the final position, as she often dodges - which will be helpful if my opponent plays SNEAK.
In short then, you can see my team isn't particularly aggressive, there is +5 magic and +5 melee. In contrast, my opponent is stacked with attacks - he is also playing +5 magic, but he has +15 melee ready to smack me down. The difference then in this game will be how the synergies work together to let me overcome the 'underdog' tag going into this fight!
![image.png](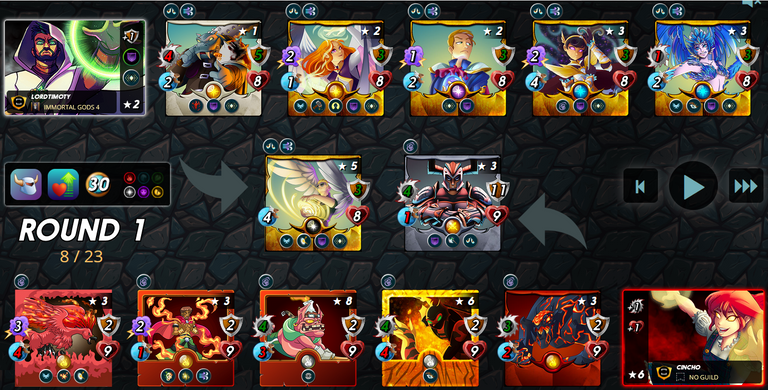 The first real key event in this battle occurs towards the end of Round 2 when the PELACOR CONJURER dies and then is in turn resurrected. He has been quite effective, however, as he has delivered some significant damage to my opponent's magic hitters. Otherwise, my difficulty in this battle has been taking armour of my opponent's LEGIONAIRRE ALVAR - a very good card, who is frustrating my efforts to start to make progress on his line.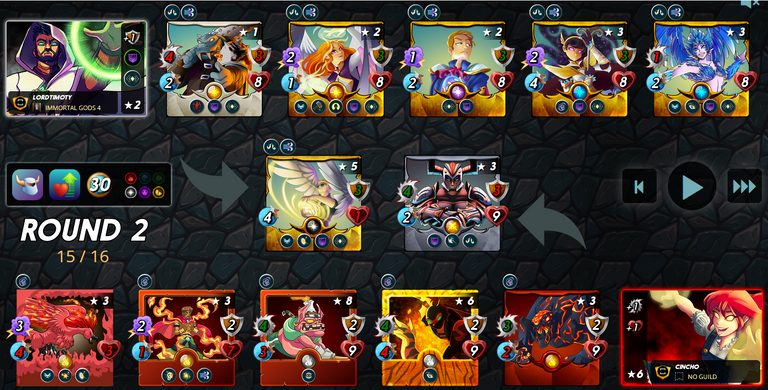 Then by the time we move into Round 5, you can see this battle is starting to turn into my favour - my PELACOR's REFLECT was able to single-handedly defeat my opponent's strongest +3 magic attacker, and with his LEGIONAIRRE ALVAR falling, I was able to start progressing through his team. That said, I am starting to have my back-end exposed, as my opponent's strong melee team is trying to rip through my back-line. My Harpy is down, and the Time Mage has lost her armour and will be dropped in 2 hits, given my opponent's high melee attacks. That said, it looks like my JARED might get his bloodlust activated soon. Let's see how this plays out: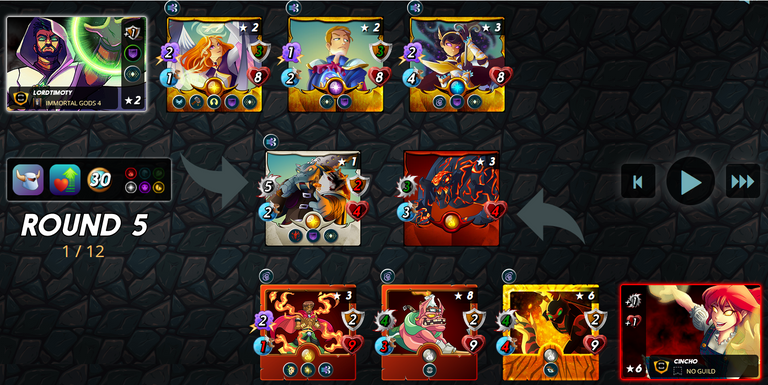 The battle continues to ebb and flow, and I found myself at the start of Round 5 in a face-off. It's 2 vs 2. My opponent playing a total of 6 damage, and me playing a total damage of just 3. Similarly, my opponent has +20 heatlh with LIFE LEECH still in play, whereas I am sitting on only 14. This is where the synergy between ADELADE BRIGHTWING and GRANDMASTER RATHE is really about to kick in.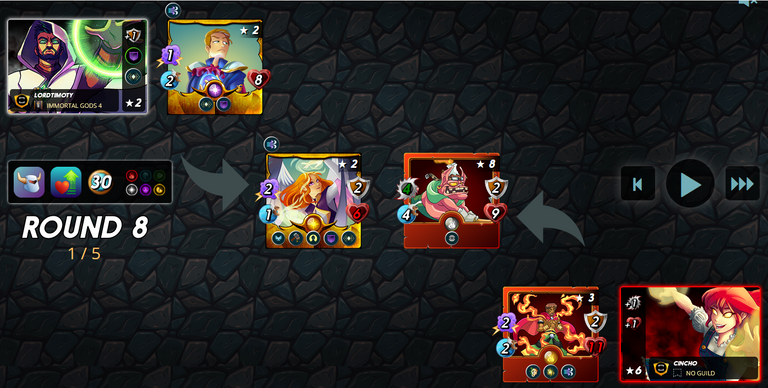 Over the next three rounds, my opponent was slowly taking the health of my ADELADE BRIGHTWING. The KOBOLD MINER was using his +4 attack to take my armour, his magic attacker would then take 2 health, and then the RESTORE ARMOUR would kick in, and we did that on repeat. I was lucky then that the KOBOLD MINER was attacking first, and without PIERCE, as if he had the slower speed, I would have been sunk.
And that takes us to this position where I am now unbeatable. Sure, my opponent will hit me every round - but with the VOID ARMOUR in play from GRANDMASTER RATHE, he will only be able to take my armour, which I in turn will restore - all the while, both my ADELADE and DAX will take +3 damage each round off him. His LIFE LEECH is also useless, as it will not allow him to gain health by taking armour. It won't be a quick victory, but it will be assured from here.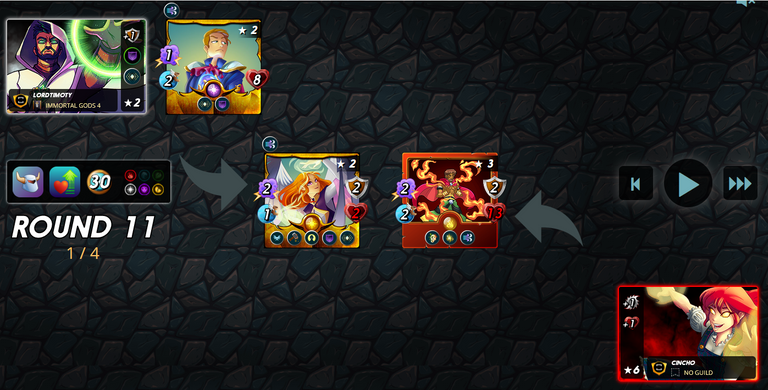 And then in Round 15, I got my deathblow in - to take a very good tactical victory. I was pretty happy with how this one played out.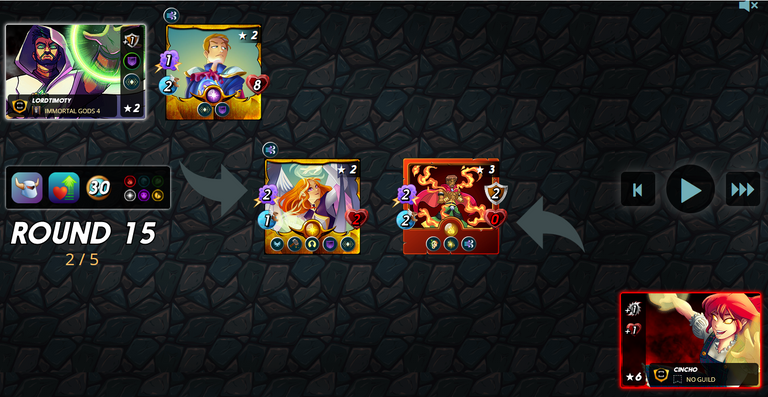 Evaluation:
This battle taught me a lot, as often I like to play really big hitting accounts and go BAM! But this line-up I played wasn't flashy - they didn't have a lot of attack (indeed, it took them 15 rounds to get the victory! Yea, we had the EQUALIZER, but we only pushed up to +8 health). So I think it's fair to say, this battle belonged to ADELADE BRIGHTWING and GRANDMASTER RATHE in equal measure - you see, there were two key factors at play here:
The VOID ARMOUR skill from the GRANDMASTER RATHE
and
The RESTORE ARMOUR which ADELADE BRIGHTWING brought to the match.
In total - an amazing win, and a strategy worth coming back to time and time again!
Want to watch the battle in full? Here's the link: https://splinterlands.com/?p=battle&id=sl_f04c3ce3dfa49a9b3a60b1d18cec6b68 or check out the video:

Don't forget, you can click here and sign up with my affiliate link.
#splinterlands #spt #play2earn
#oneup #hivegaming #battle #leofinance
#pimp #neoxian
#proofofbrain #thgaming
#leofinance #battle
---
---