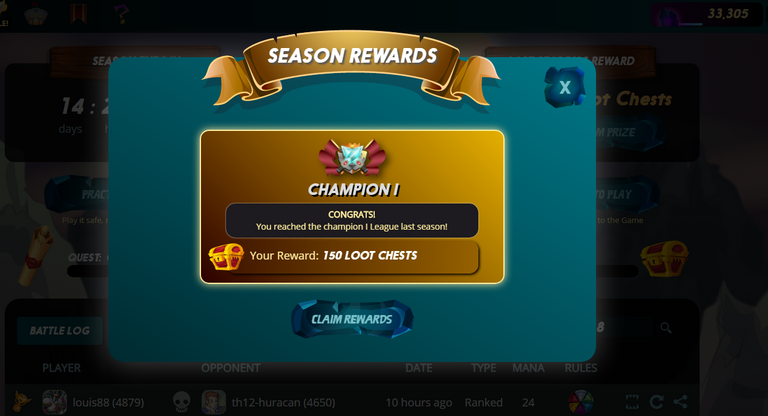 The season is over and I actually managed to place myself in the top 50. After a long time I could be in 45th place when the season ends. So the persistent playing paid off in the end. As a reward 150 Loot Chests as well as 10 Untamed Booster Packs beckoned.
Unfortunately there wasn't really as much great stuff in the 150 Loot Chests as expected. Besides a single golden card there was unfortunately only one Essence Orb. In the 150 single Loot Chests, 60 cards were included. These 60 cards have a current value of about $2.60 ...
Die Season ist vorbei und tatsächlich habe ich es geschafft, mich in den Top 50 zu platzieren. Nach einer langen Zeit konnte ich mich auf Platz 45 befinden, wenn die Season ausläuft. Da hat sich das hartnäckige Spielen am Ende doch noch etwas mehr ausgezahlt. Als Belohnung winkten 150 Loot Chests sowie 10 Untamed Booster Packs.
In den 150 Loot Chests war leider nicht wirklich so viel toller Krams wie erwartet. Neben einer einzigen goldenen Karte war leider auch nur ein Essence Orb dabei. Bei 150 einzelnen Loot Chest, waren 60 Karten dabei. Diese 60 Karten haben aktuell einen Wert von ca. $2.60 ...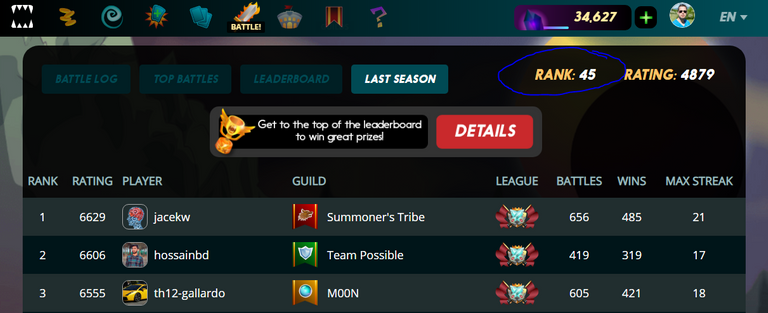 I'm curious to see how the new season will go then. How far do you think I can place myself this next season? Unfortunately I was really frustrated yesterday that the TH12 accounts have massively interfered in the game. At one point I played against a th12 account exactly 41 times in my history, which shows the last 50 matches. I don't know what to think about this massive botting... let's see. Also the Thais are to be beaten, that's for sure. It just sucks a lot.
See you at Splinterlands Battlefields!
Ich bin gespannt, wie es mit der neuen Season dann wird. Wie weit ich mich wohl dann diese nächste Season platzieren kann? Leider war ich gestern echt sehr gefrustet das die TH12 Accounts massiv im Spiel eingegriffen haben. Zu einem Zeitpunkt war es so, das ich in meiner Historie, welche die 50 letzten Matches anzeigt, exakt 41 mal gegen einen th12 Account gespielt habe. Ich weiß nicht, was ich von diesem massiven Botting halten soll... mal schaun. Auch die Thais sind zu schlagen, das steht fest. Es nervt nur sehr.
Wir sehen uns auf den Splinterlands Battlefields!