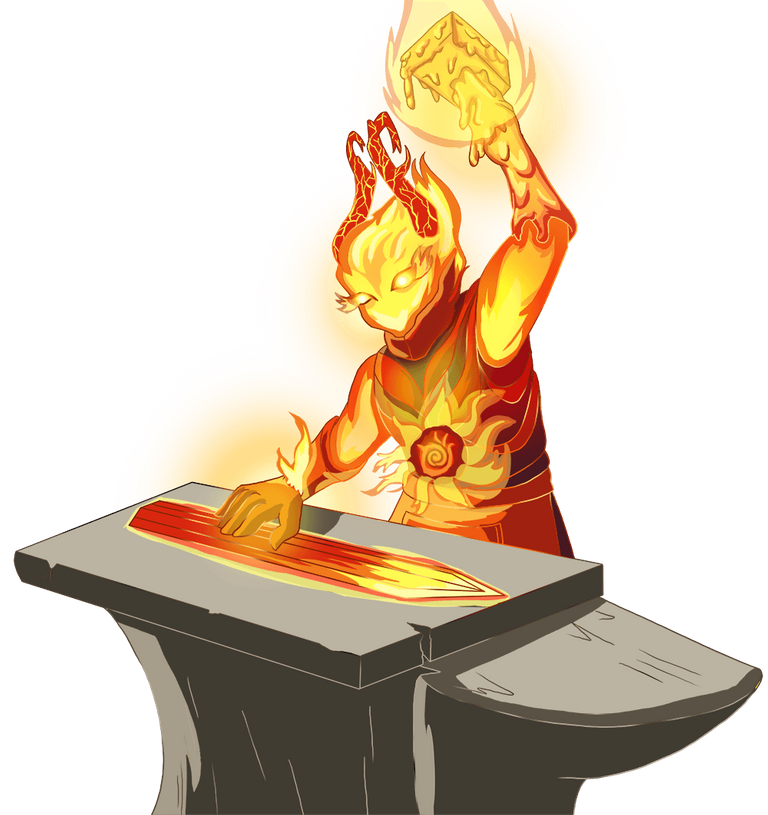 Every week, @splinterlandss put on a challenge for us to post a battle using a specific monster 👹 This weeks's them is "Flamesmith!" I never used this card before, and I didn't even know if I had one. To my surprise, I did!
So, now that I knew I had the card required, I was anxious to get down to business.
The rules were inconsequential to my lineup, but the 30 mana limit, let me go big with my Summoner!
I chose, Yodin Zoku! I had to pick a fire summoner, because Flamesmith is part of the🔥 splinter! He has some retry useful buffs including a +1 range attack, and +1 health!
And now to my awesome lineup:
In first position, I used Cerberus. He's a mean dog, with a mean melee attack and good speed! I really like his healing ability.

Elemental phoenix followed! I really like this monster's stats!

Zalfran Efreet battled in third. He is a magic monster with some sweet sweet abilities.

Flamesmith followed in all his glory! He received a summoner's buff for his range deck which was really useful!
Together, they made a very solid team, and in the end, proved victorious!
My battle follows:
https://m.splinterlands.io/#/battle/game/process/acd06baed29539a5f5fa151566988bd44a5c81a5
⚔️⚔️⚔️⚔️⚔️
Not In The Game? Get In The Battle, HERE!
⚔️⚔️⚔️⚔️
Get The Best Crypto VISA Card, HERE! Earn Crypto and get $50!
🔥🔥🔥🔥🔥🔥🔥🔥🔥
Join Robinhood & Get a Free Stock!
🔥🔥🔥🔥🔥🔥🔥🔥🔥
Start Mining Pi On Your Mobile Phone! Join Here!