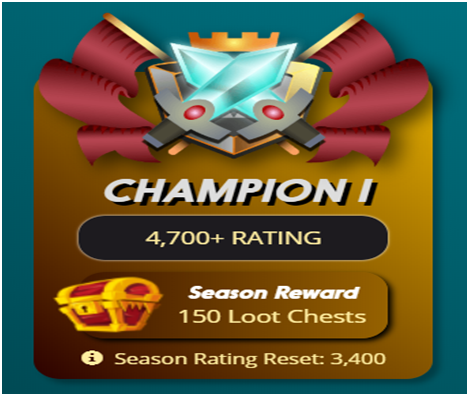 Another season over and somehow I have found myself all the way up in Champion I. How I got there I'm not really sure but delighted with the result. It's been a long and enjoyable journey starting from the first day that the game arrived on scene. Little did we know back then how popular and advanced it was going to get. Its funny how much can change in real time and you just keep rolling along with it. Compared to the users who have just joined now or will join in the years to come that have never seen the old and more basic aspects of the game.
Back before tournaments, DEC, guilds and all of the other great features added since its inception. Splinterlands has come a long way since the day that I bought my starter pack and when we used to get our season rewards in beta packs. With that said, I wouldn't mind getting champion I rewards in packs. It used to be something big like 50 maybe? I've never been up here before so can't say for sure.
I think that the great thing about Splinterlands is watching it get built slowly and consistently. In crypto, so many games and projects promise the world and deliver very little. In a sphere where hype is the biggest determination of popularity, Splinterlands has broken that mould by building slowly with community support. They have managed to gather a group of people willing to put their time and money behind a project that started from nothing. Instead of promising the world they have steadily delivered a top class game in small steps but with consistent progress. That is the true measure of success.
While so many of the other projects have failed and disappeared. Splinterlands has kept growing and making partnerships with other likeminded groups to become the number 1 Dapp in the crypto space. The team behind the game realizes that nothing is built overnight and instead has kept developing, adding new features, making it more users friendly, working on promotion and partnering with other strong projects that will increase the visibility and scope of the game.
I have been here since the very start but it is only now that my deck is growing strong enough to start challenging for higher spots. For a long time, I was content to stay in the middle tiers and earn a few rewards and sell a few cards for profit. Going forward all rewards will be reinvested back into my deck and I will be aiming at the top 50 grouping. It won't be easy as the people up there are both good players but with far superior decks to mine. However I have noticed since upgrading a couple of my summoners that I have been making champion consistently for the past 3 months and have now managed to increase my ranking with every season.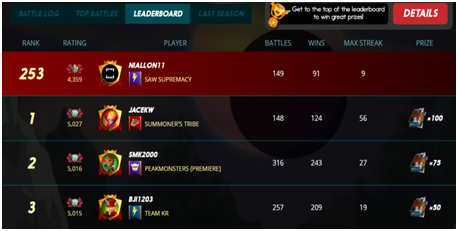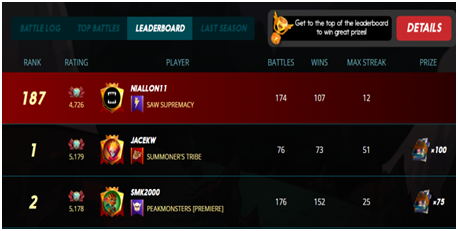 I like a challenge and building a deck to challenge for real position will be my latest one. A top placed position within the top blockchain chain out there. In theory that would make me one of the top players in blockchain if not the world.
Just saying.
LOL.
See you all out there for the next time.