If you aren't bidding on rentals you're doing it wrong
I've seen quite a few comments across various social channels for Splinterlands complaining about the rental system. I will heartily agree that the Native Splinterlands UI is pretty useless. By the time you try to rent a card there, especially if the card seemed "discounted," 9 times out of 10 its already gone.
There is a reason for this, and this post will help so that you are the one snagging those inexpensive Legendary rentals off the market.
First, navigate to Peakmonsters.com and select the Rent tab in the upper Left.

Now, in the search bar on the right, type the name of a card you would like to rent out.

Now we want to select the blue Bid icon and see what other people are offering to rent your card of choice.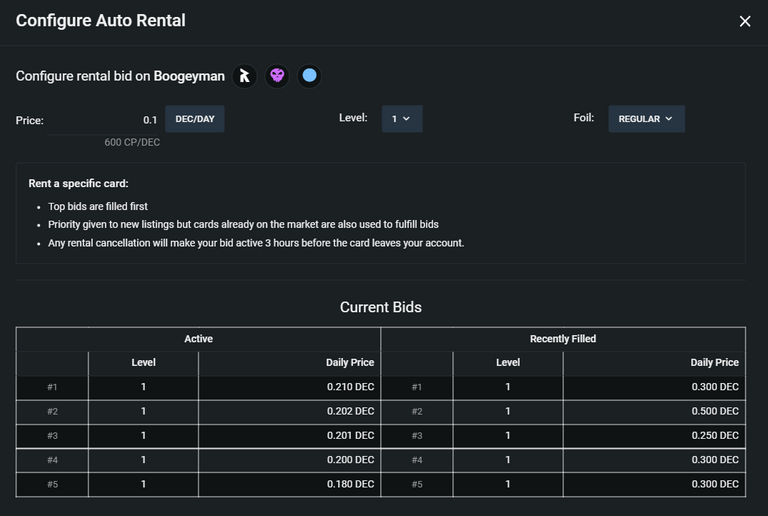 Now we need to understand the data and how to get the card we want. In the box on the upper left, we can enter our price. In the second box in the center we clearly can choose the level we want to rent out. As I'm interested in grabbing a card that will perform decent in silver, I'm going to grab a level 3. Boogeyman doesnt get his second ability at lvl 4 so I'm just opting for lvl 3.
Now we can see in the following image that there are no active bids on this card. We can also see that a lvl 3 was recently rented out at 3dec/day. Lets pretend that I'm going to work and have a few hours for my bid to fill. Considering there is nobody else bidding on it, I'm going to try and snag a great deal and only bid 2 dec.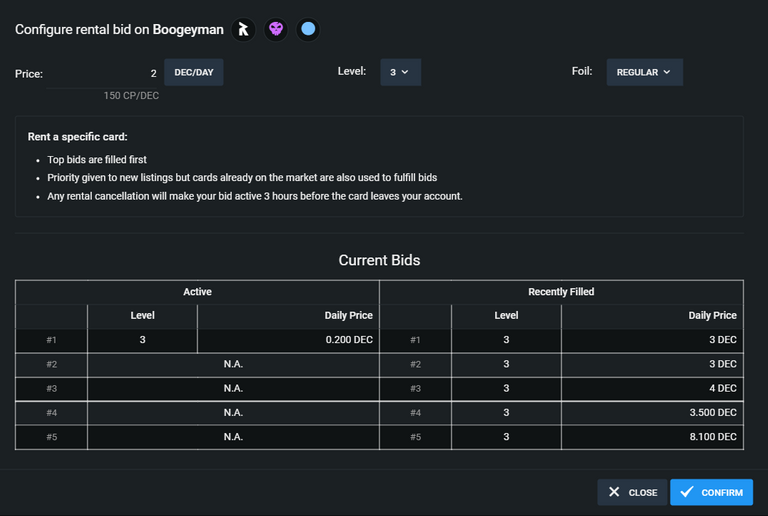 Just fill in the blanks with your own criteria and this should alleviate most of the pain that comes with renting cards. It helps to premeditate your rentals, but it is well worth it. Not only will you save DEC, you wont run into this Error 24:7.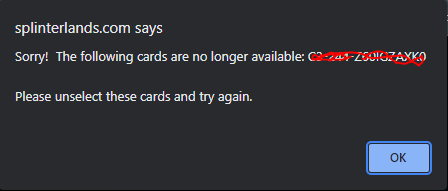 ---
---