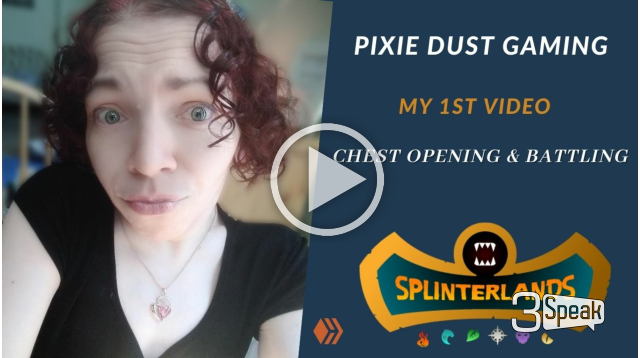 ---
#PixiePost #PixieDustGaming #Splinterlands
November is here & it's time to do new things; have some fun!
I decided to get out of my comfort zone & step into the gaming world. While I am not a heavy gamer, I do enjoy a few of the popular ones on the #Hive blockchain. Among them are Splinterlands, Rising Star, Holy Bread & CryptoBrewMaster.
Today, I focus on Splinterlands. Since I haven't had a chance to open my chests I earned from the last season we just finished, you will be able to share the fun of watching me open them. And I even do a couple of battles…
I already say this in the video, but please be warned!! There IS a little bad language when I do the battling. Even though I am a pretty much "go with the flow" pixie, something about the SL battles gets my wings in a fluster! So, if you don't like colorful words, do NOT watch that part of the video (2nd half).
So, come & join me for some fun as I nervously go through my first video. We have laughs at my own expense!!! YAY! :)
Today's Music: Final Phaze - Jerry Lacey
─── ・ 。゚☆: .☽ . :☆゚. ───
Coffee, Cards & Pixie Dust podcast https://anchor.fm/pixiepost
Give this a like if you enjoy this kind of content. It lets me know what videos give YOU value. Don't forget to subscribe & hit the notification bell so you don't miss the next video.
💜 To know thyself is to know thy truth. 💜
─── ・ 。゚☆: .☽ . :☆゚. ───
Get a 30 Day Free Trial of Epidemic Sound https://www.epidemicsound.com/referral/cgrnmi/
A Must Have Tool To Grow Your Channel
https://www.tubebuddy.com/pixiepost
💜 This video is not sponsored - affiliate links above are products I fully believe in and use 💜
─── ・ 。゚☆: .☽ . :☆゚. ───
Connect with me on the following social media sites:
Instagram: https://www.instagram.com/pixie_post_dreams/
https://www.instagram.com/timmytheangelkitty
Twitter: https://twitter.com/ThePixiePost
My NEW Store: https://www.zazzle.com/store/pixie_po...
The Pixie Post - http://www.trker.com/go/96848
Pixie Post Facebook Page: http://fb.me/pixiepostwithjennnieto
Hive: https://hive.blog/@pixiepost
PeakD: https://peakd.com/@pixiepost
─── ・ 。゚☆: .☽ . :☆゚. ───
---
▶️ 3Speak