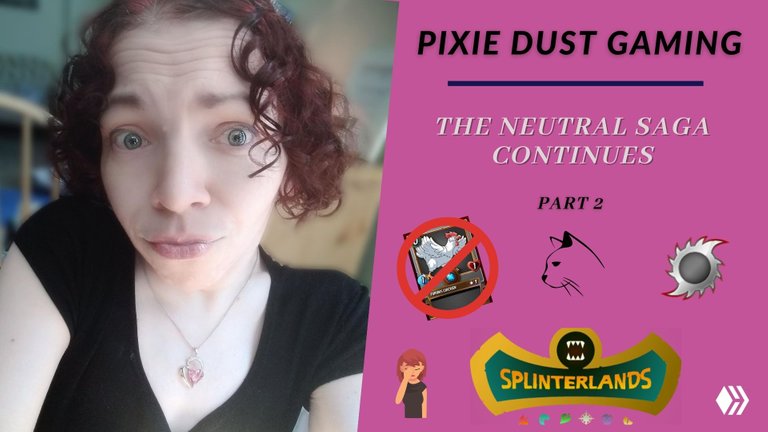 #PixiePost #PixieDustGaming #Splinterlands
Wait, it's not Wednesday - it's Friday! Whaaaat??
As I had mentioned in my last Splinterlands video, I had to split the footage into two parts...so here is the second half! ;)
In this addition, I continue the Neutral battles &, as usual, I hit a few bumps along the way...it seems things changed slightly as well. You also may notice my "attitude" changes throughout the video....all I can say is old habits die hard! 😂
So, grab a beverage & join in the endless battling in the @splinterlands world. Also, comment below & tell me what YOUR favorite monster is & why...there may be a prize involved ;)
Keep kicking arse & keep battling out there! ⚔️
Thanks for your support in this gaming videos & my new found journey. There's much more to come so make sure you are subscribed so you don't miss out!
+:+:+:+:+:+:+:+:+:+:+:+:+:+:+:+:+:+:+:+:+:+:+:+:+:+:+:+:+:+:+:+:+:+
DISCLAIMER: Bad language IS uttered & my usual insanity is very present….you were warned! ;)
Not a player yet? Click here to see Splinterlands & give it a try. Let me know how you like it!
Today's Music: Final Phaze - Jerry Lacey
HIVE logo videos created by @doze
Do you want to be featured in the weekly shout out in my next Splinterlands video? Leave a comment to let me know what makes your content unique & one of your links below so I can see what you got. While there is no guarantee, all will be considered! :)

+:+:+:+:+:+:+:+:+:+:+:+:+:+:+:+:+:+:+:+:+:+:+:+:+:+:+:+:+:+:+:+:+:+
Enjoy my SplinterLands posts?
Follow me for videos & posts in the Splinterlands community, reblog and browse on HIVE and LBRY

+:+:+:+:+:+:+:+:+:+:+:+:+:+:+:+:+:+:+:+:+:+:+:+:+:+:+:+:+:+:+:+:+:+