This week's Splinterlands Challenge of the Week was to showcase the Grim Reaper from the Death Splinter.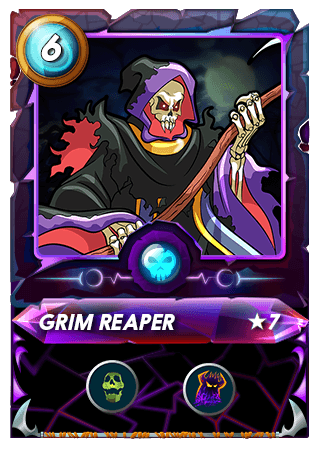 Despite his wider world reputation, the Grim Reaper isn't that terrifying in the Splinterlands - he is pretty much 'average' - at Level 7, one below max where I have him up to, his stats are.....
4 damage, which is OK!
5 Health, a bit on the low side
3 speed - mid-range! Just about acceptable for a ranged card.
2 buffs - affliction (which I guess is appropriate!) and oppress. You also get piercing at L8.
6 mana cost - on the steep side!
No real weaknesses as such, he's pretty average! Not bad for a reward card I guess.
The battle below features the Reaper in a line up against the Cube, showcasing the usefulness of the afflict and oppress abilities
The Rule Set and Line Up
Mana 24
Earthquake - Lord A up front is a common choice, so I thought oppress plus affliction plus EQ damage should finish him off BEFORE the reaper dies.
No magic - which means you're likely to play some kind of ranged attack!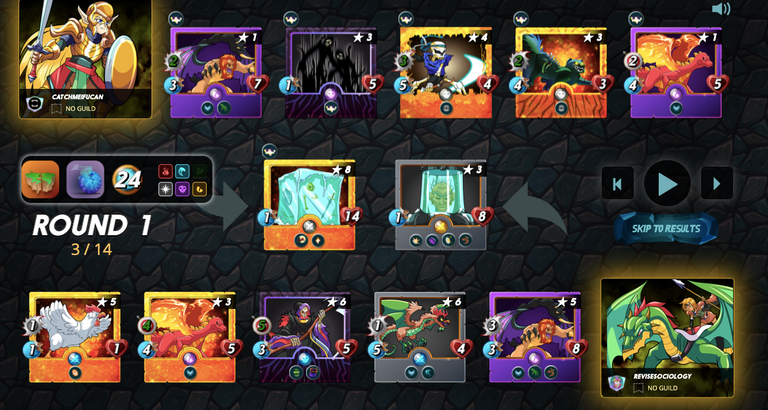 Summoner - Selena
Lord A - shields for earthquake
Manticore - flying and useful damage, also a handy second tank
Cocatrice - I was out of mana, mainly thanks to the 6 mana from the Reaper, so I was forced into this as another tank row - also flying with no magic, favours the cocatrice.
Grim Reaper - mainly here for the challenge, BUT people often play Lord A, or in this case the cube, so oppress is good, and it worked!
Fire Spitter - a nice card for earthquake - good with selena, good chance of being missed from a sneak attack
Chicken - in case of sneak.
Did my strategy work?
Beautifully, to see it in action click here!
Round 1 - I lose my chicken to stealth, The Fire Spitter hits on the Cube and then...... BOOM! 10 damage from oppress, Manticore finishes him off!
Round 2 - Lots of action! I lose my Fire Spitter to sneak, which is a bit annoying, I'm supposed to get at least one miss! Still, not before he lays into my opponent's Manticore and then my Manticore and Lord A's thorns finish him off. The Reaper's 5 damage take out the Spectre thingy
Round 3 - Earthquake takes out the Reaper, but also his two remaining sneak attacks, it's all over....
Round 4/ 5 - now it's just a matter of my flying manticore finishing off his ranged flying Fire Spitter!
How important was The Grim Reaper?
Well he certainly did his job in this battle - his high damage with oppress - 10 damage due to the cube having no health, worked a treat and his 5 damaged took out the Spectre, so no complaints!
I had another layer of security - the Cocatrice probably would have survived another round of sneak attacks had the Reaper now torn through my opponent's front ranks so quickly, but it's nice to get the job wrapped up early on, so happy days!
Final Thoughts: Grim Reaper - Worth Levelling Up?
It probably didn't escape your notice that my opponent was a bit lower powered than me, so I was always going to win this battle despite the good monster-choices they made for this rule set.
And that tells you something about the Reaper - I had tried him out against my peers, but I lost every time, so I had to wait for a battle with a lesser opponent to give him a chance!
Having said that, with the right rule set - namely ranged always hit their targets, I think he could do well, especially if taken up to l7 and given a nice buff with Selena.
Obviously the oppress ability is useful, as is affliction, and so if you have a feeling that you're going to get Cubed or Lord A as a tank, this is a good choice.
And it's cheap! So a great card if you're in the gold leagues for sure, against maxed decks up in Diamond and beyond, not so much.
If you don't yet play Splinterlands, why not give it a go?
Anyone using my referral link will receive a free rare card!