This week's Splinterlands Challenge of the Week is to share the neutral, sniping Mantoid.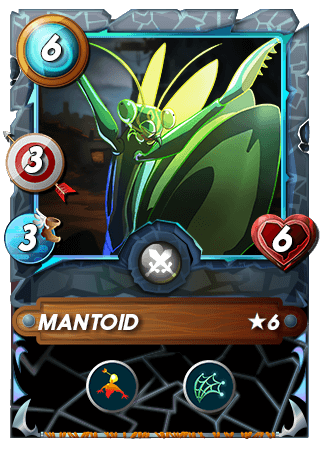 This is a pretty awesome card TBH - 3 damage at level 6, and 6 health, and snipe with net, although it is a little heavy on the mana for what you get!
The battle below is a bit of an easy win for me, but it does illustrate the utility of the Mantoid very nicely!
The Rule Set and Line Up
50 mana - perfect for the Mantoid's relatively high mana cost
Earthquake - good for the Mantoid's Net
Ranged in first - no specific benefit for Mr Mantoid.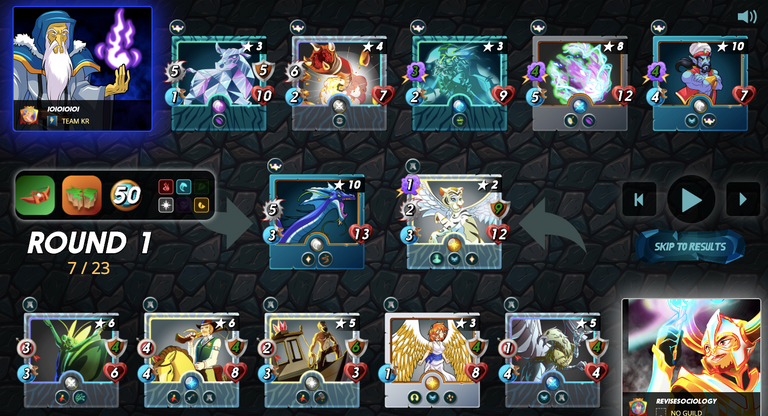 Summoner - Chanseus
Kralus - I just bought 3, so I had to use him, he flys!
Tower Griffen - for shields and flying
Angel - Resurrect, heal and flying at L3
Snipe 1 - Lone Boatman, also repair
Snipe 2 - The Sheriff - and protect
Snipe 3 - The Mantoid - at the back as i didn't want my larger attack and shields being taken out too early (sorry Mantoid!)
You'll notice the main attack strategy is bludgeoning snipe, and you need that with Life - with lots of heal and shields for that Earthquake, and triage or course!
Did my strategy work?
Beautifully, to see it in action click here!
Round 1 - Kralus holds up well against my opponent's mixed attack and my Snipe works beautifully - taking out Captain's Ghost - that's one third of his magic attack down. my shields help against Earthquake, note how my opponent has almost none!
Round 2 - That damn Sandworm takes out my Mantoid, I hate that card, But he is resurrected with 4 shields. The combination of my snipe and earthquake takes out his Prism E.
The Sheriff misses the Genie, but The Mantoid Nets him - enabling Earthquake to take him down this round, NICE!
Round 4 - With all my attack now on the Sea Monster, he goes down this round. I lose my Mantoid again, he's resurrected again.
Round 5 - well now it's 6 on 2, it's all over!
How important was The Mantoid?
I was always going to win this with my higher power cards, but nonetheless The Mantoid showed his strength in this battle by doing his thing with netting the Genie which enabled Earthquake to finish him off.
He was pretty awesome as part of a treble snipe - IMO, only use snipe if you're going to double or treble it up - and it worked a treat here.
My opponent did get a little unlucky as Ranged was his achilles heal, he had little defence against it, other than the Genie's flying, but he was at the back, so it was too late by the time the two preceding magic cards had been taken down for that to do any good.
I think my opponent got caught up in the 'must use all the mana' trap - i mean this worked for me because I've got the right kind of heavy mana cards with the right splinter, but with Water, there are a lot of flying cards that are lower mana which might have been better?
Final Thoughts: The Mantoid - worth levelling up?
Decent neutral cards are the best value cards to level up - and this is a pretty decent card, so yes, I'd recommend taking him to level 6 - where he picks up 3 damage and that very handy netting ability which is maybe more handy than you think for the Earthquake ruleset
If you want to have the most fun with snipe in high mana battles, then absolutely he's worth taking up to Level 6.
I did want to share a closer battle, but Splinterlands just wasn't in the mood this evening to give me anything with high enough mana, so this will have to do!
If you don't yet play Splinterlands, why not give it a go?
Anyone using my referral link will receive a free rare card!