The theme of this week is the opportunity card,
I have found a very effective method of keeping these precious cards alive for a long time,
provided that my opponent does not have monsters clearly superior to mine.
the monster with the eye at the bottom of the card has the power to hit the opposing monster with less health, this ability is very useful because it often deals the coup de grace to the opposing monsters, removing them from the field.
It doesn't matter which monster with magnificent abilities you have deployed, if the ability card sees it as the weak link,
is hit and very often neutralized.
The monster with opportunity skills that I would like to tell you about today is FEASTING SEAWEED.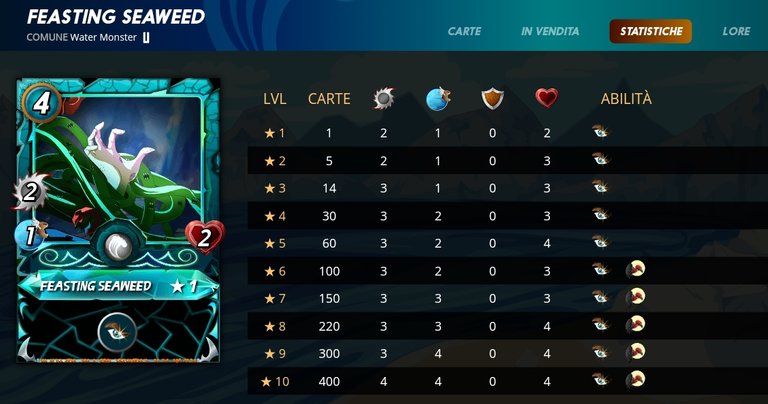 A monster from the water family.
let's see its characteristics together.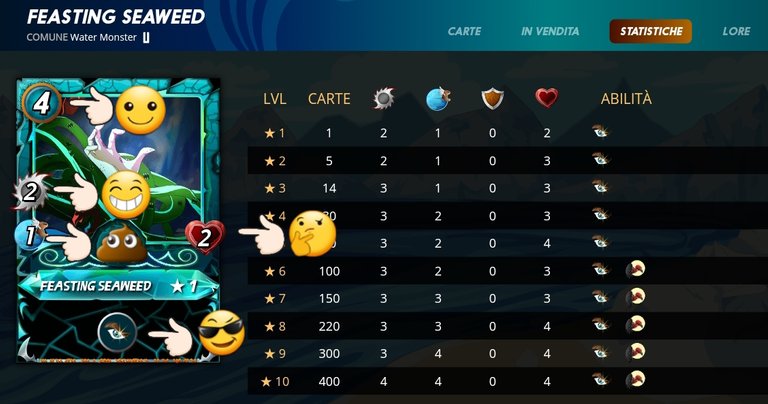 MANA COST 4
the mana cost is relatively low, so it's a plus point.
MELT ATTACK 2
good attack power, especially if you summon it with a summoner capable of increasing it, with melee attack 3
by hitting a weak opponent monster, he has a good chance of eliminating it right away.
SPEED 1
unless there is the rule of reverse speed, this is a very negative peculiarity of the card.
HEALTH 2
Unfortunately, you can't expect much health from an opportunity card, so you still deserve enough.
Now let's move on to the battle.
https://splinterlands.com?p=battle&id=ce4de449e8cc016630b7d36e892f49d023c031ee&ref=robibasa
As a summoner I deployed
ARLIC STORMBRINGER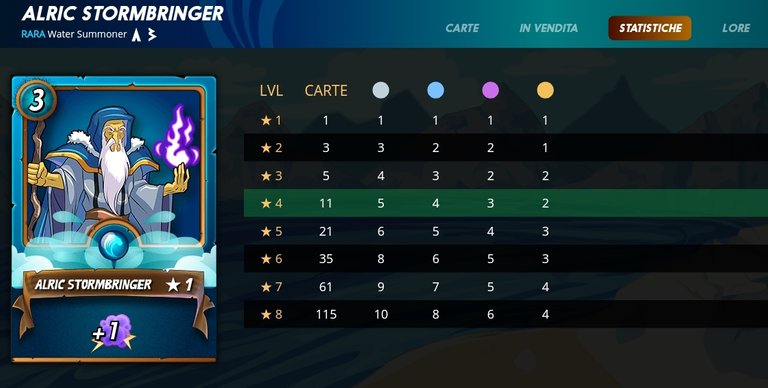 in first position I deployed
THE CRAKEN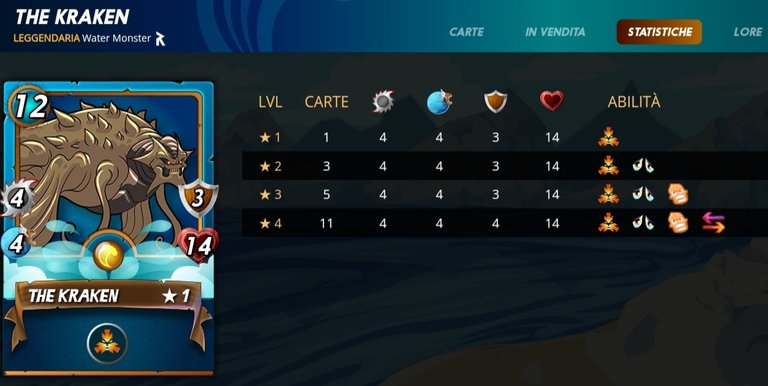 This monster draws all opposing hits on itself, leaving more space for other monsters in the rear.
in second position I deployed
WAR CHAANG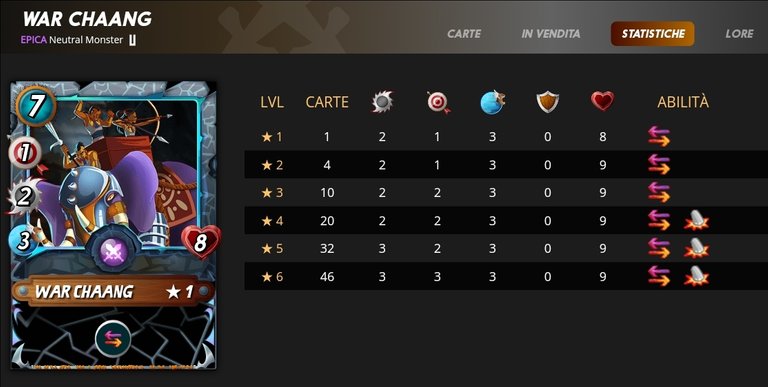 I really like this card because it hits from the rear with a ranged attack and in first position with a melee attack.
in third position I deployed
CRUSTACEAN KING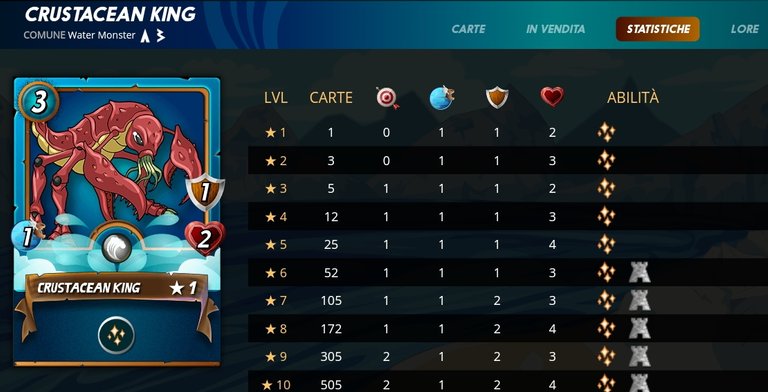 It takes the kraken to withstand much more time, since it reloads the monster to the first position.
in fourth position I deployed
FEASTING SEAWEED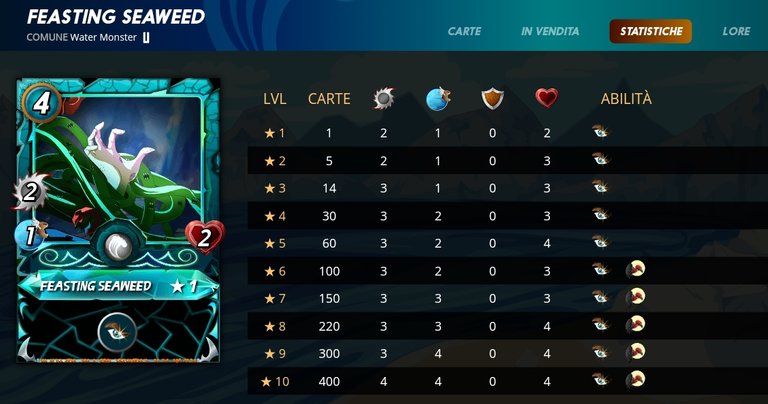 our monster with opportunity skills.
in fifth position I deployed
SEA GENIE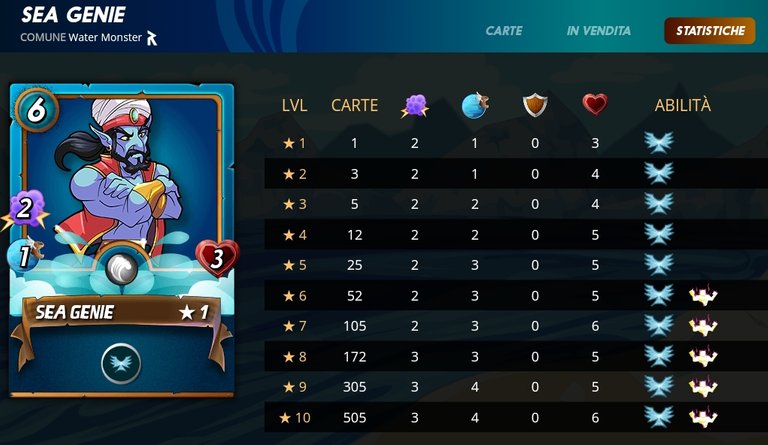 deployed with ARLIC STORMBRINGER as a summoner has three magical attack ... a power !!!!
in sixth position I deployed
ALBATROSS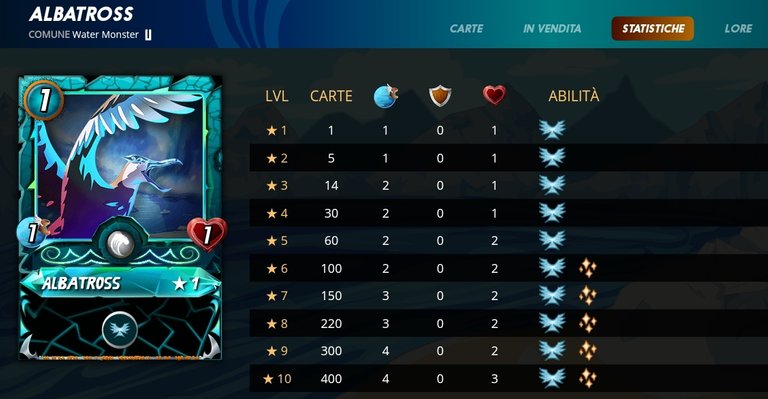 so one mana was advancing, why not?
in this battle I deployed my monsters well, in fact I won, especially thanks to my monster with opportunity skills, that
as you can see from the fury of the fight, he eliminated the cards he hit, removing them from the battle arena.